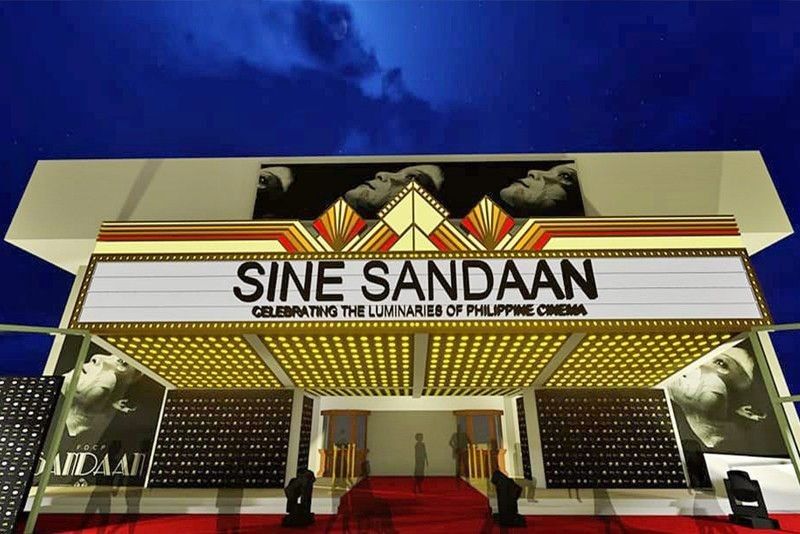 For the Sine Sandaan, the facade of New Frontier Theater in Araneta Center will be transformed into an art deco design to hark back to the era of standalone theaters, during the time of the so-called first golden age of Philippine cinema.
Photos courtesy of FDCP
Film Development Council urges public to support SineSandaan
MANILA, Philippines — The Film Development Council is urging the public to support this year's Pista ng Pelikulang Pilipino, a film festival that coincides with the centennial of Philippine cinema.
FDC chair Liza Diño said the festival would feature 10 films that "represent the history of Philippine cinema."
"The reason why Philippine cinema has reached this 100 years is because of the support of our audience, Filipinos who do not get tired of supporting our filmmakers, all our producers who give us stories that mirror our lives," Diño said in a press briefing in Malacañang.
"We urge everyone to support the 100th anniversary of Filipino cinema. We believe all of us, at some point in our lives, cinema is a very, very big part of us," she added.
The 10 films that will participate in the Pista ng Pelikulang Pilipino 2018 include "Circa," starring Anita Linda, the oldest working professional actress in Philippine cinema; "Lola Igna," starring one of the living legends of Philippine cinema Angie Ferro; "Panti Sisters," a film about three gay brothers who were required by their father to sire a child in order to earn a P100 million inheritance; "I'm Ellenya L," which features the story of a millennial who wants to become a popular online influencer; and romance drama "Open."
Other films featured in the festival are Visayan film and family drama "Pagbalik;" "Watch Me Kill," a film about a female assassin for hire; "LSS," a movie musical about two fans of folk-pop band Ben&Ben; "G!," a film about a cancer-stricken millennial who wants to fulfill the things in his bucket list; and "Cuddle Weather," a film about two sex workers.
The FDC also held Thursday the "Sine Sandaan," which gathered more than 300 luminaries of the Philippine cinema, at the New Frontier Theater.
Diño said the event sought to honor all stakeholders of the film industry, including people who work behind cameras and Filipino film icons.