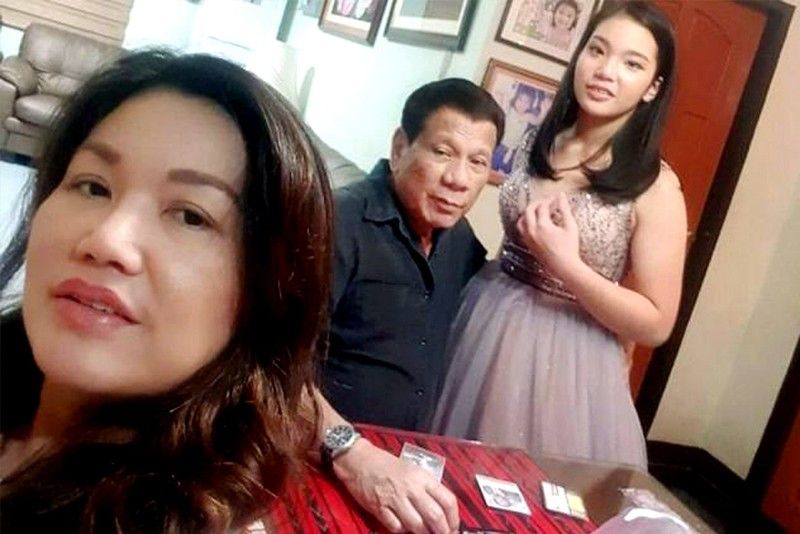 Honeylet Avanceña takes a selfie with President Duterte and their daughter Veronica on Sunday.
After weeklong hiatus, Duterte back in Manila
MANILA, Philippines — President Duterte ended his weeklong hiatus from public engagements as he returned to Manila from Davao City before dawn yesterday.
Duterte's absence from the public eye allowed him not just to read documents, attend meetings and the Kadayawan Festival, but to indulge in one of his hobbies.
The President rode a motorcycle in Davao City over the weekend, suprising his security aides and proving anew that he is in the pink of health, presidential spokesman Salvador Panelo said yesterday.
"He rode a motorcycle and went out of the subdivision. The PSG (Presidential Security Group) panicked," Panelo said.
He said people took photos of Duterte on a motorcycle.
"It only shows that he is in good health," Panelo said.
Duterte, 74, had not been seen in public for more than a week.
He was last seen in public during the 118th anniversary of the police service at Camp Crame in Quezon City on Aug. 9.
Panelo previously said Duterte was busy with paperwork and private meetings.
The President returned to Manila for several engagements before he flies to Beijing next week.
Sen. Christopher Go showed a photo of him with the President at the Bahay Pagbabago in Malacañang.
Duterte is expected to receive the credentials of envoys at Malacañang. He is also scheduled to inaugurate a solar facility in Romblon on Wednesday.
Duterte's partner, Honeylet Avanceña, also released a photo of the President together with their daughter Veronica at their home in Davao City. – Edith Regalado