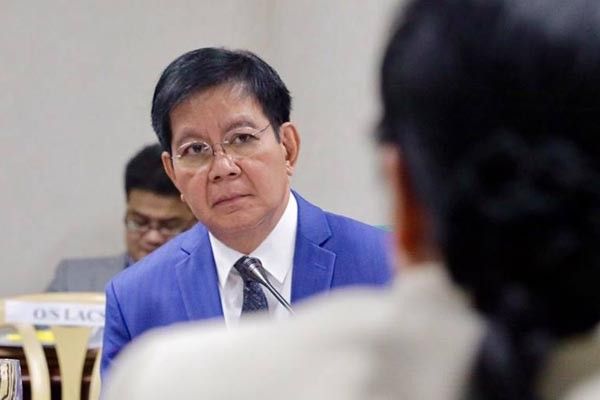 In this October 2017 file photo, Sen. Panfilo Lacson, then chair of Senate committee on public order and dangerous drugs, called the latest Pulse Asia results "disturbing to some and dangerous to many."
Sen. Panfilo Lacson/Facebook
Lacson chides Panelo: Are you China's spokesman?
MANILA, Philippines — Sen. Panfilo "Ping" Lacson on Sunday took to Twitter to criticize presidential spokesperson Salvador Panelo for voicing out the text message of Chinese Ambassador Zhao Jianhua.
In his tweet, Lacson questioned Panelo's Saturday statement wherein he quoted Zhao's text message.
"Ambassador Zhao sent me a text. He said, 'What if we also think that your overseas workers are also spying on us. What can you say about that?'...PRESIDENTIAL SPOKESPERSON OR CHINESE EMBASSY SPOKESMAN?

— PING LACSON (@iampinglacson) August 18, 2019
"Has the presidential spokesman switched from Chinese embassy defense counsel to spokesman?" he asked.
Lacson, however, clarified that he was not questioning the logic behind the Chinese ambassador's statement. He just stressed that the Chinese embassy has its own spokesperson "who should speak on their behalf."
"Why would the country's presidential spokesperson whose salary and other miscellaneous expenses are being paid out of our taxes take on the embassy spokesman's job?" Lacson asked.
On Saturday, Panelo, also the chief presidential legal counsel, claimed that he received a text from Zhao discussing with him China's concerns on the influx of undocumented Chinese workers in the country.
READ: Palace, DOJ not alarmed over POGO location fears
Panelo quoted Zhao as saying that the Chinese would also be wary of the presence of Filipino workers in China. The Chinese ambassador also allegedly questioned how the Filipinos would feel about being viewed as spies.
Zhao's supposed text message was a response to the concerns raised by security officials and lawmakers. Some of them earlier expressed worries over the presence of some Chinese-dominated Philippine offshore gaming operators near military bases such as the headquarters of the Armed Forces, the Navy and the Philippine National Police.
READ: Defense authorities concerned about POGO proximity to military installations
He also feared that some of the Chinese investors and workers could be spies.
On Sunday, Lorenzana reacted anew to Zhao's supposed statement and said that "that's the most preposterous statement I heard in a long while."
The defense chief stressed that "POGO workers here are not comparable to Overseas Filipino Workers in China."
He cited that OFWs have legitimate work purpose and are widely dispersed in China "far away from military camps."