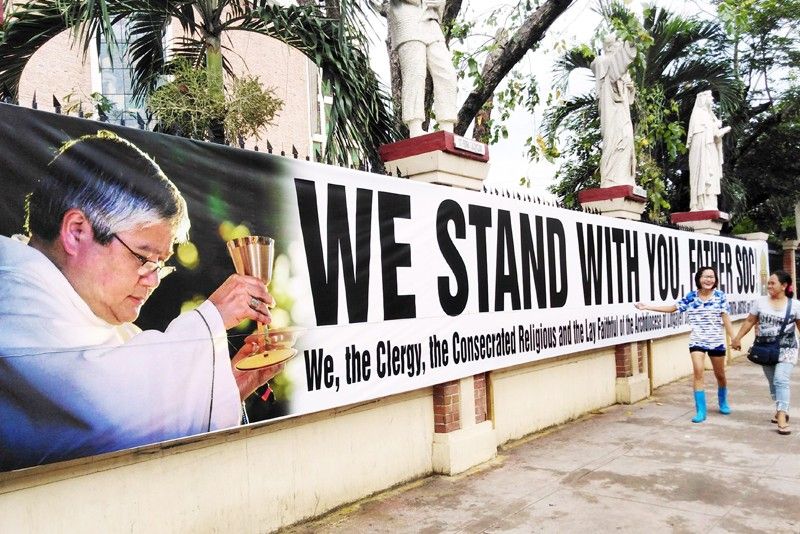 A tarpaulin with a message of support for Archbishop Socrates Villegas hangs in front of the St. John Cathedral in Dagupan, Pangasinan following the filing of a sedition complaint against him and other bishops last month.
Eva Visperas
Catholic bishops refute 'Bikoy' sedition claims
MANILA, Philippines — Two Catholic bishops are defending themselves against sedition and other charges filed against them following the release of "Ang Totoong Narcolist" videos during the election season.
Lingayen-Dagupan Archbishop Socrates Villegas is debunking the claim of Peter Joemel Advincula alias "Bikoy" that they met on Dec. 12, 2018 at the Jesuit Residence on the Ateneo de Manila University campus supposedly to discuss Project Sodoma, an ouster plot against President Duterte.
Villegas, along with Caloocan Bishop Pablo Virgilio David, retired Novaliches Bishop Teodoro Bacani Jr. and Cubao Bishop Honesto Ongtioco are accused of being part of Project Sodoma's shadow group that allegedly provided financial, logistical, security and accommodations support to the plot.
In his four-page counter-affidavit submitted to the Department of Justice on Aug. 8 and obtained by the media yesterday, Villegas said he met Advincula for 30 minutes beginning 8:30 a.m. last April 24.
For what reason? Villegas recalled he had just finished breakfast when Advincula approached him and asked if they could talk. The archbishop said Advincula opened up about his hardships in life. Villegas was so moved that he even gave Advincula his personal rosary that was blessed by Pope Francis.
Villegas then prayed for Advincula and blessed him.
He also stressed that his meeting with Advincula was part of his priestly ministry to give solace to the suffering.
Villegas, who previously served as president of the Catholic Bishops' Conference of the Philippines, pointed out that apart from mentioning his name, there was no reference to him committing any act that would be considered criminal as alleged by the Philippine National Police-Criminal Investigation and Detection Group (PNP-CIDG) and Advincula.
In his affidavit, Advincula claimed that Villegas also met with a certain Jonell and Fr. Albert Alejo on Dec. 12, 2018 at 6 p.m. at the Jesuit Residence supposedly to discuss the release of certain controversial videos to the public.
Villegas said Advincula's claims were false because he was at the Parish Church of Our Lady of the Rosary in Orani, Bataan where he delivered the homily in a thanksgiving mass, which was attended by around 700 people.
He said he was at the church from 3 p.m. until 7 p.m. Afterwards, he returned to the Archbishop's House in Dagupan City.
In his counter-affidavit, the archbishop attached the sworn statement of Fr. Jersey Prepose who invited Villegas to serve as homilist in the mass.
"I am here only to serve the Church in answer to God's call," Villegas stressed.
He has asked the DOJ to dismiss the sedition complaint filed against him, insisting he was not part of Project Sodoma.
"I hereby respectfully move for the dismissal of the instant complaint on the ground that I never committed any act which amounts to any of the criminal offenses of sedition, inciting to sedition, cyber libel, estafa and violation of Presidential Decree No. 1829 (obstruction of justice)," he declared.
He added that "there is absolutely no truth" to the accusations made against him by the PNP-CIDG and Advincula.
"Indeed, I am a man of peace and a man of God. I have always strived to faithfully serve my flock and live my life doing what is right and just. I do not harbor any ill will against any person, including President Duterte, the members of his family, or the people close to him. I have no malicious or illicit desire to bring down this or any administration, and I have never conspired with any person to carry out any nefarious plot to bring harm to this administration and any of the people who serve it," Villegas said.
Nothing seditious
David, for his part, only had words of gratitude to the over 1,000 members of the faithful who turned up for the mass to support him yesterday.
The Caloocan diocese held a solidarity mass for David, also the CBCP vice president, who is being investigated for sedition over the "Bikoy" narcolist videos.
In a message of gratitude, David made light of his situation, saying that if he had been deemed seditious for helping victims of extrajudicial killings in the war on drugs, then even the Virgin Mary could be deemed seditious for fighting for what's morally right.
"If one would misinterpret Mama Mary, one would think she could also be charged with sedition. But she only showed her honorable deeds by standing up to those in power who think highly of themselves, of calling for the downfall of powerful kings from their thrones, for the betterment of the marginalized," David said.
David expressed belief that he was included in the complaint because of his critical stance on the government's war on drugs.
"Even during the Marcos dictatorship, the term 'subversive' had been a key word against those who were brave enough to express their critical views on the government's policies. What I am going through is only my way of being at one with the hardships of others," said David, who had also been accused by Duterte of stealing from Church coffers.
"Maybe this is really what we are meant to face for our principles," he added.
In a chance interview, David disclosed he had been given security escorts by the Archdiocese of Manila amid death threats he had received.
"I'm still trying to understand the nature of those threats. There are puzzles that remain after Bikoy surfaced," said David, who was also accused of meeting with Advincula.
Also implicated by Advincula were members of the political opposition led by Vice President Leni Robredo.
David said he could hardly be called seditious, with his diocese actively helping the local government in rehabilitating drug dependents.
"We are partners in terms of all programs for the common good. So if that is where we come from, how can we be called seditious?" David said as he expressed hope that the DOJ, which is conducting the probe, would not be "politically compromised."
David's fellow clergy and members of the laity have expressed support for the bishop.
"Our shepherd is the first to call for an end to the killings we saw almost every day in our diocese. Our bishop was among those who called out: stop the killings, start the healing," said parish rector Fr. Jerome Cruz in his homily.
"Our bishop has long said that he is neither a politician nor a rebel, he is a shepherd. He is an ally and partner of the government. The sedition case against him is false and baseless. We call for its dismissal," said lawyer Aurora Santiago of the Council of the Laity of Caloocan.
Advincula has been accused of information peddling. He has changed stories about those he claims to be involved in the illegal drug trade and has been rejected as a witness by the Senate for lack of credibility.
But when he accused Robredo, other members of the opposition and the bishops of being behind the narcolist videos and the plot to oust Duterte, the PNP chose to take his word for it.
Unlike Villegas and David, Novaliches Bishop Emeritus Bacani said he had never met Advincula and that he was "completely surprised" at being linked to an ouster plot by the administration.
"I have never met 'Bikoy' nor talked to him or corresponded with him by any means, whether letters, text messages, e-mails and the like," Bacani said in a two-page counter-affidavit. – With Robertzon Ramirez