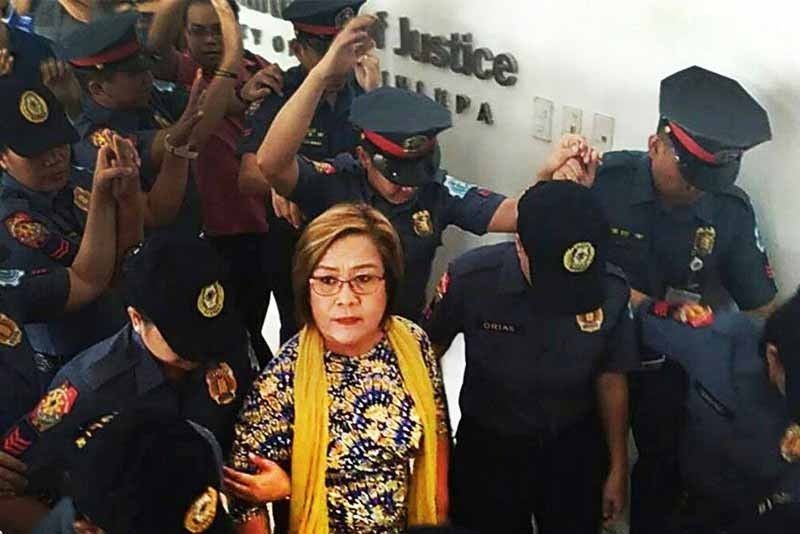 This November 16, 2018 photo shows Sen. Leila De Lima being escorted by members of the Philippine National Police.
Leila De Lima/Release
Courts allow De Lima to visit ailing mother in Camarines Sur
(Philstar.com) - August 14, 2019 - 10:47am
MANILA, Philippines — Two Muntinlupa courts hearing the government's drug cases against Sen. Leila De Lima have allowed her to visit her mother, who is critically ill, in Camarines Sur.
Acting Presiding Judge Gener Gito of Muntinlupa RTC Branch 256 granted the senator's request to visit her 86-year-old mother, Norma De Lima, who has been at the NICC Doctors Hospital in Naga City since August 4
Gito allowed De Lima to go on a furlough for a maximum period of 48 hours, including August 14 to 15, but she must return to the Philippine National Police Custodial Center, where she is detained, by August 16.
Liezel Aquiatan of Branch 256, said De Lima may visit her mother—whose condition has been deemed critical—on August 14 or 15. Aquiatan, who is hearing two criminal cases against De Lima, imposed the additional condition that the senator's stay at the hospital is limited to only eight hours.
Aquiatan also ordered the senator to refrain from giving interviews and using communication gadgets during the entire duration of her furlough.
Both Gito and Aquiatan granted the furlough on humanitarian reasons.
Last week, De Lima requested for a furlough so she can see her mother—possibly for the last time.
"As a daughter, she owes everything to the woman who gave her life and, in her present predicament, the only way she could show her deepest love and appreciation for her mother's love and care over the last 60 years is to be with her in her last moments on earth," she said last week.
De Lima said that since her detention on February 24, 2017, she has only seen her mother twice: on December 23, 2018, when her mother was brought to Camp Crame, and last June 16, for the celebratory dinner of her son's passing the Bar.
The senator is accused of having a hand in the proliferation of drug trade in the New Bilibid Prison during her stint as Justice chief, an allegation she has vehemently denied. — Gaea Katreena Cabico with report from Kristine Joy Patag