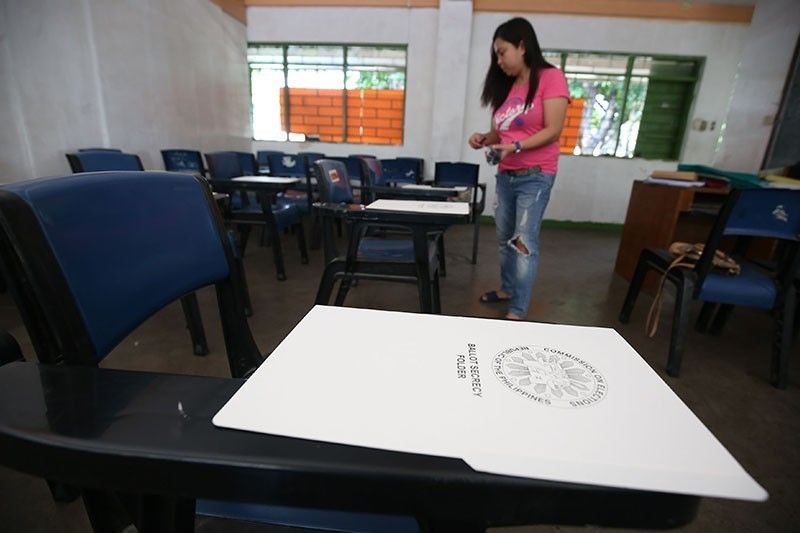 This shows a room in Flora Ylagan High School in Quezon City, a day before the midterm elections on May 13, 2019.
The STAR/Michael Varcas
Spread of fake news 'more insidious' in 2019 elections — report
MANILA, Philippines — The Philippines saw a "more insidious and camouflaged" proliferation of so-called "fake news" during the 2019 midterm polls than in 2016, a new study found, increasing the urgency for reforms to purge disinformation campaigns that could threaten democracies.
According to a report published last week by academic blog New Mandala, the distribution of fake news had evolved into "undercover operations" targeting small groups of potential voters while staying undetected by fact-checkers and content moderators.
The researchers said micro-influencers — or social media personalities who lack mainstream fame — were "weaponized" during the 2019 polls by taking advantage of their "more authentic and trustworthy" image and their "small yet intensely dedicated followers."
The report said that since macro-influencers have already been placed in the spotlight and shamed in congressional probes, micro-influencers were tapped by PR strategists for digital political campaigns aimed at small groups.
READ: Hits, misses of first Senate probe into fake news
"What micro-influencers lack in broader reach, they gain in maneuverability and 'contrived authenticity,'" read the report authored by professors Jonathan Ong of University of Massachusetts Amherst, Ross Tapsell of Australian National University and Nicole Curato of University of Canberra.
"This makes it easier for them to infiltrate organic communities and evade public monitoring," it added.
The proliferation of false news has been widely seen by experts as a major global threat with its ability to manipulate elections and imperil democracies.
READ: Putin on alleged US election interference: I don't care
Known as the world's social media capital, the Philippines has been called "patient zero" by one Facebook executive amid the growing number of fake news peddlers in the country.
President Rodrigo Duterte's allies took most of the 12 Senate seats available during the May polls, strengthening his clout in Congress and signaling strong public support for the firebrand leader.
Bloomberg in 2017 reported that Facebook's "political team" allegedly trained the camp of then-presidential candidate Duterte on how to maximize the platform for a campaign.
Last year, Facebook started blocking websites that are suspected of promoting false information in the country. Some of the banned domains support Duterte.
READ: Facebook says it can only reduce, not block, fake news
In the same report, New Mandala qualified that disinformation tactics in the Philippines are "fast-evolving, creative, and increasingly undetectable."
"Even in the best of circumstances, regulation on content moderation, among others, can only do so much to anticipate innovations of digital underground operations designed precisely to circumvent existing rules. The challenge, therefore, is broader and more systemic," it said.
"Avenues for reform need to take more seriously the enabling environment for disinformation to thrive, from the vulnerabilities of digital workers that drive them to join underground operations to the ethics of the advertising industry that allows unscrupulous practices unchecked," it added.