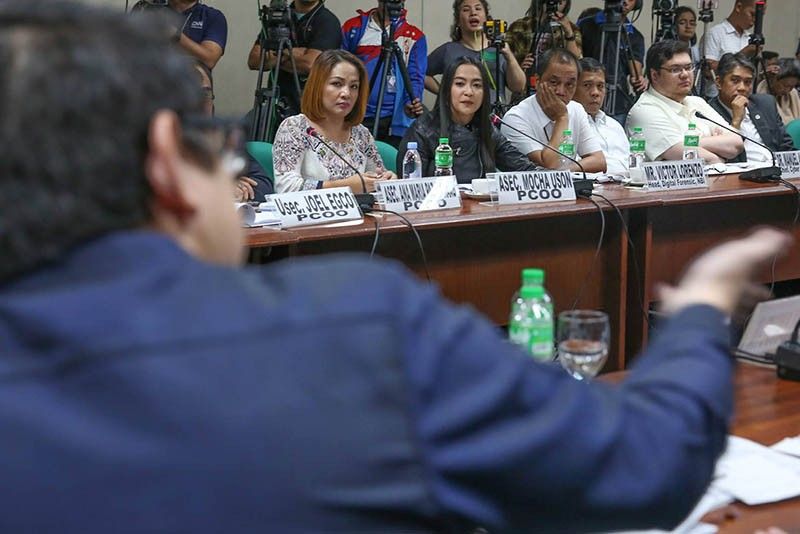 Blogger Mocha Uson, an assistant secretary of the Presidential Communications Office, appears at the Senate hearing on the proliferation of fake news on Oct. 4, 2017. Uson, who has been criticized over gaffes in posting wrong information, has decried being a victim of fake news herself.
Senate PRIB/Joseph Vida, File
Facebook says it can only reduce, not block, fake news
MANILA, Philippines — Facebook on Tuesday said it cannot prohibit fake news but it will try to reduce its distribution, as the world's largest social network sets new rules to determine what types of content are allowed.
Facebook has been battling widespread alarm amid issues on how the company handles users' data, as well as accusations that the platform was used as a tool to influence elections and imperil democracies through the spread of false and divisive news.
READ: Fake news is 2017's word of the year
Facebook recently released its updated "community standards," a longer rule book that outlines the types of posts that can be shared on the social network and the kinds of users that are banned from sharing contents.
While Facebook cannot weed out false information from the platform, the company said there is "a number of different ways" that it can do to dramatically diminish the spread of such contents.
"We want to help people stay informed without stifling productive public discourse. There is also a fine line between false news and satire or opinion," Facebook said.
"For these reasons, we don't remove false news from Facebook but instead, significantly reduce its distribution by showing it lower in the News Feed," it added.
READ: Facebook open to more fact checkers in Philippines
Below are the measures that Facebook will take to lessen the proliferation of disinformation online:
Disrupting economic incentives for people, pages, and domains that propagate misinformation
Using various signals, including feedback from our community, to inform a machine learning model that predicts which stories may be false
Reducing the distribution of content rated as false by independent third-party fact-checkers
Empowering people to decide for themselves what to read, trust, and share by informing them with more context and promoting news literacy
Collaborating with academics and other organizations to help solve this challenging issue
READ: Facebook rules at a glance: What's banned, exactly?
Fake news in the Philippines
The growing number of fake news peddlers in the Philippines has prompted lawmakers to hold congressional probes into the matter.
Just recently, Facebook started blocking websites that are suspected of promoting false information in the country.
According to the social network, users are prevented from sharing content from the banned websites for not following the company's "community standards" and for being "unsafe."
Some of the blocked domains support President Rodrigo Duterte.
READ: Facebook blocks pro-Duterte websites suspected of spreading fake news