Duterte approves P4.1-T 2020 budget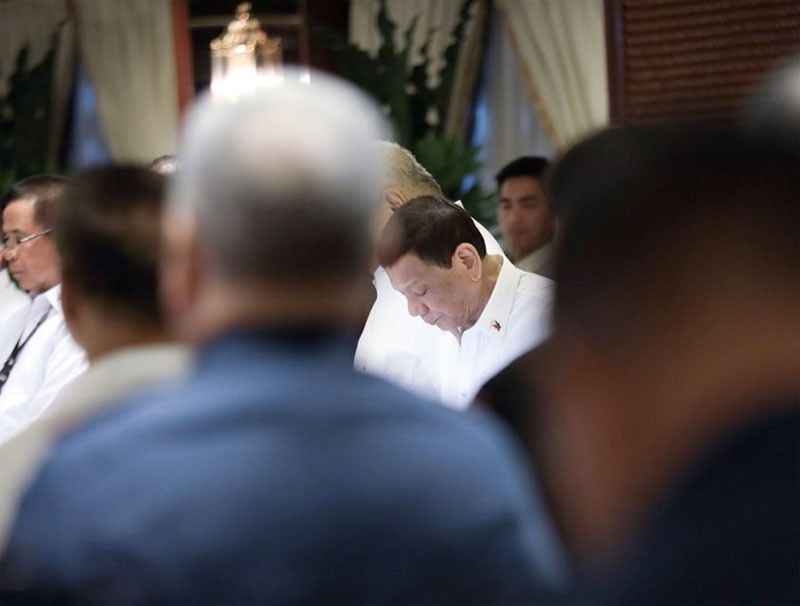 MANILA, Philippines — President Duterte has approved the P4.1-trillion national budget proposal for 2020, paving the way for its timely submission to Congress and possibly its enactment by October this year as planned.
Presidential spokesman Salvador Panelo announced the approval of the national budget proposal following the 40th Cabinet meeting the other night.
"We wish to inform the public that President Duterte, together with the members of the Cabinet, approved tonight (Monday) the P4.1-trillion national budget for fiscal year 2020," Panelo said in a statement before dawn yesterday.
"We assure everyone that our people's money, with education receiving the biggest slice of the budget, followed by public works, transportation and health, will be spent wisely to reach a state of vibrant economy that will be felt by the citizenry," Panelo said.
Newly appointed budget chief and former Davao City administrator Wendel Avisado was at the Cabinet meeting – his first – when the allocation program for next year was approved by the President.
The proposed appropriation is higher than the P3.757-trillion budget for this year.
"This budget proposal is designed to respond to the needs of the majority of our countrymen longing to be uprooted from the decades of want of basic necessities, inadequate supply of basic services, lack of infrastructure required to spur economic growth, absence of accountability on government coffers, vexing bureaucratic rigmarole, deprived education and unchanged poverty and geared to achieve a more peaceful and progressive Philippines where the living standards of Filipinos are raised," Panelo pointed out.
Speaker Alan Peter Cayetano said Congress expects to receive the budget program from Malacañang next week or between Aug. 16 and 20 as previously agreed upon with executive officials.
At the Cabinet meeting on Monday, Land Bank of the Philippines' president and CEO Cecilia Borromeo and Finance Secretary Carlos Dominguez III discussed the bank's action plan to intensify lending to the agriculture sector.
The President wanted the National Economic and Development Authority to do a study – together with the Department of Agrarian Reform – on the impact of amending Memorandum Circular No. 28, which allows farmers to use their Certificate of Land Ownership Award as an instrument to obtain loans but with restrictions.
Also at the meeting, Bureau of Internal Revenue (BIR) commissioner Ceasar Dulay and deputy commissioner Arnel Guballa shared updates on the tax collection from Philippine Offshore Gaming Operations (POGO).
Through an inter-agency task force composed of the BIR, DOJ, Bureau of Immigration, National Intelligence Coordinating Agency and Department of Labor and Employment, Panelo said the government was able to issue tax identification numbers to foreign workers, and as a result collect taxes from them. The Department of Foreign Affairs expects collection of P2 billion from POGO operations.
Education Secretary Leonor Briones, for her part, discussed the department's aim of reaching out to far-flung schools through its Last Mile Schools Program.
Revenue source needed
In preparation for the presentation of the budget, Cayetano said he is rushing the organization of the committee on appropriations and the committee on ways and means.
"We cannot pass the budget without accompanying revenue measures," he said.
He added he would also confer with appropriations committee chairman Isidro Ungab "regarding the scheduling of hearings."
"One of our innovations is that we will have more simultaneous hearings and we will ask the congressmen to focus on certain areas, rather than one congressman attending five to eight hearings. I'll ask them to hone their expertise in two-three hearings," he added.
Cayetano pointed out that the House would hold hearings on Thursdays and Fridays, if necessary, to meet its self-imposed deadline of approving the proposed 2020 budget before Congress goes on its first recess on Oct. 5.
He stressed that the House and the Senate would avoid the three-month delay that marred the enactment of the 2019 outlay.
Ungab said his committee would hold one hearing on the macro-economic parameters President Duterte's economic managers used in putting together the P4.1-trillion budget proposal.
"After that, we could ask the subcommittees to go full-blast on their examination of the proposals of their assigned agencies. We will definitely pass the budget on time," he said.
"The House will try to approve the budget by Oct. 5," ways and means committee chairman Rep. Joey Salceda said at a press conference after Monday's meeting.
Salceda also said that as agreed with executive officials, Congress would focus on priority bills – alcohol tax bill, public service law amendment bill, bill creating Department of Overseas Filipino Workers and the corporate income tax and incentives rationalization act (CITIRA).
Sen. Panfilo Lacson, meanwhile, vowed to scrutinize the 2020 budget program as the administration-dominated House of Representatives is poised to speed up passage of the national expenditure program measure.
"Of course, I for one will be there to scrutinize as I always do. I'll not be remiss in our duty to scrutinize the budget," Lacson said.
Sought for comment on pronouncements by some congressmen to rush the passage of the budget, Lacson said there is no guarantee that would happen.
"It depends. Don't tinker with it and it will get passed easily. But if we see budgets of agencies getting moved and reappearing in districts, then we can't promise that they'll be approved right away," he said in Filipino. "It's on them to pass the budget on time or not."
Lacson said he has been vocal about the need to scrutinize the proposed national budget, which is the lifeblood of a nation.
He cited as an example the reported overstocking of medicines at the Department of Health amounting to P3 billion in taxpayers' money. The losses could be higher, he said. – With Jess Diaz, Edu Punay, Cecille Suerte Felipe