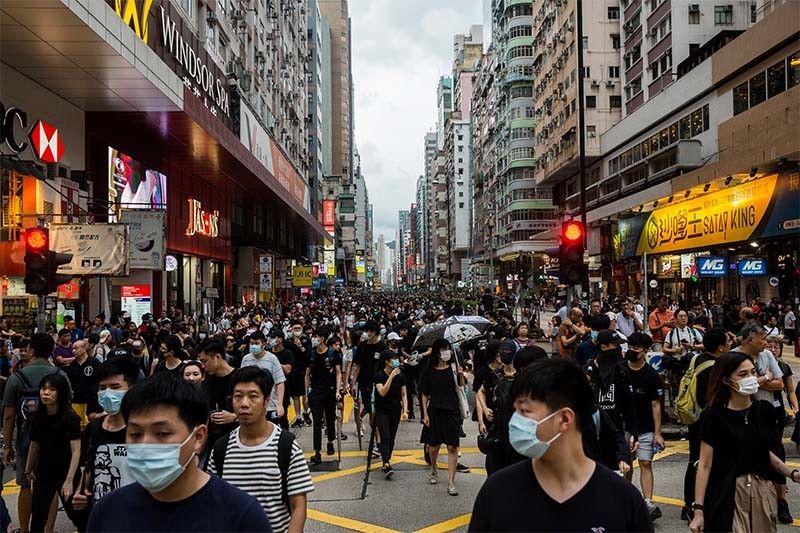 Protesters take part in a march in Mong Kok in Hong Kong on Aug. 3, 2019, in the latest opposition to a planned extradition law that has evolved into a wider movement for democratic reforms.
AFP/Isaac Lawrence
Filipino 'mistakenly' arrested in Hong Kong protest for wearing black shirt
(Agence France-Presse) - August 4, 2019 - 6:46pm
MANILA, Philippines — An overseas Filipino worker has been arrested in Mong Kok, Hong Kong on Saturday for allegedly joining the protest for democratic reforms.
Deputy Philippine Consul General in Hong Kong Germinia Aguilar-Usudan said the OFW was not a part of the movement. However, he was wearing black shirt when he was arrested.
Usudan said this is the first time that they experienced an arrest of a Filipino for alleged involvement in the Hong Kong protests.
"He said he was on his way to get some food last night and unfortunately he was wearing black and he's not part of the rally," Usudan was quoted by ANC's "Dateline Philippines."
Usudan said the OFW refused to be identified as he raised concern for his mother's health.
The suspect was assisted by two pro-bono Hong Kong lawyers but no charges were filed against the Filipino yet.
Following the mistaken arrest, the diplomat advised the public to avoid areas where rallies are being held.
"We will continue to advise our citizens to avoid this area and preferably to avoid using black or white t-shirts," Usudan said.
On Saturday, thousands of protesters wearing black marched in Mong Kok, a known shopping area in Hong Kong. They erected barricades and blocked a major tunnel.
Hong Kong has seen two months of protests and clashes triggered by the opposition to a planned extradition law that quickly evolved into a wider movement for democratic reforms. —Rosette Adel with reports from AFP