Amid sea row, Chinese envoy says Beijing won't fire first shot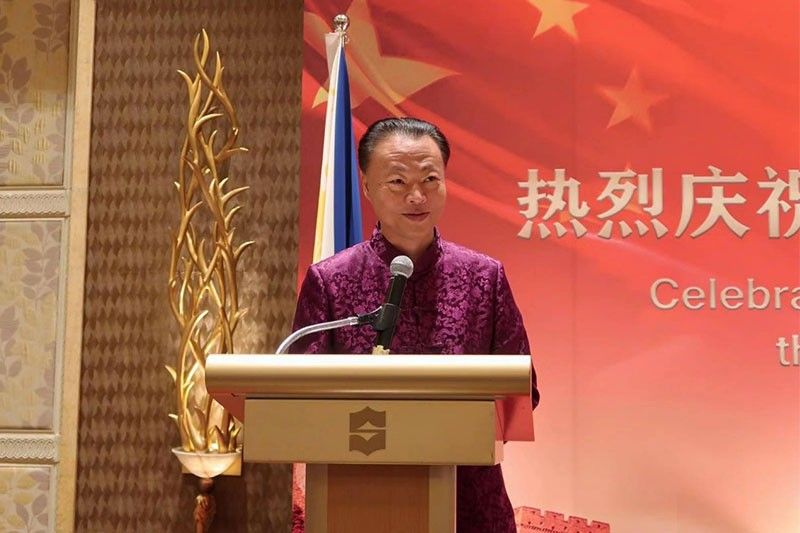 MANILA, Philippines — President Rodrigo Duterte has been insisting that invoking the Philippines' arbitral victory risks going to war with China but Beijing's top envoy in Manila stressed that they will follow a path of "peaceful development."
Speaking at the celebration of the 92nd anniversary of the People's Liberation Army, Chinese Ambassador to the Philippines Zhao Jianhua stressed that Beijing develops its military for the purpose of self-defense.
"China adopts a military strategy of active defense which adheres to the principle of defense, self-defense and post-strike response. Meaning we will not take the first shot," Zhao said in his speech,a copy of which was sent to reporters.
The Chinese envoy added that Beijing enhances its national defense in order to defend its own country and contribute to world peace and stability.
RELATED: Defense chief: Chinese envoy denies aircraft carrier sailed past Tawi-Tawi
'Peace-loving nation'
Zhao stressed that China is a "peace-loving nation."
"No matter how strong China may become, China will never seek hegemony or nenever establish spheres of influence," Zhao said.
"We all know these are very sensitive issues," the ambassador also said, referring to the dispute over the South China Sea, part of which is the West Philippine Sea.
"For those China, for the Philippines and for other claimant countries, it's not easy to settle. It cannot be settled overnight. So we should be patient. We should have confidence in our wisdom that sooner or later we can settle peacefully," Zhao said.
In the past year, China has installed anti-ship cruise missiles, surface-to-air missiles and electronic jamming equipment on its military outposts in the Spratly Islands in the South China Sea, part of which is the West Philippine Sea.
Last month, Beijing reportedly launched missiles from its man-made islands in the South China Sea. China's "big three" islands — Fiery Cross, Mischief and Subi Reefs — are also being claimed by the Philippines.
While the United States had expressed concern over China's "disturbing" missile launch in the South China Sea, the Defense Secretary Delfin Lorenzana said the Philippines will conduct its own inquiry into the incident.
Lorenzana has stressed, however, that Beijing needs to inform Manila if their warships will pass through Philippine waters after he confirmed that Chinese warships have been spotted sailing past Tawi-Tawi since February.
"They should inform us that they will pass through but they did not," he said.
Duterte stresses warning from China's Xi
In his State of the Nation Address last week, Duterte said he is not ready to go to war as it would leave more widows and orphans.
"On the matter of the Philippine — West Philippine Sea. The avoidance of conflict — armed conflict and protection of our territorial waters and natural resources compel us to perform a delicate balancing act," Duterte said.
The president also repeated the warning of Chinese President Xi Jinping that there would be "trouble" if the Philippines will drill for oil and gas in the South China Sea.
Supreme Court Senior Associate Justice Antonio Carpio, one of the people behind the Philippines' arbitral victory on the South China Sea, had been countering Duterte's claim that enforcing the award means going to war with China.
Citing the constitution, Carpio said the Philippines cannot go to war as the country renounces it as an instrument of national policy.
"The claim that enforcing the abitral award means going to war with China, a war the Philippines will surely lose, is an utterly false claim, designed to intimidate the Filipino people to submit to the will of China," Carpio said in a forum earlier this month.