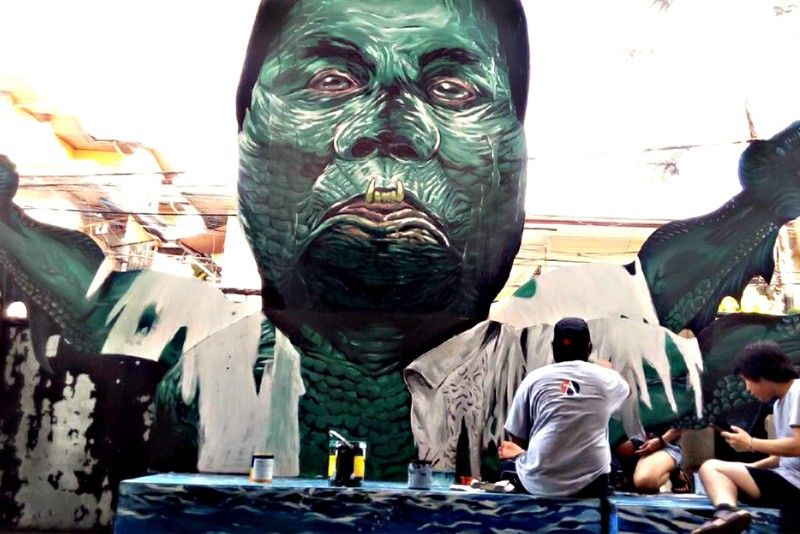 Photo provided by UGAT Lahi shows artists preparing a SONA rally effigy of President Duterte depicted as a sea monster called 'Duter-syokoy.'
Militants to parade SONA 'sea monster'
MANILA, Philippines — A merman to be called "Duter-syokoy" will be presented by militant groups when President Duterte delivers his State of the Nation Address (SONA) tomorrow.
"This is the merman that has given up his guardianship of the seas, in exchange for foreign loans and investments detrimental to the interests of the people. He uses fear and intimidation to force all creatures to follow his bidding," Bagong Alyansang Makabayan (Bayan) secretary-general Renato Reyes said.
"The broad 'United People's SONA' will march carrying Philippine colors and symbols of the West Philippine Sea – blue. We join the assertion of the people over the West Philippine Sea and condemn the subservience of President Duterte to China," Reyes addd.
Marian Adela Ramirez, spokesperson of UGAT Lahi Artist Collective, said Duterte has failed to keep his promise to defend the West Philippine Sea.
"What he has done instead is to give China the right to plunder our marine resources and claim vast areas of the West Philippine Sea. He has turned his back on our Filipino fishermen," Ramirez said.
As Duterte delivers his SONA, the most pressing problems have remained unresolved ­­– human rights violations, contractualization, low wages, privatization of services, Charter change, landlessness, foreign intervention in the economy, politics and military, the group said.
"If anything has changed, it is for the worse. Nothing has changed except that we are experiencing more political repression, more killings and more crises," Ramirez added.
She called on the people to raise their voice and make Duterte accountable for his actions, especially his failure to defend the country's sovereign rights over the West Philippine Sea.