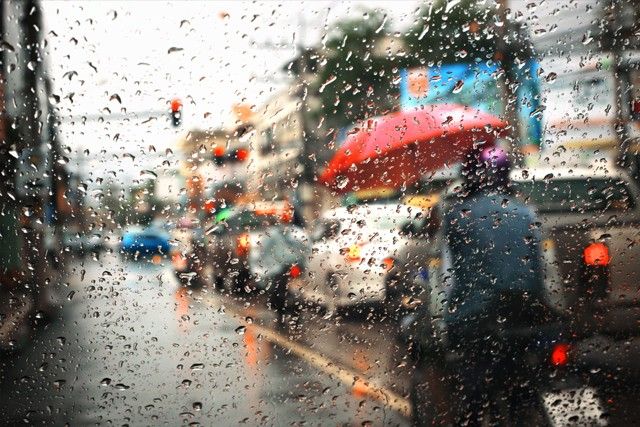 Dodong, the first cyclone to enter the Philippine area of responsibility this month, was forecast to move northeast at 25 kph.
File
'Tropical depression to bring more rains'
MANILA, Philippines — A low-pressure area that was spotted off the Philippine Sea has developed into a tropical depression and is expected to boost monsoon rains toward the weekend that may trigger flash floods and landslides.
As of 4 p.m. yesterday, Tropical Depression Dodong was at 615 kilometers east northeast of Aparri, Cagayan, the Philippine Atmospheric, Geophysical and Astronomical Services Administration (PAGASA) said.
It packed winds of 45 kilometers per hour near the center and gustiness of up to 60 kph.
Dodong, the first cyclone to enter the Philippine area of responsibility this month, was forecast to move northeast at 25 kph.
PAGASA weather specialist Ariel Rojas said Dodong was unlikely to make landfall in any part of the country.
However, it will enhance the southwest monsoon as it moves northeast toward southern Japan in the next 24 hours.
No tropical cyclone warning signal was raised as of yesterday afternoon.
Rojas said the enhanced southwest monsoon would bring frequent rains over most parts of Luzon, including Metro Manila, by tomorrow.
"Because of the enhancement of the southwest monsoon, Central Luzon, Metro Manila, Calabarzon (Cavite, Laguna, Batangas, Rizal and Quezon) Bicol region, and Mimaropa (Mindoro, Marinduque, Romblon and Palawan) will have cloudy skies with scattered rains that can be heavy at times," he said.
Rojas advised residents in areas considered high-risk to flash floods and landslides to coordinate with their local disaster officials.
In the next 24 hours, Dodong is expected to be over the northern border of the Philippine area of responsibility or 715 east northeast of Basco, Batanes.
It is then expected to exit and move toward southern Japan.
PAGASA weather specialists said the southwest monsoon is further strengthened when cyclones are located northeast of the Philippines or over southern Japan.
Heavy rains submerge Metro
A few hours before a tropical depression was monitored in the Philippine area of responsibility, some thoroughfares in Metro Manila were submerged under floodwaters due to heavy rains yesterday morning.
The Metropolitan Manila Development Authority (MMDA) said areas along Araneta-Maria Clara street toward E. Rodriguez were impassable to all types of vehicles at around 4:30 a.m. due to floods.
Motorists had to deal with floodwaters along the east and west bound lanes of Recto Avenue at around 5:20 a.m., as well as on España-Antipolo streets to Quintos.
Floodwaters submerged the outer lane of Tomas Mapua street and Araneta Avenue from E. Rodriguez to Quezon Avenue in Quezon City.
The floods subsided a few hours after the rain stopped.