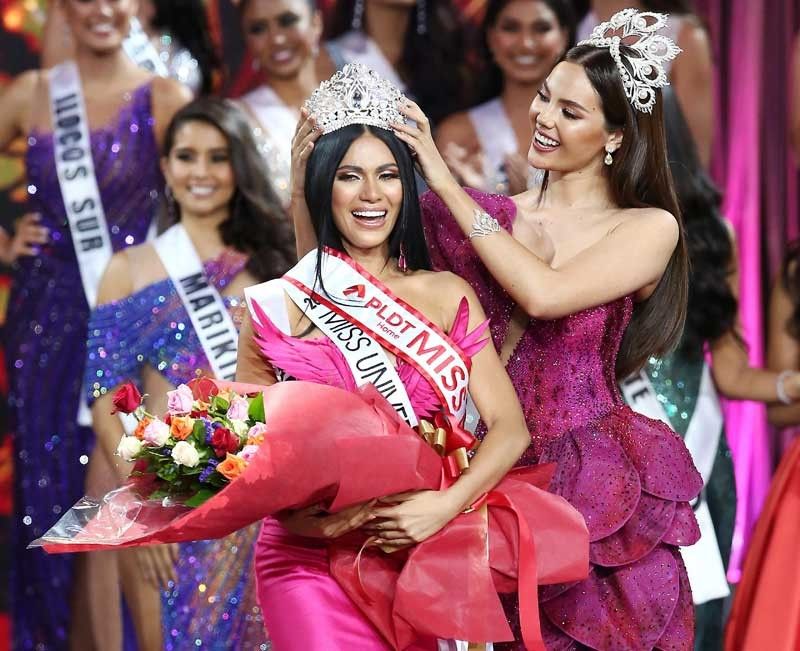 Reigning Miss Universe 2018 Catriona Gray crowns Ganados.
Miguel De Guzman
Cebu tourism grad is Bb. Pilipinas-Universe
Ricky Lo
(The Philippine Star) - June 11, 2019 - 12:00am
MANILA, Philippines — A 23-year-old Cebuana who grew up with her grandparents in Talisay City, Cebu, was crowned 2019 Miss Universe-Philippines at a star-studded pageant that lasted more than three hours at the Smart Araneta Coliseum Sunday night.
Gazini Ganados beat 39 other hopefuls to win the most coveted crown of the Bb. Pilipinas pageant, which is marking its 56th anniversary this year.
Asked by judge Bobby Barreiro, ABS-CBN Integrated Events head, what she could do to get more women in the workplace, Ganados answered without blinking, "If I win the crown tonight, what I will do is to promote my advocacy. My advocacy is for us women to fight for our rights and for the elderly care and for us to be able to know what someone is loving and someone is pushing us to whatever ambitions that we have. We will be able to rise from our decisions to whatever dreams that we have, goals that we have, and we will achieve it because of those values, those wisdoms that they gave us."
Ganados is a Tourism Associate graduate of the University of San Jose-Recoletos.
Before she crowned Ganados, outgoing Miss Universe Philippines/reigning Miss Universe Catriona Gray said in her farewell speech that she was "so humbled and immensely grateful to each and every one who has given true meaning to feeling the love and support of the Filipino people" and confessed that along the way, she had to surmount three mountains and to conquer three Mayon volcanoes.
Near tears, the emotional Gray added, "I may only be one person, but now I have the opportunity to serve 104 million Filipinos and I knew that I was doing this para sa Pilipinas. In each and every one of us is a king or queen with the ability to conquer the universe, whatever that may be for you."
The crown slipped from Ganados' head and Gray had to put it back on. After the pageant, Gray had a one-on-one with Ganados and gave her advice, saying, "This is just the beginning…"
Chaired by Quezon City Mayor-elect Joy Belmonte, the other members of the stellar board of judges included Gloria Diaz (the country's first Miss Universe in 1969), diplomats, businessmen and Kapamilya stars Daniel Padilla, James Reid and girlfriend Nadine Lustre. The event was hosted by fellow Kapamilya Anne Curtis and Richard Gutierrez, with 2016 Bb. Pilipinas Grand International/Miss Grand International first runner-up Nicole Cordoves.
Mayor Joy asked one contestant, "What is your message for the young and new breed of politicians that won in the recent elections, for example Pasig City's Vico Sotto?"
The contestant, who was among the Top 15, answered, "I would like to say that I am so proud to be a millennial right now. The youth is building our nation. We are on the road to a better nation, better world. Thanks to these new politicians."
Named 2019 Bb. Pilipinas-International was lawyer Patricia Magtanong of Bataan, 24, who grew up idolizing her lawyer father and passed the recent Bar exams. Asked by judge Reinerio Borja, president of Asia at Alorica Inc., which global influencer she wanted to meet and why, Magtanong replied, "I really idolize Angelina Jolie because she was blessed with such a thriving career in Hollywood but then as a woman she was able to use that influence, that voice and that audience to advocate for the causes that she believes in like world hunger with the UN. Someday, if I am given the chance, I would like to be just like her."
Unlike in previous pageants, the 40 girls were identified not by numbers but by the places they represented.
The four other winners were: Emma Mary Tiglao of Pampanga, Bb. Pilipinas-Intercontinental; Resham Ramirez Saeed of Maguindanao, Bb. Pilinas-Supranational; Samantha Ashley Lo of Cebu City, Bb. Pilipinas-Grand International; and Leren Mae Bautista of Laguna, Bb. Pilipinas-Globe.
This year's pageant changed the traditional sequence by first announcing the 25 semifinalists, winnowed down to 15 from which the six title-holders were chosen as well as the two runners-up, Maria Andrea Abesamis of Pasig City, first, and Samantha Bernardo of Palawan, second.