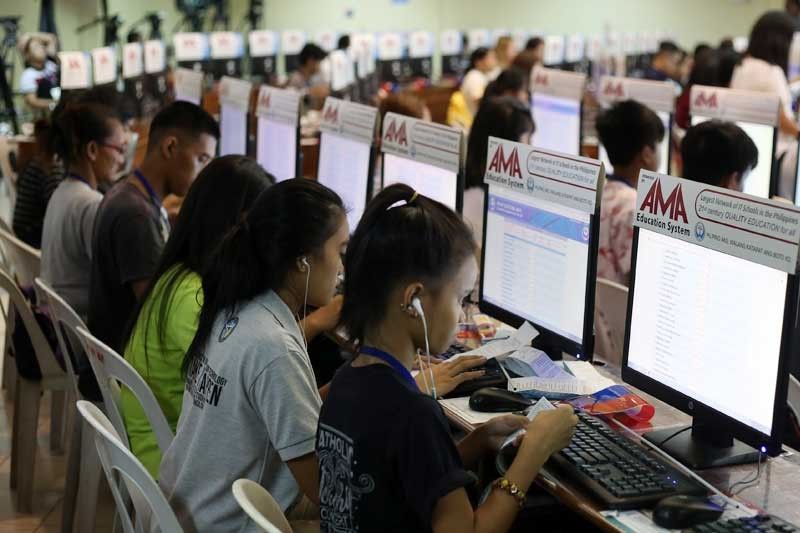 As of 11:27 a.m. yesterday, election returns electronically received by PPCRV from the transparency server showed 10 HNP candidates in the top 12.
Edd Gumban
PPCRV quick count: Hugpong bets still dominate Magic 12
Edu Punay
(The Philippine Star) - May 16, 2019 - 12:00am
MANILA, Philippines — Senatorial bets of the Hugpong ng Pagbabago (HNP) regional party of Davao City Mayor Sara Duterte-Carpio continued to dominate the winning circle in the quick count of the Parish Pastoral Council for Responsible Voting (PPCRV) in the senatorial race in last Monday's midterm elections.
As of 11:27 a.m. yesterday, election returns electronically received by PPCRV from the transparency server showed 10 HNP candidates in the top 12.
Reelectionist Sen. Cynthia Villar topped the list with 24,711,188 votes.
Former special assistant to the president Bong Go remained strong in third place with 20,055,437 votes, followed by returning senator Pia Cayetano in fourth place with 19,316,505 votes and former Philippine National Police chief Bato dela Rosa in fifth with 18,433,550 votes.
Reelectionist Senators Sonny Angara, Koko Pimentel and Nancy Binay also made it to the winning circle in sixth, 11th and 12th places with 17,763,199; 14,277,974 and 14,238,247 votes, respectively.
Ilocos Norte Gov. Imee Marcos, former Metropolitan Manila Development Authority chairman Francis Tolentino and returning senator Bong Revilla Jr. placed eighth, ninth and 10th places, with 15,500,445; 15,084,396 and 14,285,517 votes, respectively.
Two other candidates from another party – reelectionist Sen. Grace Poe and returning senator Lito Lapid – placed second and seventh with 21,598,821 and 16,610,823 votes, respectively.
Another HNP senatorial bet, reelectionist Sen. JV Ejercito, is in close 13th place with 13,995,867 votes.
None of the candidates from the Otso Diretso slate made it to the winning circle. Reelectionist Sen. Bam Aquino obtained the highest rank among them in 14th place with 13,885,519 votes.
The figures represent votes cast from 84,597 or 98.6 percent of the 85,769 clustered precincts.
With about 1.4 percent remaining votes to be tallied, it remained statistically possible for Ejercito and Aquino to enter the top 12 as of yesterday afternoon.
In the party-list race, the ACT-CIS of the Tulfo brothers remained on top with 2,573,342 votes or 9.48 percent of the votes cast.
Militant group Bayan Muna maintained the second position with 1,094,687 votes or 4.03 percent, followed closely by AKO Bicol in third place with 1,038,400 or 3.83 percent and CIBAC in fourth place with 912,492 votes of 3.36 percent.
Rounding up the top 10 in the PPCRV count were Ang Probinsyano in fifth place with 752,468 votes or 2.77 percent, 1PACMAN in sixth with 700,919 votes (2.58 percent), Marino in seventh with 656,882 votes (2.42 percent), Probinsyano Ako in eighth with 619,055 votes (2.28 percent), Senior Citizens in ninth with 501,384 votes (1.85 percent) and Magsasaka in 10th place with 484,015 votes (1.78 percent).
In a related development, the Senate will remain independent in the 18th Congress despite its likely being packed with close allies of Duterte and controversial legislation expected to be in its agenda, incumbent senators said yesterday.
Senate President Vicente Sotto III said that while there would be more senators belonging to the administration coalition, there are "no guarantees on anything at this point" when it comes to legislation that may be pushed by Malacañang.