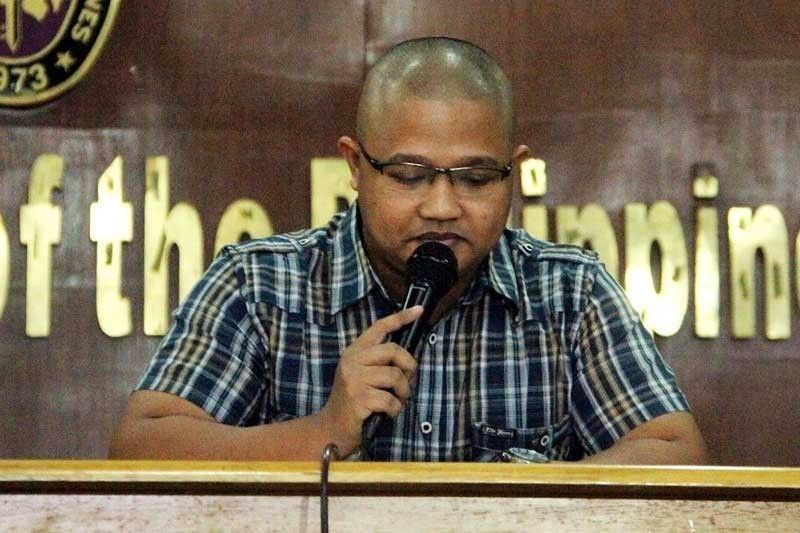 Peter Joemel Advincula alias "Bikoy" faces the media at the Integrated Bar of the Philippines office in Pasig City Monday afternoon.
The STAR
Palace questions credibility of man who claims to be 'Bikoy'
(Philstar.com) - May 7, 2019 - 11:52am
MANILA, Philippines — Malacañang cast doubt on the credibility of the man who claims he is "Bikoy"—the individual who linked the Dutertes and the president's former aide to the illegal narcotics trade in a series of videos—as it brought up his supposed criminal record.
Peter Joemel Advincula, the man who identified himself as "Bikoy," surfaced Monday afternoon at the Integrated Bar of the Philippines office and claimed there are threats to his life.
Reading a prepared statement, Advincula detailed his involvement in an alleged syndicated where one of his duties was to scan codes embedded in the tattoos of senior members such as former Special Assistant to the President Christopher "Bong" Go and presidential son Paolo Duterte.
But for Presidential spokesperson Salvador Panelo, the credibility of Advincula is questionable.
"It appears that he has been incarcerated in 2012 for conviction of illegal recruitement and large scale estafa, as well as for theft," Presidential spokesperson Salvador Panelo said in a statement Tuesday.
He added: "These crimes involve moral turpitude that goes to the very integrity and credibility of Advincula or Bikoy."
Advincula admitted he was jailed for six years in 2012 for estafa and was released. After he was released in 2016—his sentence was reduced—he said he had decided to lead an honorable life.
The STAR reported that Advincula was jailed at the National Bureau of Investigation in 2016 for large-scale illegal recruitment but was released the following year for "good conduct."
Bikoy also ran away with the prize money of a beauty contest in Bicol on Aug. 16, 2017. He is also facing a theft case.
Panelo also called Advincula a "fraudster" for using the IBP as a facility "to perpetuate lies and foist accusations" against President Rodrigo Duterte, his children and those who are closely identified to him.
IBP President Abdiel Dan Fajardo said the organization would still have to evaluate Advincula's application as a client.
'You lie in one, you lie in all'
The president's mouthpiece said the claims of Advincula have been already denied by the individuals and entities mentioned in "Ang Totoong Narcolist" videos.
"There is a dictum in law which says: You lie in one, you lie in all. This legal principle applies to Advincula or Bikoy," Panelo said.
He claimed that Advincula is likely used by personalities "bent on destroying the reputation of the Duterte family and tarnishing the image of the president."
"Bikoy's pretended fear for his life is part of the fraudulent act. Soon the pretenders and black propagandists will be unmasked," Panelo said.
Senate probe
The man claiming he is Bikoy said he ready to face a Senate probe to prove the contents of his video series are true.
Sen. Panfilo Lacson, chair of the committee on public order and dangerous drugs, said his panel could schedule a hearing on one condition.
Like it or not, Bikoy has become a political, if not an election issue. The Senate Committee on Public Order and Dangerous Drugs can schedule a hearing this week on one condition: Bikoy must personally present a sworn statement and his evidence to support his accusations.

— PING LACSON (@iampinglacson) May 7, 2019
"Bikoy must personally present a sworn statement and his evidence to support his accusations," Lacson said on Twitter.
He also said the issue "has become a political, if not an election issue." — Gaea Katreena Cabico