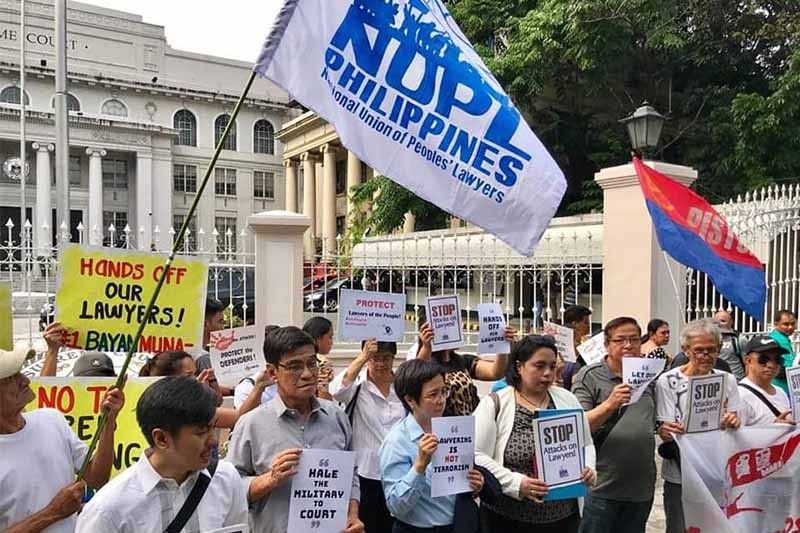 In this photo taken April 15, members and supporters of the National Union of Peoples' Lawyers troop to the Supreme Court in Manila ahead of their filing of a petition seeking protection from alleged threats of state agents.
Facebook/National Union of Peoples' Lawyers
Court of Appeals to hear NUPL plea over perceived state harassment, red-tagging
MANILA, Philippines — The Supreme Court Friday directed the Court of Appeals to hear the plea of the National Union of Peoples' Lawyers who accused state agents of harassment and red-tagging against their ranks.
The SC Public Information Office, in a statement, said that the high court "issued a writ of amparo and habeas data in favor" of the NUPL, but the release did not expound on its scope.
The SC, however, ordered the Court of Appeals to hear the lawyers' group petition on May 14 and "decide the case within 10 days after submission of the case for the decision."
The court also ordered the government to comment on the petition before May 14.
The NUPL filed a petition for a writ of amparo as they said that their rights to life, liberty and security have been violated by "persistent threats and harassment, and red-tagging," preventing them from carrying out their profession as members of the bar.
Philippine jurisprudence defines red-tagging as "the act of labelling, branding, naming and accusing individuals and/or organizations of being left-leaning, subversives, communists or terrorists (used as) a strategy... by State agents, particularly law enforcement agencies and the military, against those perceived to be 'threats' or 'enemies of the State.'"
EXPLAINER: Duterte's red-tagging endangers activists – militant groups
The SC has also issued a writ of habeas data for the NUPL, but the SC PIO did not expound on it.
In their petition, the lawyers' group asked the court to issue a writ of habeas data to compel the government to "produce and, if necessary, to update and rectify, or to suppress and destroy, data, information, and files in their possession under their control or contained in their data base which relate to or concern Petitioners."
The NUPL named President Rodrigo Duterte and his top security and military officials, including National Security Adviser Hermogenes Esperon Jr. and Defense Secretary Delfin Lorenzana as respondents.
The lawyers' group has also raised the supposed dangers of the Malacañang-released ouster plot "matrix" that accused the NUPL and three news organizations in scheming to boot out the president.