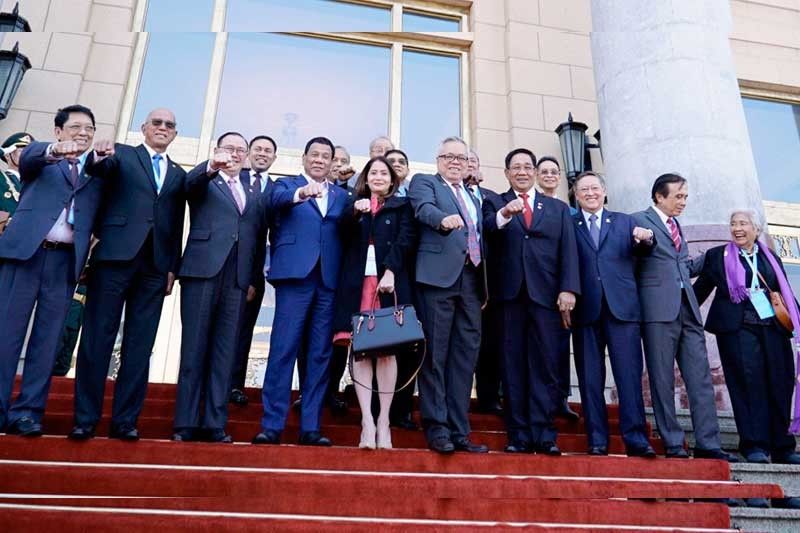 President Duterte flashes his signature pose with the members of his delegation following a successful bilateral meeting with Chinese President Xi Jinping at the Great Hall of the People in Beijing on April 25.
$12.6-B deals forged in Beijing
BEIJING – At least $12.6 billion worth of new investments and trade deals were forged yesterday between Filipino and Chinese businessmen at a forum attended by President Duterte in this city.
The signing of 19 new investments and trade deals took place at the Grand Hyatt Hotel Beijing yesterday afternoon on the sidelines of the Second Belt and Road Forum initiated by Chinese President Xi Jinping.
Officials said the new agreements are expected to create over 20,000 jobs for Filipinos.
The President witnessed the signing of the agreements, which include a partnership between the Cagayan Economic Zone Authority (CEZA) and Yatai International Holdings Group for the establishment of a science and technology center or comprehensive smart city in the province.
CEZA also entered into a separate agreement with Global Millennial QuickPay for Fintech Hub.
Pai Hao Investment and Immigration Consultant Limited and CEZA also forged an agreement with Filipino groups for the upgrading of the Cagayan International Airport.
Chinese firms Dawah and Apsaraz also partnered with CEZA for the establishment of a yacht club.
Guanan Group of China will set up Green Textile Industrial Park also in CEZA.
Another contract finalized was for the proposed 250 MW South Pulangi Hydroelectric Power Plant project in Damulog, Bukidnon. The project, to be developed by Pulangi Hydro Power Corp. and China Energy Co. Ltd., aims to improve power supply reliability and resilience in the country, particularly in Mindanao. It is valued at $800 million and will create 5,000 jobs.
Filipino conglomerate Tranzen Group entered into an agreement with China Power Investment Holding for thermal, hydro and renewable power plants, cumulatively valued at around $1.5 billion to $2 billion and expected to create 1,000 jobs.
The Davao Occidental local government and Fengyuan Holdings signed an MOU for a $1.5-billion petrochemical refinery processing plant complex to be located at the Tubalan Cove Business and Industrial Park. The project is estimated to require 500 workers.
As part of a long-term plan to reduce dependence on imported fuels, the Department of Energy, Shanghai Electric Group Co. Ltd. and Deluxe Family Co. Ltd. inked a $40-million MOU for collaboration in the promotion of the use of indigenous, new and renewable energy resources.
No to dependence
While pleased with the prospect of more aid and investments from China, President Duterte meanwhile emphasized that development assistance should be for capacity building and not for fostering dependence.
"We must remember: development assistance must be used as a genuine tool to bring about positive change in the lives of our peoples. And it must be a purposive decision of partner-states, taking into account mutual respect and mutual interests," Duterte said earlier in remarks before forum participants at the China International Convention Center here.
The President joined 39 other heads of state, including Russian President Vladimir Putin, at the Second Belt and Road Forum upon the invitation of Chinese President Xi Jinping.
As beneficiary of China's Belt and Road Program, the Philippines receives funding for a number of infrastructure projects under its "Build Build Build" infrastructure program.
In his remarks, Duterte said the Belt and Road should guarantee reciprocal benefits, and that partner states should have genuine interest in working together to bring about real progress.
"This should be the new normal. And it is in our interest to work together to make this a reality. With the Belt and Road program, this forum we have is an opportunity to redefine international cooperation. This is the key to sustained growth," Duterte added.
Pursuing connectivity, the President said, should not merely mean building roads and bridges but creating human connections as well.
"It is through these connections that we facilitate grand exchanges of skills, ideas and experience. It is also through linkages that we forge and build trust and understanding," Duterte pointed out.
The President maintained that migrant workers serve as nodes of these connections. Through their hard work, they continue to contribute to the development of both their home and host countries, he said.