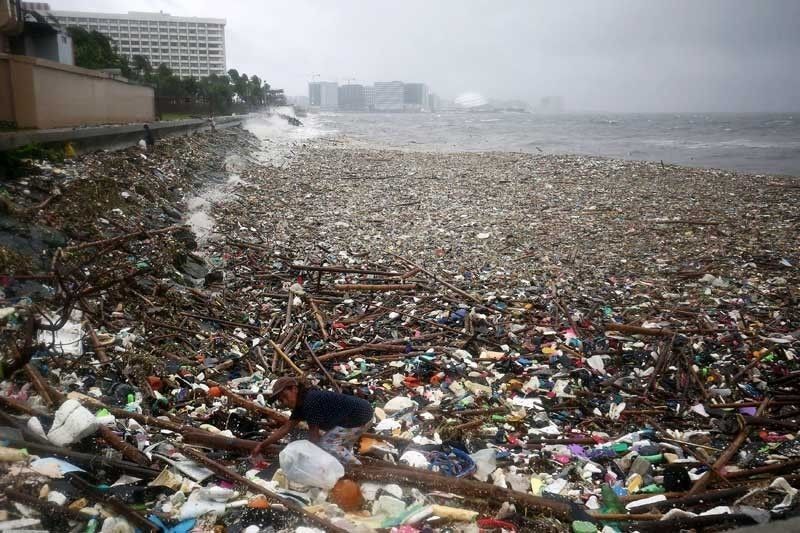 File photo shows a scavenger collecting reusable materials in Manila Bay after Typhoon Ompong hit the country in September.
The STAR/Miguel de Guzman, File
Filipinos urged to vote for environmental rights champions
MANILA, Philippines — Voters must elect candidates who will work and fight for environmental rights in the May midterm elections, a waste and pollution watchdog said Monday.
EcoWaste Coalition made the call during the celebration of Earth Day, barely three weeks left before the May 13 national and local elections.
"As we mark the Earth Day, we call upon all registered voters to pick national and local candidates and party-list groups who will genuinely work with and for the people in ensuring clean, healthy, safe and sustainable environment for all," Aileen Lucero, EcoWaste Coalition national coordinator, said.
Lucero stressed the country needs leaders at the Senate and the House of Representatives who would defend existing pollution prevention laws and will take the lead in ensuring the enactment of long overdue measures such as the ban on single-use plastic and ban on foreign waste importation.
"We need senators and representatives across the political spectrum who will actively engage in getting national laws and regulations adopted to protect the environment against further degradation and uphold environmental health and justice," she said.
The EcoWaste Coalition national coordinator also emphasized the need to elect "grassroots lawmakers" in provincial, city and municipal councils who will file and fight for ordinances aimed at protecting the public health and the environment.
"We want to see local government units promulgating ordinances that will 'promote health and safety and enhance the right of the people to a balanced ecology' in line with the general welfare clause of Republic Act 7160 or the Local Government Code," Lucero said.
She added: "We need more local government executives who possess the political will to promote and uphold the environmental rights of their constituents."