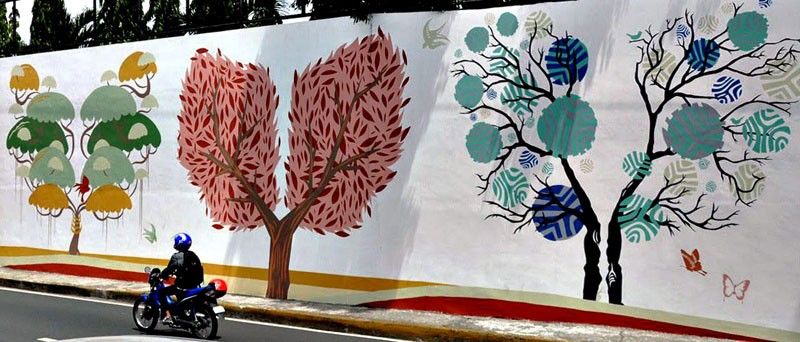 A motorcyclist speeds past images of lung-shaped trees along EDSA. The stylized trees were painted using KNOxOUT, which paint manufacturer Boysen says can remove nitrogen oxide from the air.
Earth Day: Revolutionary paint offers solution to air pollution
Janvic Mateo
(The Philippine Star) - April 22, 2019 - 12:00am
MANILA, Philippines — An innovative type of paint developed by a Philippine company is slowly transforming regular walls into giant air purifiers, revolutionizing the fight against air pollution in different parts of the world.
Local paint manufacturer and distributor Boysen (Pacific Paint) has developed a type of paint that can eliminate harmful air pollutants such as nitrogen oxide (NOx) and other volatile organic compounds.
Mainly generated by vehicle emissions, NOx is a common air pollutant known to have serious consequences for health and the environment, including causing acid rain and smog.
Called KNOxOUT, the paint contains ultrafine titanium dioxide that breaks down NOx and converts it into harmless substances.
"Even before we developed KNOxOUT, there had been several studies proving that the active ingredient, the nano-sized titanium dioxide, is a photocatalytic product that can help eliminate pollutants in the air," Patrick Negrete, assistant manager at the technical service department at Boysen, told The STAR.
"What our company did was to actually produce the product and market it here in the Philippines. Eventually, when other countries heard about it, we started exporting it to them," he added.
The paint is activated using light energy, enabling the active ingredient to convert NOx into nitric acid, which is rapidly neutralized to produce harmless quantities of calcium nitrate, water and negligible amounts of carbon dioxide.
Negrete said the company has invested heavily in the development and testing of the product, which was launched about a decade ago.
The motivation behind it, he noted, was simple: find a solution to the worsening problem of air pollution.
During testing, which included painting a metro rail transit station in Makati, Boysen discovered that one square meter of wall painted by KNOxOUT could remove up to 160 grams of NOx per year, comparable to the air cleaning impact of a mature tree.
A recent test conducted at King's College London confirmed results of the Manila trial.
In urban areas where tree planting is not viable due to lack of space, the company said painting walls using their product could be a feasible alternative.
This was the idea behind Project EDSA, an initiative that involved painting lung-shaped trees and other artworks along the country's busiest thoroughfare.
"With Project EDSA we're not only transforming the city's main artery into a showcase for art, we're creating massive, solar powered air purifiers along the city's most polluted roadway," Pacific Paint vice president Johnson Ongking was quoted as saying in an article published in the Asia Pacific Coatings Journal.
"It's using the beauty of art and the power of science to help address the ugly problem of air pollution in our city," Ongking said.
Similar projects have cropped up in other countries, including Peru, Colombia and the US.
Boysen said KNOxOUT is ideal in places where air pollution builds up the most, including in tunnels, bus terminals, car parks, vehicle entranceways to buildings, walkways and courtyards.
The paint can also be used indoors, as the active ingredient reacts to fluorescent light as well.
In Mexico City, a hospital installed a hive-like façade that uses KNOxOUT to purify air entering the building.
A tunnel in The Hague, in the Netherlands, and an indoor car park in Paris, France have also used the paint.
Despite its positive impact on the environment, however, KNOxOUT has yet to dominate the market.
Negrete said this might be due to the cost of the product, which is about three times more expensive than regular paint.
"Not everyone would be willing to pay for it," he says. "But for some, the cost is negligible if you think about how it will benefit future generations."
He said the company will continue to push for the use of KNOxOUT and develop other products that are geared toward protecting the environment.
"KNOxOUT is here to stay," he said. "If you think about it, this is the trend, where we're going – developing products to benefit our children."
This article is being published as part of Earth Beats, an international and collaborative initiative gathering 18 news media outlets from around the world to focus on solutions to waste and pollution. Use the hashtag #EarthBeats on social media to learn about other stories on the global fight for the environment.