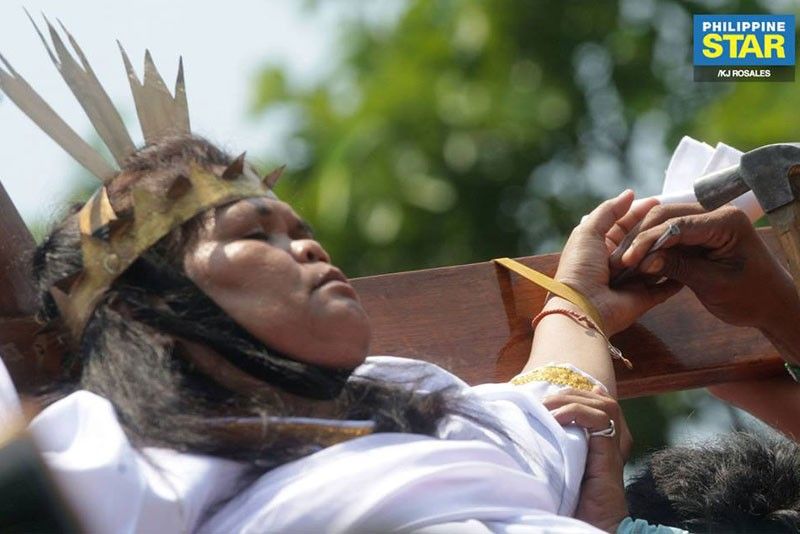 Seven others, including two women, were nailed on wooden crosses in Barangays San Juan and Sta. Lucia, also in this provincial capital, and in Paombong, Bulacan.
12 nailed on crosses in Bulacan, Pampanga
SAN FERNANDO, Pampanga, Philippines — Amid a fiesta or festive atmosphere defying Church-prescribed fasting and abstinence, around 15,000 persons witnessed the true-to-life crucifixion of five penitents in Barangay San Pedro Cutud here on Good Friday.
Seven others, including two women, were nailed on wooden crosses in Barangays San Juan and Sta. Lucia, also in this provincial capital, and in Paombong, Bulacan.
As usual in San Pedro Cutud and to the dismay of some local priests, meat was served on Good Friday in an abundant feast, a practice that started in the 1960s when crucifixions began to lure thousands of tourists.
But the village's fiesta is on Feb. 22, the feast of its patron St. Peter.
The Maleldo or Holy Week committee said as in the past years, the main Kristo or Christ in San Pedro Cutud was commercial painter Ruben Enaje, 59, who was on his 33rd crucifixion since the first that he intended as thanksgiving to God for saving his life from a bad fall.
Despite years of experience and like the other Kristos who were nailed on crosses, Enaje could only moan, if not cry, when stainless steel nails were driven through his palms and feet at 3 p.m.
"Next year, I'm going to be a senior. Our bones are a bit different, you start to get hurt. I'll just pass down (this tradition) to someone younger than me," Enaje said.
Mary Jane Sazon, 44, has been crucified three times.
"When I do this devotion, my prayers come true. Then I stopped. I started having health problems again, so I joined the crucifixion again. I felt that through my devotion, whatever illness I feel goes away," said Sazon.
Also crucified in San Pedro Cutud were Edison Francisco, Angelito Las Piñas and Ronald Aquino. They sought favors as well as thanked God for blessings.
In Barangay Sta Lucia, those crucified were Melchor Montaya, Danilo Ramos, Fernando Mamangun while in Barangay San Juan, the only Kristo was Wilfredo Salvador.
In Bulacan the three Kristos were Thomas Vincent Mondragon from Bagong Silang, Caloocan City, Engracia Valencia from Barangay Tilagdan in Paombong town and Nicanor Dela Cruz from Plaridel town.
Mondragon was first to be crucified at the grounds of the Sto. Cristo Chapel in Barangay Kapitangan, Paombong at noon, followed by Valencia.
Dela Cruz was nailed to a wooden cross around noon in a rice field in Barangay Barihan, Malolos City since crucifixion at the Barihan Chapel is prohibited.
Of the crucifixions, the one in San Pedro Cutud has remained to be the most colorful, with costumed characters playing different roles in the Gospel accounts. The crucifixions were also preceded by reenactments of events that led to Jesus' death on the cross.
Elsewhere in Pampanga, those not inclined to witness bloody practices are left with other options as hooded flagellants on the streets whipped their already bloodied backs.
"We're from Poland, so it's also a Catholic country but there is nothing like that. It's much more peaceful and quiet," said Magdalena Tyburcy.
Other Lenten traditions include street plays with devotees reenacting the Way of the Cross and a marathon chanting of the Pasyon, a narrative of the suffering of Christ.
Tradition of littering
Meanwhile, environmentalists have expressed dismay after some devotees who went to popular Lenten pilgrimage sites on Maundy Thursday and Good Friday left a trail of garbage behind.
The EcoWaste Coalition lamented that littering has become a "tradition" tarnishing the annual journey of the faithful to favorite pilgrimage destinations in the provinces of Bulacan and Rizal.
According to reports filed by the group's Basura Patrollers, littering was widespread at the Our Lady of Lourdes Grotto Shrine in San Jose del Monte City, National Shrine of Divine Mercy in Marilao and the Our Lady of Peace and Good Voyage Cathedral in Antipolo City.
"We regret that our appeal for a garbage-free Holy Week remain unheeded as many devotees, without any sense of guilt or shame, left their discards anywhere," said Aileen Lucero, national coordinator of EcoWaste Coalition. – With Ramon Efren Lazaro, Rhodina Villanueva, AP