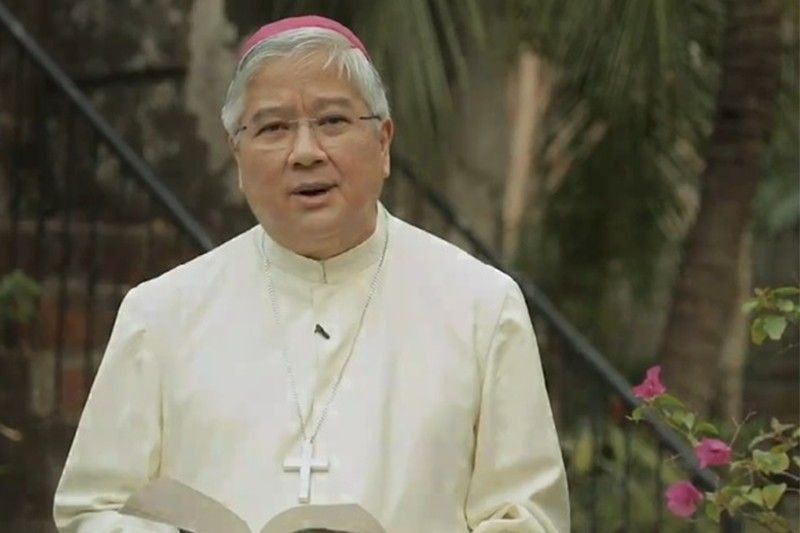 This photo shows Lingayen-Dagupan Archbishop Socrates Villegas.
Screengrab
Villegas tells priests: Do not fear death
MANILA, Philippines — Priests and bishops should continue standing up for truth, Lingayen-Dagupan Archbishop Socrates Villegas said, as he called on clergymen not to be cowed by threats and insults.
In a homily delivered at Saint John the Evangelist Cathedral in Dagupan City Holy Thursday, Villegas there is "nothing surprising" with priests receiving death threats as it is part of their priesthood.
"Death is not a threat. It is our destiny. To be killed is not a defeat of our mission," the former president of the Catholic Bishops' Conference of the Philippines said.
Villegas was one of the bishops who received threatening messages along with Caloocan Bishop Pablo Virgilio David. Last March, priests Albert Alejo, Flavie Villanueva and Robert Reyes bared they have been receiving death threats and even monitored suspicious men lurking near their houses and offices.
READ: More priests reveal receiving death threats
The threats to the lives of priests came amid President Rodrigo Duterte's attacks against Catholic clergymen, who have been voicing their opposition to his deadly war on drugs.
"We are sent to an angry disbelieving society. We are priests sent to a nation whose leader mocks God and calls Him stupid. The bishop's mother is derided as a prostitute and there is a marching order to kill any bishop you see. All priests are sex maniacs and piety is ridiculed. Honesty is optional and delicadeza is outdated. To top it all, our Catholic faithful are clapping and campaigning for his enablers to win the elections," Villegas said.
He then called on his fellow clergymen not to fear death.
"Priest of God, make friends with death, do not fear it. These times demand courage, much courage. When future generations write this episode of our history, may they see us on the right side of the story, that we were given a chance to die, we stepped forward and embraced our martyrdom," Villegas said.
Courage
The Dagupan-Lingayen archbishop, moreover, called on members of the clergy to continue their work courageously.
"We must confront with holy anger the more than thirty thousand senseless murders of the poor in the name of a false drug-free society, with our courage to face death eyeball to eyeball and declare, 'Death where is your sting? Grave where is your victory? No weapon formed against us will prosper. The gates of hell won't stand," Villegas said.
He added: "We must exercise the creeping culture of vulgarity, obscenity, lewd jokes and lack of good breeding, with the humble power of Crucified Lord. We must not fear suffering rebukes, being calumniated, forgotten, ridiculed, wronged or suspected."
Villegas also urged his colleagues to reject the "father of lies and prince of darkness" to standing up for the truth and shielding it from "deception and fake news."
"Bring the fight not just in the pulpit but on social media and in the plaza. Flood social media with the power of love. Make good manners fragrant and attractive. Make them see the mercy of God on Facebook," he said.