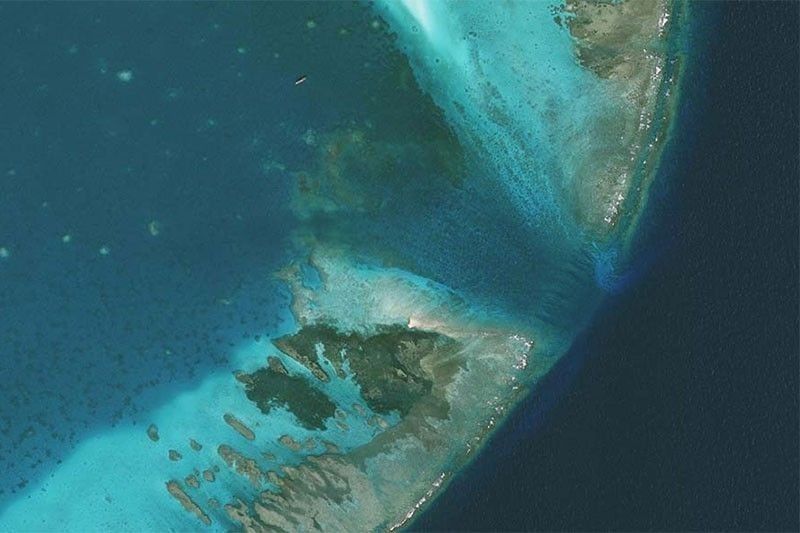 Chinese fishermen harvesting giant clams in Scarborough Shoal destroyed coral reefs in the process.
AMTI
Locsin: No one goes to war for clams
(Philstar.com) - April 18, 2019 - 5:35pm
MANILA, Philippines — The Philippines and China should not go to war over clams, Foreign Affairs Secretary Teodoro Locsin Jr. said, following a report on China's poaching of giant clams in the Scarborough or "Panatag" Shoal in the West Philippine Sea.
According to an ABS-CBN News report, the Chinese continue to extract giant clams at Scarborough Shoal, a traditional fishing ground off the coast of Zambales on the western shores of the Philippine island of Luzon.
In a Twitter post on April 16, Locsin said that China should just pay for the harvested clams "like fish in market" instead of coming to blows with Manila.
"I am not going down in history as a clam defender, okay? It's a complaint; we're looking into it; but these are just f*cking food," the country's top diplomat said.
"No one goes to war for clams (maybe Oysters of Locquemariaquer) but they just happen to be OUR food," he added.
Ties between the Philippines and China have significantly improved under President Rodrigo Duterte, who has set aside a landmark ruling from a United Nations-backed tribunal that struck down Beijing's "Nine Dash line" claim that encompasses most of the resource-rich sea.
Duterte's management of the maritime dispute has frustrated nationalists, who criticized his seeming inaction towards China's military buildup in the strategic waterway.
ABS-CBN News reported that Filipino fishermen have been watching the Chinese harvest giant clams in the area for years.
According to local fishermen, Chinese Coast Guard speed boats prevent Filipino and other fishing vessels from accessing the shoal.
Also on April 16, Locsin said the Philippine government will be taking legal action against Chinese nationals harvesting giant clams in Scarborough.
"We just caught them doing that recently, filed a diplomatic note, and will be taking legal action. With our legal department now," Locsin tweeted. — Ian Nicolas Cigaral