Philippines stands in solidarity with France amid Notre Dame fire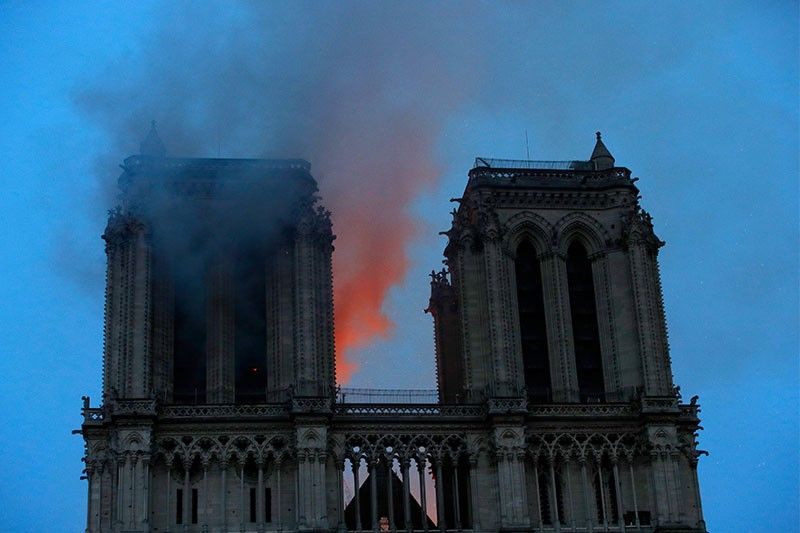 MANILA, Philippines — The Philippines expressed symphathies to France following a fire that devastated the Notre Dame Cathedral in Paris early Tuesday (Manila time).
Malacañang said it was deeply "saddened and bothered" by the fire that hit the centuries-old landmark.
"Our thoughts and prayers are with the people of France as well as in solidarity with the rest of the world for this heartbreaking incident. We wish the French nation all the best as they undertake efforts to rebuild this great monument in Paris restored to its majestic sight," presidential spokesperson Salvador Panelo said Tuesday.
Panelo noted that the cathedral serves as a symbol of Catholicism, having housed several historical artifacts.
The cathedral has also become an icon immortalized by French novelist Victor Hugo through his novel "The Hunchback of Notre Dame."
"Thousands of various races have at one time or another stood either by themselves or with their families or friends in front of this historic cathedral and marvel at its architectural grandeur," Panelo said.
"Their sojourn there left beautiful memories engraved in their hearts and recorded in photographs. Pain and sorrow were felt by the millions upon hearing the catastrophic fire of the Notre Dame place of worship," he added.
French President Emmanuel Macron vowed to rebuild the cathedral described as the soul of the nation and expressed relief that "the worst had been avoided" in a blaze that had at one point threatened the entire edifice.
Macron canceled a planned national policy speech on recent "Yellow Vest" protests and instead headed to the scene, where he vowed the cathedral would be reborn.
"We will rebuild Notre-Dame because it is what the French expect," he said, describing Notre Dame as "the epicentre of our life" and the cathedral of "all the French", whether religious or not. — Patricia Lourdes Viray with AFP
As It Happens
LATEST UPDATE: June 15, 2019 - 1:37pm
Follow updates on the Notre Dame Cathedral fire here.
June 15, 2019 - 1:37pm
The Notre-Dame cathedral in Paris will host its first mass, exactly two months after the devastating blaze that shocked France and the world.
For safety reasons, the mass led by Archbishop of Paris Michel Aupetit will be celebrated on a very small scale. Worshippers will be expected to don hard hats but priests will be wearing their ceremonial garb.
There will be just some 30 people -- half of them clergy -- although the mass will be broadcast live on Catholic TV channel KTO. — AFP
May 3, 2019 - 7:03pm
French citizens will be consulted on how Notre-Dame should be rebuilt after the iconic cathedral was ravaged by a fire on April 15, Culture Minister Franck Riester says.
"The French will be able to express themselves, and then we'll see which decision (will be taken) and how Notre-Dame will be restored," Riester tells LCI television. — AFP
April 21, 2019 - 3:23pm
The popularity of French President Emmanuel Macron remains stuck at under 30 percent as he battles a series of political troubles, with no major change reported after the Notre-Dame fire, a poll said Sunday.
According to the Ifop poll for the Journal du Dimanche just 29 percent of people polled said they are satisfied with the job Macron is doing, with 69 percent dissatisfied.
This April reading was unchanged from the last poll in March, the newspaper said.
The poll, carried out up until April 20, was published at the end of a dramatic week for Macron which saw him address the nation over the damage to the Notre-Dame cathedral in Monday's devastating fire. -- Agence France-Presse
April 19, 2019 - 10:00am
French President Emmanuel Macron hails as "exemplary" hundreds of firefighters who saved Notre-Dame in the devastating blaze, as efforts intensified to shore up the still fragile cathedral.
Some 600 firefighters worked throughout the night Monday to put out the fire at the Paris landmark and prevent an even worse disaster, in a blaze that felled the spire and destroyed two-thirds of its roof. — AFP
April 18, 2019 - 3:43pm
Catholic worshippers feeling orphaned by the fire that ravaged part of Notre-Dame will be welcomed in an "ephemeral cathedral" of wood in front of the Paris monument until it reopens, Notre-Dame's chief priest says Thursday.
Speaking to France's CNews television channel Monsignor Patrick Chauvet says: "We mustn't say 'the cathedral is closed for five years and that's it'.
To give the faithful somewhere to congregate next to Notre-Dame, he suggests: "Can I not build an ephemeral cathedral on the esplanade (in front of Notre-Dame)?"
Paris Mayor Anne Hidalgo had backed the idea and agreed to give over part of the esplanade to the church for a wooden structure, he says.
Chauvet says the wooden "cathedral" would host priests who could address some of the millions of tourists who throng the original 850-year-old Gothic cathedral each year. -- Agence France-Presse