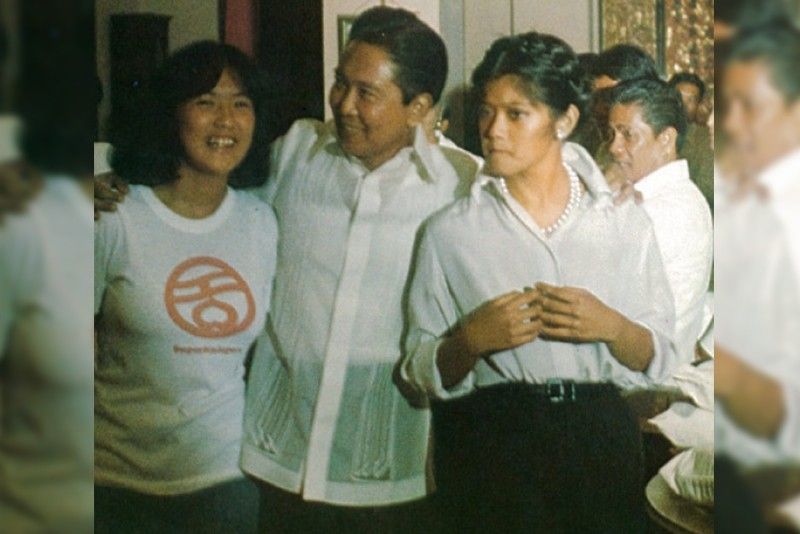 Imee Marcos (right) shares a light moment with her father, Ferdinand Marcos, and sister Irene (left), who is wearing a Kabataang Barangay T-shirt in the 1970s.
Photo from the Presidential Museum and Library
Ateneo official resigns, university president apologizes over Irene Marcos invite
(Philstar.com) - April 12, 2019 - 3:28pm
MANILA, Philippines — The highest official of Ateneo de Manila University apologized after Irene Marcos-Araneta, the third child of late strongman Ferdinand Marcos, was invited to the recent launch of the university's premier creative hub.
The Sanggunian ng mga Paaralang Loyola ng Ateneo de Manila released a statement Monday demanding an apology from school officials over Irene's presence during the April 7 opening of the campus' Arete Amphitheatre, which the student body said was a "grave insult and vehement mockery to Martial Law survivors and martyrs."
In an April 10 memo, AdMU President Jose Ramon Villarin SJ issued an apology, saying Irene's presence, even in a personal capacity, "has cast doubts" on the university's solidarity with the victims of military rule during the Marcos dictatorship.
Villarin also confirmed that the younger Marcos was invited to the event by Arete Executive Director Yael Buencamino, who "voluntarily" offered to quit the post amid the backlash from students.
"We offer our deepest apologies for the hurt this has brought," Villarin said.
"The unintended consequences of this incident do not mean that the University has turned a blind eye to the atrocities committed during the Martial Law regime. If anything, they have strengthened the University's unfailing commitment to help seek justice for the victims of the regime, to counter historical revisionism and to educate the Ateneo community regarding the regime's pernicious effects on Philippine society," he added.
The Marcos patriarch, whose presidency was tainted by human rights abuses and massive corruption, was ousted in the 1986 "People Power" revolution.
Despite the death of the strongman while in exile in Hawaii in 1989, his family has been making a steady political comeback, with his only son and namesake eyeing a return to Malacañang as Philippine president and his daughter Imee gunning for a Senate seat in May.
In 2016, President Rodrigo Duterte, a political ally of the Marcoses, granted the political clan's longstanding wish to bury the late dictator's remains at the Heroes' Cemetery. — Ian Nicolas Cigaral