Palace: China vessels near Philippine isles an assault on sovereignty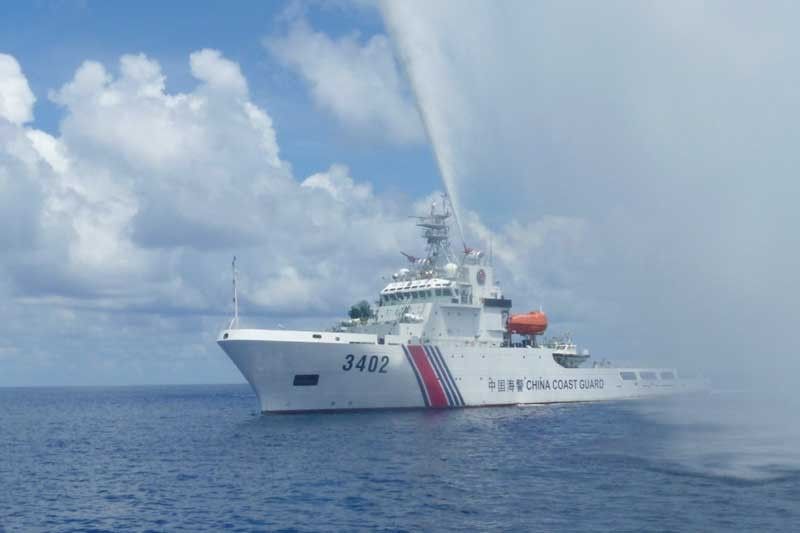 MANILA, Philippines — Departing from its usual appeasement of Beijing, Malacañang yesterday made it clear it would consider Chinese presence near islands occupied by Filipinos an assault on Philippine sovereignty.
"While we remain friendly with respect to trade relations, we will always assert sovereignty when it is being impaired or assaulted," presidential spokesman Salvador Panelo said at a press briefing.
"If they continue to be present in our territory then it is an assault to our sovereignty," he added.
Panelo emphasized the Chinese have "no business being there."
He was reacting to a news report on the presence of Chinese vessels off Kota Island and Panatag (Scarborough) Shoal last March 28.
Earlier, the military reported that hundreds of Chinese vessels – believed to be militia craft disguised as fishing boats – have been swarming around Pag-asa Island in the Kalayaan Island Group since January.
"They leave the place, I mean they cannot be staying there," he said.
Asked whether there's now justification for Duterte to raise before China the 2016 arbitral ruling invalidating Beijing's claim in the South China Sea and West Philippine Sea, Panelo said the decision is up to the President.
At Camp Aguinaldo, defense department spokesman Arsenio Andolong said the military is ready to defend the country's sovereignty if challenged.
"While we denounce war as an instrument of national policy, we will use whatever resources and means at our disposal to defend our own if and when we are called to action by the National Command Authority (NCA)," Andolong said.
"This includes the Municipality of Kalayaan, which is part of the province of Palawan," he said.
As Chinese vessels continue to circle Pag-asa, Panatag and other land features in the West Philippine Sea, Akbayan party-list yesterday said Foreign Affairs Secretary Teodoro Locsin Jr. should disclose the diplomatic notes filed against Beijing.
"We dare the DFA secretary to make the protests public. There's no reason to keep the documents away from Filipinos whose lives and livelihood are at stake," Rep. Tom Villarin of party-list Akbayan said.
He said the Department of Foreign Affairs (DFA) "has a history of lying."
"Last year, the department claimed to have filed 50 to 100 protests to China but could not produce them when asked. The onus is on Secretary Locsin to reveal details of the protests," he said.
He said Filipinos have the right to know what their government is doing to ensure the safety of residents of the Kalayaan islets. Villarin noted that Filipino civilians and soldiers are living on Pag-asa, the largest of the islands.
Locsin has said the public would just have to take his word that the DFA has protested the presence of a large number of Chinese ships in the Kalayaan area.
He was quoted as saying that the country owned the West Philippine Sea but that China seized it. The problem is how to take it back, he said.
Beijing now controls Panatag Shoal, which is just 120 miles off Zambales and Pangasinan. It is Bajo de Masinloc to fishermen in the two provinces.
China grabbed it in 2012 after a tense standoff between the Philippine Navy and the Chinese Coast Guard.
According to then president Benigno Aquino III, the two sides withdrew under an agreement the United States brokered, but that Chinese ships later returned and have since been guarding the shoal and reportedly harassing Filipino fishermen.
Otso Diretso senatorial candidate Chel Diokno, meanwhile, chided Panelo for calling the opposition candidates' fight for the country's sovereignty in the West Philippine Sea a publicity stunt.
"It's the lives and livelihood of our fellow Filipinos that are at stake here," Diokno said.
Panelo criticized Diokno and other opposition bets after they visited Masinloc in Zambales to hold a dialogue with local fisherfolk on Chinese encroachment.
The opposition senatorial bets also challenged President Duterte to make good his 2016 campaign promise to ride a jet ski to Panatag to dramatize his fight for the country's sovereignty.
"Standing firm against China's encroachment is not a publicity stunt," Diokno said. "Publicity stunt is singing and dancing which the Hugpong ng Pagbabago is doing."
Diokno also called on his fellow candidates, particularly administration bets, to speak up for the Filipinos on the issue.
"We are all Filipinos regardless of our political affiliations. It's time to defend our country," he said. – With Jess Diaz, Pia Lee-Brago, Cecille Suerte Felipe, Helen Flores