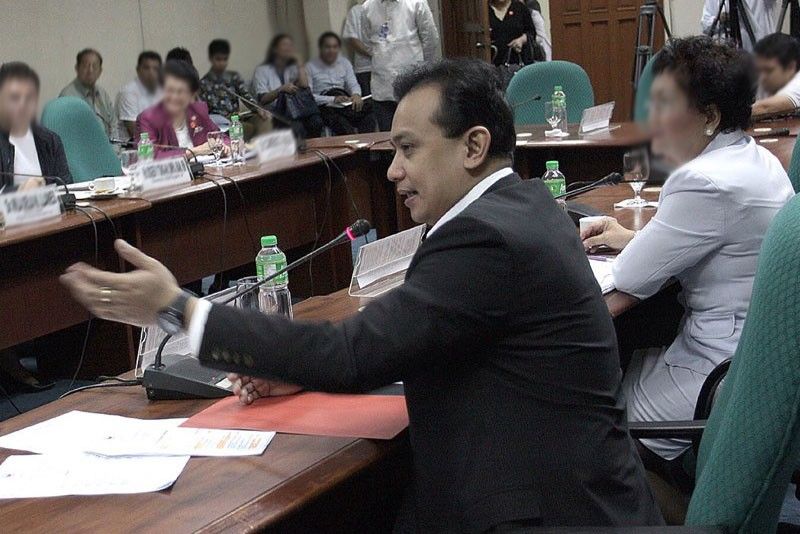 Duterte trained his guns on Trillanes, whom he did not directly name, but described as a son of a soldier and a former supplier in the Armed Forces. This is aside from questioning the senator's sexual preference.
Sonny Trillanes IV FB Page
Opposition blamed for 'real narco list' video
MANILA, Philippines — President Duterte has accused the political opposition, including Sen. Antonio Trillanes IV, of conducting a smear campaign against him and his son Paolo, who is accused of receiving protection money from drug syndicates operating in the country.
"The yellows are doing a propaganda against Pulong and I," Duterte said in a speech at the campaign rally of PDP-Laban in Palawan last Thursday.
Duterte, who has been under fire for alleged extrajudicial killings during his term, said he has been strong in his stance against drugs, which negates the accusations that he receives "tara" or protection money from illegal drug operations.
The President was visibly furious about the video that has gone viral about the so-called "real narco politicians," which featured Paolo and Agriculture Assistant Secretary Waldo Carpio (brother of presidential son-in-law Manases Carpio) as receiving protection money from drug syndicates.
He claimed the political opposition, mostly from the Liberal Party whose political color is yellow, was behind the viral videos, which he described as nothing but garbage.
Duterte trained his guns on Trillanes, whom he did not directly name, but described as a son of a soldier and a former supplier in the Armed Forces. This is aside from questioning the senator's sexual preference.
Trillanes, during the presidential campaign in 2016, alleged that Duterte had hidden wealth in several bank accounts. He also claimed that the former Davao mayor and his son Paolo amassed illegal wealth because of the bank accounts and properties that allegedly were undeclared in their statement of assets, liabilities and net worth (SALN).
Paolo resigned as vice-mayor of Davao at the height of alleged shabu smuggling at the Bureau of Customs. Mayor Sara Duterte's husband, Mans Carpio, has been dragged in the controversy. They have all denied involvement in illegal activities.
Duterte said he would not want to dignify his critics' attacks but described one of them as "gay."
Following his tirades, Duterte slammed critics for pinning him down on many unsubstantiated claims but admitted to two sins – being a womanizer and, to an extent, encouraging the killings of personalities linked to illegal drug operations. ?Duterte sort of admitted having six significant women in his personal life at the moment – including his former wife, Elizabeth Zimmerman with whom he has three children, and Honeylet Avaceña with whom he has a daughter.?At the end of his speech, Duterte also apologized for having a bad mouth. But he said his stance against the Catholic Church and priests is something "between me and my God."
"I'd like to converse to my audience. That's my style… And I hope that I made myself very clear. There are things you might not really like about me. But that is between me and my God," Duterte said.
Trillanes denied being behind the video that showed a hooded person accusing Paolo of receiving payoffs from drug traffickers, but congratulated the people that produced and uploaded it.
He said the accusations were "very serious, quite pointed and well-explained."
Paolo earlier this week said the video was "clearly stamped with the indelible Trillanes signature of being a desperate mercenary, one who has done nothing good but attack the government."
"Having said that, I really wish I was part of the making of the videos so I could relish these moments but sadly I am not. In the meantime, I am looking forward, as everyone else, to the next episode," Trillanes said in a statement.
The video, he added, showed that Duterte was "a drug lord all along" and he has ordered the deaths of many Filipinos to mislead the nation into believing that he was serious in his anti-drug campaign. He also said that no matter how angry the President would portray himself to be against drugs, the allegations against him will stick.
Trillanes said when the President accused him of having offshore bank accounts, he confronted him and debunked the allegations.
"And when you realized that I've proven that your allegations were not true, you retreated and admitted that you just invented them. So it's just going to be like that until your next lie?" he said. – Paolo Romero, Helen Flores, Robertzon Ramirez