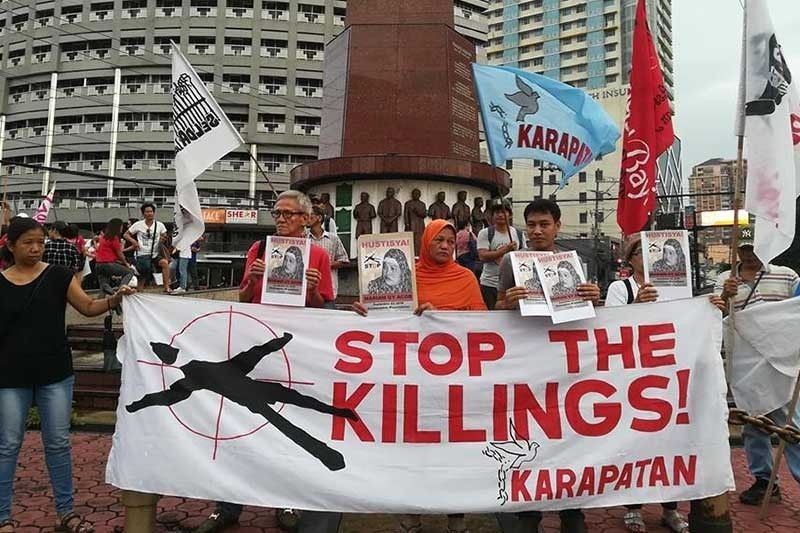 In this September 25, 2018 photo, members of local rights group Karapatan condemn the killing of human rights defender Mariam Uy Acob.
Facebook/Karapatan, Released
'Communist front' tags on NGOs shrink democratic spaces — group
(Philstar.com) - April 3, 2019 - 5:00pm
MANILA, Philippines — The "baseless" accusations of government officials that some non-governmental organizations are fronts of communist rebels worsen the situation of democratic and civic spaces in the country, a network of development workers said.
In a press release, the Council for People's Development and Governance said that tagging the Rural Missionaries of the Philippines, IBON Foundation and Karapatan as front organizations of the Communist Party of the Philippines and its armed wing, the New People's Army, is an attempt to discredit their work.
"Political and economic interests wish to veer attention away from legitimate concerns on rights violations and development problems in the country. That is why they're orchestrating allegations that 'communists have infiltrated' the United Nations, that rights defenders have supposedly been 'projecting false news' internationally," Liza Maza, CPDG spokesperson, said.
CPDG also slammed the move of the government to send a delegation to a UN session in Europe last February, wherein government officials responded to issues of human rights abuses in the country.
The network of development workers said the purpose of the trip was to "deodorize" the human rights situation in the Philippines, while shifting the blame to some NGOs through "baseless" claims that funds from the European Union and Belgian government are being diverted to communist rebels.
The European Union said it would investigate the claims that funds from the regional bloc are going to communist insurgents after the Philippine government formally requested the probe in March. Karapatan said it is open to an "impartial and participative audit."
"Their disinformation campaign is part of the trend in the last years: from the sweeping 'terrorist' tag against more than 600 persons in 2018; the killings of farmers, unionists, indigenous peoples, and lawyers; to the new Securities and Exchange Commission memo for non-governmental organizations that subjects them to unnecessary exposure and risks," Maza said.
She added: "As we go further into the Duterte administration, democratic spaces shrink even further."