23 local execs arrested for possession of loose firearms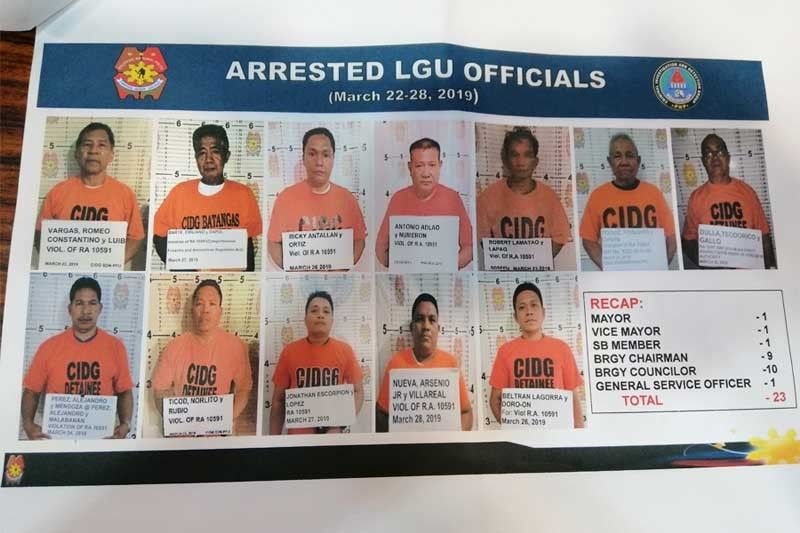 MANILA, Philippines — A total of 168 people, including 23 local government officials, were arrested for possession of loose firearms during weeklong operations by the Criminal Investigation and Detection Group (CIDG), the Philippine National Police (PNP) said yesterday.
PNP chief Gen. Oscar Albayalde said the arrests were the result of the implementation by the CIDG of 193 search warrants nationwide from March 22 to 28. The 145 violators are all civilians.
"I am pleased to take note of the significant results of a nationwide weeklong operation launched by the CIDG under Maj. Gen Amador Corpus against organized crime and loose firearms," he told reporters in Camp Crame, Quezon City.
Among the personalities arrested was Mayor Romeo Vargas of Tubajon, Dinagat Island who was apprehended on March 23 for possession of an M16 rifle, a .22 caliber revolver and ammunition.
Also included in the list was Tagbina Vice Mayor Antonio Adlao, who was arrested on March 26 for the same offense.
The other officials on the list consisted of 20 barangay councilors, nine barangay captains, one municipal councilor and one general service officer.
A total of 248 assorted firearms, 34 explosives and 6,605 pieces of ammunition were confiscated during the operations.
Albayalde said politics has nothing to do with the arrests of the officials, insisting they were apprehended based on the evidence obtained.
"We don't care who it is, whether incumbent or what they call political rival," Albayalde said. "If the law is transgressed, we will implement the law."