Palace dismisses rights groups' doubts over Negros Oriental operations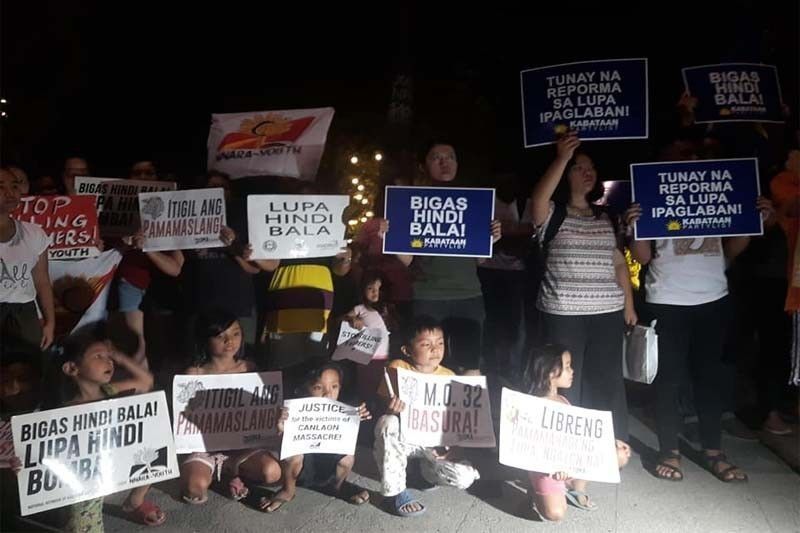 MANILA, Philippines — The Palace on Monday backed the police in the deaths of 14 people in operations across Negros Oriental on Satruday, insisting that those who died were communists.
In a press briefing, presidential spokesperson said the operations were legitimate and were based on court-issued search warrants. He said the 14 had shot it out with law enforcement.
"You know, that is the usual statement issued by those who are linked with the Communist Party of the Philippines," Panelo said of calls for justice for the 14, some of whom were elderly and were said to be farmers and habal-habal drivers.
"But the fact remains is that the people subject of a search warrant have been identified as suspects in certain ambushes, assassinations, assassination attempts, so it's a police operation and backed up by documents. And the courts believed in them that's why they issued these warrants," Panelo said.
Lacson: Stand with police
Sen. Panfilo Lacson, a former Philippine National Police chief, also threw his support behind Negros Oriental police as he called on "all peace-loving" Filipinos to support the PNP and the Armed Forces of the Philippines "for risking their lives to keep our communities safe and secure from bad elements."
He said, though, that statement of support is without prejudice to an internal probe into the bloody incidents by the police Internal Affairs Service.
On Saturday, a report from the Philippine National Police Directorate Police Operations office in Visayas said that eight people were killed in Canlaon City, four in Manjuyod and two in Catalina in Negros Oriental.
The lawmaker said that Filipinos should stand with law enforcement authorities instead of condemning them due to "propaganda efforts of "highly partisan and organized leftist groups."
Farmers, ordinary residents
Rights groups Karapatan, the National Federation of Peasant Women, Unyon ng mga Manggagawa sa Agrikultura and the National Federation of Sugar Workers condemned the killing of the 14 men who they said were just farmers and residents.
According to Karapatan, Melchor Pañares, the oldest of those killed in the operations, was a 67-year-old farmer. Edgardo Avelino, also a farmer, was 59 and Genes Palmares was 54.
"Does a search warrant also warrant killing those who resisted their operation, awakened and surprised by tokhang-style operations in their homes? The police said they fought back, but for the record, only one policeman was reportedly injured in all the operations. This is real life, not some teleserye where policemen are invincible," Hustisya chairperson Evangeline Hernandez said.
Police General Oscar Albayalde earlier on Monday stressed that the operation was legitimate as the law enforcers were acting on 36 search warrants.
He also contradicted what the rights group had stated and said that they have an intelligence report showing that the subjects of their operation participated in an ambush against the police and Philippine Army.
Lacson added: "When farmers possess rifle grenade, fragmentation grenades, handguns, shotguns, ammunition, phones and subversive documents, it says a lot about their tactics in their insurgency campaign aimed at protracted guerrilla warfare aimed at overthrowing the duly-constituted authority."
Independent probe urged
Karapatan has also called for an independent probe into the incidents. They welcomed the Commission on Human Rights' independent investigation into the incidents.
Albayalde, for his part, said that the PNP's Internal Affairs Service is already looking into the incidents.
He also said that it was not a massacre, pointing out that the incident happened in different areas and there were 12 who were arrested and not killed.
But Karapatan said that the operation employed the government's "red-tagging," which has endangered and continues to endanger lives.
"This seems less and less an operation in the homes of suspected communist rebels as the PNP said, but are rather coordinated operations against strong and vocal communities whose leaders and members are part of progressive organizations. This is a classic case of how red-tagging by the AFP and the PNP preludes the series of attacks and violations against individuals and communities," Karapatan Secretary General Cristina Palabay said.
Palabay added: "They had every intention to kill, confident that they have done the minimum to cover their tracks by proudly boasting of a search warrant. This modus operandi by the police and the military must be investigated and immediately halted, lest this be the new norm to terrorize civilian communities in the country."