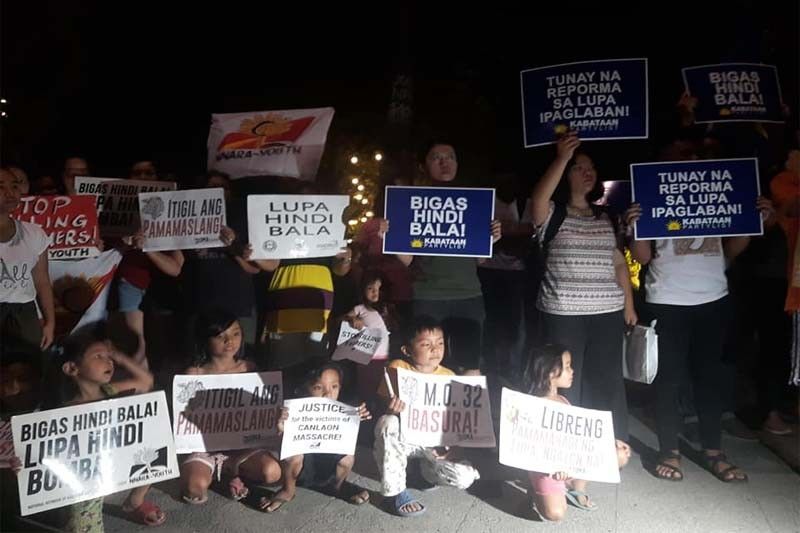 Kabataan Party-list last Saturday held a condemnation protest on the massacre of 14 farmers and a cop in Negros Oriental.
Kabataan Party-list/Facebook
CHR to probe slay of 'Negros 14' farmers
(Philstar.com) - March 31, 2019 - 6:06pm
MANILA, Philippines — The Commission on Human Rights on Sunday said its regional sub-office in Central Visayas has already been instructed to investigate the deaths of the 14 farmers in Negros Oriental.
"At this point, our interest is finding out the truth behind a police operation, which authorities claim to be meant to serve warrants of arrest, but resulted [in] 14 deaths of farmers and a cop said to be injured," CHR spokesperson Jacqueline Ann de Guia said in a statement.
"Even claims of resisting arrest to justify fatalities need to be tried before courts to ensure that there are no lapses and ascertain if the circumstances really warrant the offence from the police, resulting [in] the curtailment of life," she added.
The 14 fatalities were reportedly killed in an alleged anti-criminality campaign in different parts of Negros Oriental on Saturday.
Rights group Karapatan and Kabataan Party-list said eight farmers were killed in Canlaon City, two were dead in Sta. Catalina town and four others were slain in Manjuyod town.
Karapatan said the killings were allegedly perpetrated by the Philippine National Police.
Kabataan Party-list identified some of the victims as the following:
Ismael Avelino, 53 – Habal-habal driver and Sitio Carmen, Barangay Panubigan, Canlaon City, Negros Oriental

Edgardo Avelino, 59 – Farmer and resident of Sitio Carmen, Barangay Panubigan, Canlaon City, Negros Oriental

Melchor Pañares, 67 – Married, farmer and Sitio Tigbahi Barangay Bayog, Canlaon City, Negros Oriental

Mario Pañares, 46 – Farmer

Rogelio Ricomuno, 52 – Farmer from Sitio Manggata Barangay Masulog -1, Canlaon City, Negros Oriental

Ricky Ricomuno, 28 – Farmer

Gonzalo Rosales, 47 – Unmarried, a farmer and resident of Proper Barangay Pula, Canlaon City, Negros Oriental

Genes Palmares, 54 – Unmarried, a farmer and resident in Proper Barangay Aquino, Canlaon City, Negros Oriental
One of the victims who survived the attack, Edgardo Avelino, chairperson of Hugpong-Kusog Mag-uuma sa Canlaon, reported that over 10 uniformed personnel entered their home last night claiming to have a search warrant. He, however, said they did not show any search warrant.
He added that the uniformed personnel shot his wife and brother Ismael to death.
Local peasant leaders arrested
Meanwhile, Karapatan said it is still verifying reports of at least 12 arrested local peasant leaders in Manjuyod.
Antonio "Ka Tonying" Flores, newly elected chairperson of peasant group UMA, said the deaths were similar to what happened in Guihulngan and nearby places late last year when six farmers were killed "tokhang style" because they allegedly fought it out with police and military elements.
Peasant killings climb to 198
UMA said the number of peasants killed is now at 198 since President Rodrigo Duterte took office in August 2016.
READ: Killings of farmers on the rise under Duterte
Kabataan Party-List Rep. Sarah Elago condemned these deaths saying it has been a "long withstanding problem in the country." She added that the killings show that any presiding administration failed to eliminate the fascism and repression in the nation.
"In fact, there are about at least 180 farmers killed in the Duterte administration alone, at least 40 of which are farmers from the Negros Island. Farmers continue to fight for their lands, to break free from exploitation, and to end the impending hunger in the country. But they are met by bullets that lead to their demise," Elago cited.
"This series of fascist attacks follows after the Sagay Massacre, which killed nine farmers in Negros Occidental last December. It is a sad reality that those who work hard to produce food for the rest of the nation have nothing to provide for themselves and their families. Even more appalling is the fact that when our farmers are not dying of starvation, they find themselves gunned down and rained upon by bullets," she added.
The youth solon is demanding justice for the 14 farmers killed and said they also stand with the call for land distribution.
"We hold the Duterte administration and his armed forces accountable for this crime against our farmers. The youth stands with our farmers as we call for justice for the victims of the Canlaon Massacre and all the victims of state-perpetrated violence and bogus land reform programs," Elago said.
"The killings of farmers, the brutal treatment towards workers, the violence happening in broad daylight — these will not stop the youth from voicing out what is right for the masses. We will not surrender until justice is served for all the victims of the current and the past fascist administrations," the party-list concluded.
— Rosette Adel