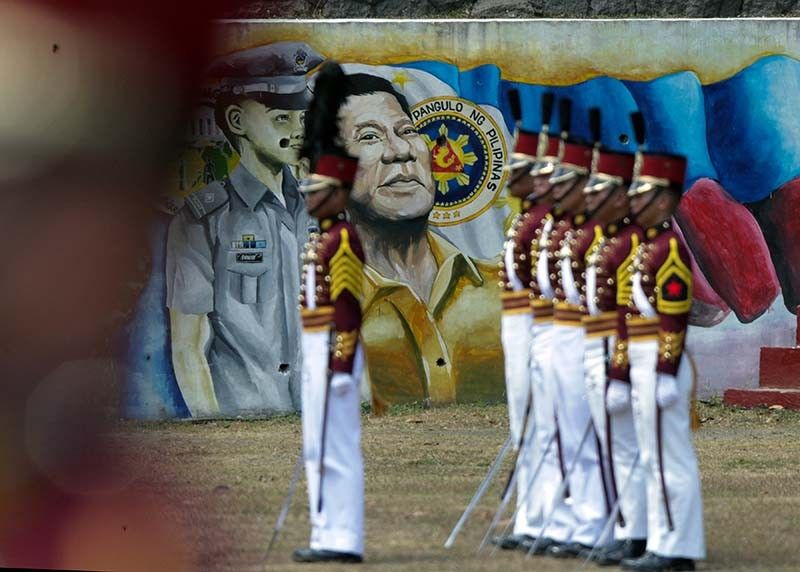 A painting of President Rodrigo Duterte at General Campos Grandstand in Silang, Cavite where the graduation rites of the Philippine National Police Academy were held.
The STAR/Krizjohn Rosales
Duterte: Federalism must be within the Constitution
MANILA, Philippines — Efforts to adopt a federal type of government should be in accordance with the Constitution, President Rodrigo Duterte said, after Moro National Liberation Front (MNLF) founder Nur Misuari threatened to declare war if the federalism push fails.
Duterte, who previously claimed federalism would end the longstanding conflict in Mindanao, said moves to change the type of government from unilateral to federal has to undergo a process.
"Federalism is being crafted by Congress. Maybe somehow we can now craft a...the set up within the federal structures. But it has to go into a process and I'm sure chairman Misuari knows that - that everything must be in accordance with the Constitution," the president said in a chance interview after the 122nd anniversary of the Philippine Army in Fort Bonifacio.
"We'll just have to craft something there that would be allowed by the Constitution and by law," he added.
Duterte said Misuari talked about going to war because "he is fighting a revolution." He said the Moro leader was just clinging to a promise made by the late president Corazon Aquino, who allegedly vowed to adopt federalism.
"He (Misuari) has slowed down because he wants to talk and the original agreement I think, that was assurance given to him by Cory Aquino was that there will be a federal system that would govern this country, I mean the structure. And he is sticking to that agreement," the president said.
Misuari is facing a rebellion charge over the 2013 Zamboanga siege, which resulted in the deaths of more than 200 people. He has also been charged with graft and malversation in connection with the allegedly anomalous purchase of more than P77 million worth of "ghost" textbooks when he was governor of the Autonomous Region in Muslim Mindanao.
Misuari, however, was allowed to attend conferences abroad after Duterte assured the courts and government forces that the Moro leader would return to the country.
Last Wednesday, Duterte revealed Misuari had expressed readiness to go to war if the Philippines does not adopt federalism. The president told Misuari he was prepared to form a panel to discuss the MNLF founder's concerns.
Dutere made a "counter threat" that he and Misuari would "die together" if efforts to promote federalism fail, according to presidential spokesman Salvador Panelo.
"That means I will fight back. That's what the president meant. If you fight the government, I will fight back," Panelo said in a press briefing last Thursday.