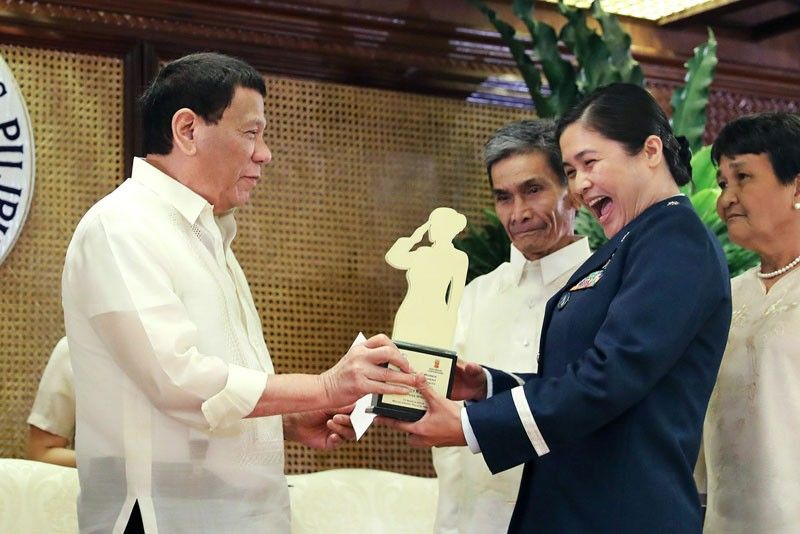 President Duterte shares a light moment with Maj. Nancy Dacanay of the Air Force's 15th Strike Wing, who was one of the Outstanding Women in Law Enforcement and National Security of the Philippines awardees during a ceremony at Malacañang the other day.
Misogynist? Duterte invokes freedom of expression
MANILA, Philippines — President Duterte has lashed back at his critics who have called him out for his remarks about women, saying they are depriving him of his right to freedom of expression.
Duterte, who has drawn flak for making remarks considered derogatory to women, said his critics are making it appear that he hates and disrespects women.
"I can't remember really na may binaboy ako (that I have maligned anyone). Actually if you review the tapes, it was with a purpose," the President said during an awarding ceremony in honor of female government employees on Monday.
"You women, you... deprived me of my freedom of expression. I was not referring to you. But you criticize every sentence or word I say. But that is my freedom to express myself," he said, adding "even if I am just a President… do not take me away from the crowd of being a Filipino citizen."
Duterte said he never transitioned from mayor to president so he has not changed considerably "except to bow in diplomatic dinners."
He disputed claims that he is a misogynist or woman hater.
"I love women. You see, I have two wives. That means, I really like women. That does not mean I want to touch them. I just like women... When I say that I like women, (it does not mean) I want to despoil or dishonor. They do not get it," he said.
Duterte justified some of his controversial remarks that he claimed were misunderstood.
He said he was just lecturing female communist rebels when he said he would shoot their vaginas.
The President previously said he was just angry that some female rebels left their children to join the armed struggle.
He also defended his remark that women should stay away from priests, citing the sex scandals involving members of the clergy. – With Cecille Suerte Felipe