Groups file complaints to CHR over incidents of red-tagging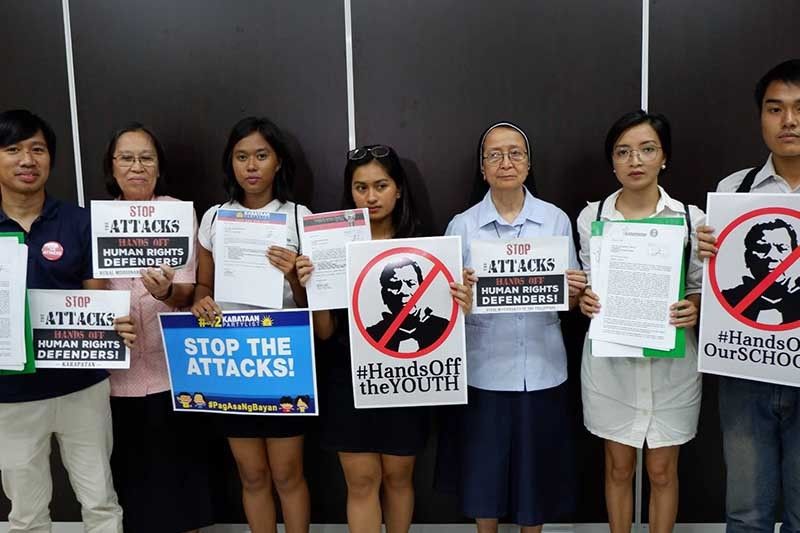 MANILA, Philippines — Rights watchdog Karapatan, church group Rural Missionaries of the Philippines and Kabataan party-list filed complaints at the Commission on Human Rights over the red-tagging and terrorist-labeling of these organizations.
In the letter submitted to CHR chairperson Jose Luis Gascon, Karapatan said that attacks against the organization increased during the watch of President Rodrigo Duterte. It stressed that these attacks put the lives and liberty of the organization's members at "grave risk."
"There is substantial basis for all of us to be alarmed with the Duterte government's stagerring disregard for human rights and its advocates," Karapatan Deputy Secretary General Roneo Clamor said, noting that at least 47 human rights workers of the organization have been killed since 2001.
"In continuing our human rights advocacy, we are exhausting all platforms for redress of grievances. This CHR complaint and our engagements with the United Nations are part of the measures we are undertaking to end these attacks, to exact accountability and to protect our courageous human rights advocates on the ground," Clamor added.
The complaint submitted by Karapatan to CHR cited the previous speeches of the chief executive tagging Karapatan as a "communist front and terrorist organization, as well as the tarpaulins with message: "Karapatan at CPP-NPA ay iisa at parehong terorista" and flyers branding members of Karapatan and other organizations "terrorist members of the NPA and the CPP."
"Suffice it to say, these are all cowardly, recycled and cheap maneuvers. This is in stark contrast to the bravery and firmness in principle exemplified by the individuals and organizations targeted by this government," Clamor said.
READ: Why is red-tagging of activist dangerous?
Task force vs insurgency
The Karapatan deputy secretary general, moreover, said that the red-tagging and terrorist-labeling seemed to be the work of a national task force created by Duterte in December last year.
Executive Order 70 ordered the creation of a national task force that would address causes of armed conflict with communists and institutionalized a "whole-of-nation approach" in attaining an "inclusive and sustainable peace."
But for Karapatan, the mandate of the national task force is centered on a "smear campaign against human rights organizations, courtesy of taxpayer's money."
"Sending officials overseas to spread rumors and make unsubstantiated claims about organizations known to be critical of the Duterte government's policies sets the bar high for desperation for damage control. It is an utter waste of the people's resources,"
Last month, government officials went to Europe to clarify issues confronting the government such as involuntary disappearances and anti-communist terrorist groups.
Presidential Communications Secretary Martin Andanar claimed no public funds were wasted in his office's "information drive" in Europe.
READ: PCOO officials' Europe trip a 'desperate PR stunt' — rights group