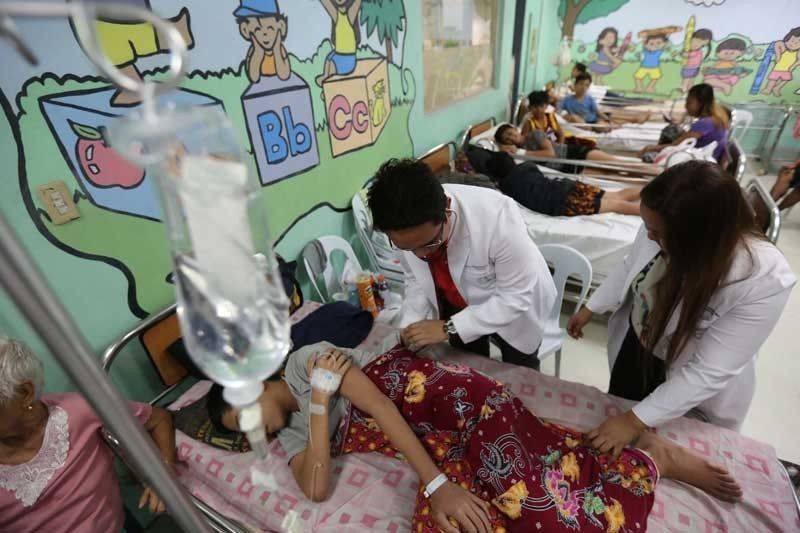 During ABS-CBN's "Harapan 2019" town hall debate, senatorial candidates shared their thoughts on improving the country's health care system.
The STAR/Boy Santos
Senate bets bat to reverse privatization of public health, amend TRAIN law
MANILA, Philippines — The privatization of hospitals and increased fuel excise taxes under a tax reform law were resounding issues at last Sunday's televised senatorial town hall debate.
On the last round of ABS-CBN's "Harapan 2019" senatorial debates, some of the eight senatorial aspirants suggested nationalizing hospitals to improve the country's health care system.
"[The] privatization of hospitals is a problem," Bukluran ng Manggagawang Pilipino chairperson Leody de Guzman said in Filipino.
De Guzman stressed that the government should take responsibility for the health of its people. He said that includes making sure Filipinos have proper nutrition and are admitted to hospitals when they need care. He said they should not be turned away if they cannot produce a downpayment for their medical expenses.
United Filipino Consumers and Commuters president RJ Javellana, who is running under the Katipunan ng Demokratikong Pilipino shared De Guzman's sentiments on the need to reverse the privatization of hospitals.
He proposed a 10-year moratorium on debt servicing to pay for medical programs for Filipinos.
"There should be nationalization of hospitals," Javellana said.
Universal Health Care Law
In the same debate, Sen. JV Ejercito, lawyer Dado Padilla and lawyer Ernesto Arellano also mentioned the Universal Health Care Law.
Ejercito, who is seeking a second term in the Senate, pointed out that under the Universal Health Care Law, all Filipinos should be covered by PhilHealth.
"Our goal is to lower the cost of out-of-pocket checkups and to make basic lab tests free. I am not making a promise, we have already passed Universal Health Care Law," Ejercito said.
"We already have Universal Health Care (law) but we still lack implementing rules and regulations, but it is a solution," Padilla said.
Arellano, on the other hand, proposed expanding the coverage of the health care law.
"We have a budget. We can get it from the allocation of representatives and senators," Arellano said, referring to funds that lawmakers can earmark for their districts or for specific projects.
'Remove excise tax on fuel'
Asked how the prices of gas and oil can be brought down, the senatorial candidates said the TRAIN law and the oil deregulation law should be reviewed.
Labor leader De Guzman suggested deregulating the price of oil, which used to be regulated by the government through an Oil Price Stabilization Fund that helped cushion price fluctuations.
"Suspend TRAIN Law, remove the Oil Deregulation Law," De Guzman said.
De Guzman's position on the TRAIN law and on oil deregulation were echoed by fellow labor leader Javellana and jeepney manufacturer Elmer Francisco.
While Ejercito admitted that he is in favor of the TRAIN Law, the re-electionist senator said the law should be amended to lower excise taxes on fuel.
Lawyer Padilla also recommended reviewing the TRAIN law as it affects drivers, as well as consumers.
Information technologist Toti Casiño, meanwhile, said the country should have oil strategic reserves in case the price of fuel fluctuates.
"Hopefully, we can revert to the past proposal of having a Philippine National Oil Company," Casiño said.
Former Manila councilor Dan Roleda said the government should also intervene as the law of supply and demand dictates the prices of fuel.
"The government should intervene to help drivers. Designate a minimum wage for drivers," Roleda said.