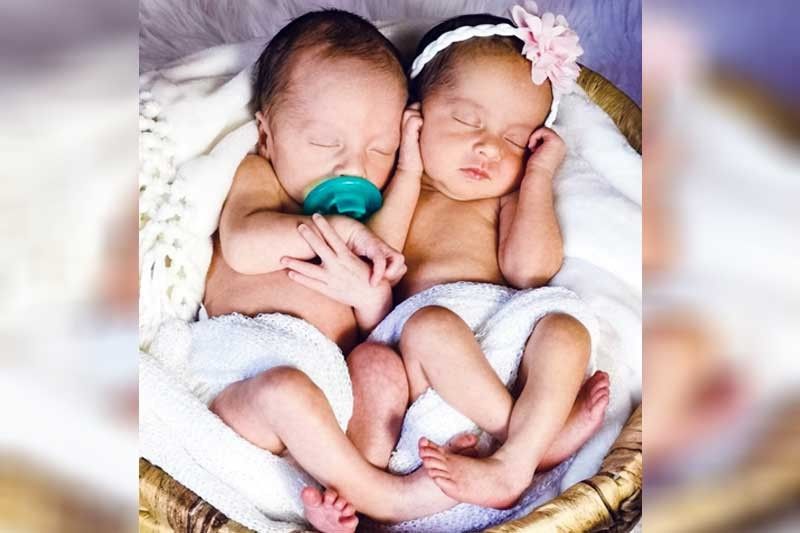 Mar Roxas and wife Korina Sanchez named the twins Pepe (left) and Pilar.
Korina Sanchez: 'I've always wanted to be a mom'
Ricky Lo
(The Philippine Star) - February 23, 2019 - 3:00am
MANILA, Philippines — "It was a miracle!"
That's how Korina Sanchez-Roxas described how she and husband, former Interior Sec. Mar Roxas, had their first children, fraternal twins no less, delivered on Feb. 12 at 1 p.m. in a Pittsburgh hospital.
The boy, weighing 5.4 lbs., was named Pepe, and the girl, born one hour after Pepe, weighed 4.10 lbs. and was named Pilar.
"I've always, always wanted to be a mom," Korina told The STAR in an exclusive e-mail interview.
"Everyone who knows me well knows that I love children. But for the longest time, because my career in news took charge, I thought it would never happen. But now that it has happened at my age, and even if we had planned and started on this project years ago, I started with mixed feelings of uncertainty, worry, anxiety.
I felt weird feeling that way. I worry about the future, about everything that could go wrong. I'm told this is normal among many expecting and new mothers. Good to know I'm not weird.
"It wasn't instant with me. The joy crept up and slowly but surely took over. Now, every day is even more joyful than the day before. I'm very hopeful about the future. I have renewed energy, I don't know how that happens, It's adrenaline I suppose. I might be acting younger. And maybe I'll live to be 120 years old!" Mar and Korina planned and started the "baby project" several years ago.
"We weren't married yet when we decided to freeze our embryos, before my biological clock stopped ticking," revealed Korina. "It was just a matter of when we were ready to start a family. But that time couldn't be found for years. We were both always so very busy. After 2016, Mar and I embarked on our best life adventures.
"Things we've always wanted to do, but couldn't because of work, we did. We didn't think Mar would run again for office. So we both said, now is the best and only time. If we waited longer, it would be too late for us. This is also why Mar found it so difficult to decide to run again.
Ito na ang Heaven namin with our little angels. Iiwan mo pa ba? But public service beckons. And we agreed we both had to live our best life which is purpose-driven. So babalikan nalang kami ni Mar para sunduin kami."
Multiple implantations are common for those who resort to such procedures to be sure at least one would survive. In their case, both embryos made it, by God's Good Grace. "So, we knew: fraternal twins! A little later, we were told the gender could be seen from the imaging. A boy and a girl! Wow, kumpleto na! One time, big time!"
Aside from science, did any novenas or prayers help?
"I've not been very loyal with my novenas. I like to pray to different patron saints but I mostly spoke directly to God through Jesus Christ to take care of my frozen embryos through all these years it was just there in the facility. Pati brownout naiisip ko, hahaha! What would happen to my kids?? May generator naman pala sa ganon, haha! I just always prayed for God's White Light to protect my embryos until they were ready to become."
Korina said that there are professionals abroad who can work with about such a procedure.
"They already know who to put together. They've worked with these surrogates, medical experts, lawyers and caregivers for a long time. I found them after trying for years with a facility in India and it just went too slow. Until this other group based in the US was recommended to me by a friend who also had a good experience and successful surrogacy with them."
The surrogate is a wonderful person, according to Korina.
"We couldn't have chosen one better. She wanted to help us as she had helped another couple in the past. Intelligent, compassionate, kind and responsible. Being how she is, we felt no reason to micromanage her with her food intake or activities. We wanted to respect her privacy and how she would be responsible for the children. We of course kept in touch the entire time and exchanged developments regularly."
Asked how she will nurse the twins, Korina said, "Fortunately in the US, mother's milk is available from a company which can supply it. So I have a month's worth of mother's breast milk for my two babies. They were also given colostrum as their first feeding in the hospital. I am hoping to work with a group back in the Philippines so I may continue feeding the kids mother's milk. I'd like to keep them on it for much longer. Mother's milk ensures strength, health and resistance from infections. So nutritious."
The couple will have to wait for the papers of the children to be in order before we can fly home. And they have to be strong and stable enough for the long flight home. So maybe in less than a month we will be back. Mar had to leave because of the demands of the campaign but will be back before we head for home.
More kids coming?
Korina laughed, "Hahahahahaha! One miracle at a time, okay? I mean, two miracles!"