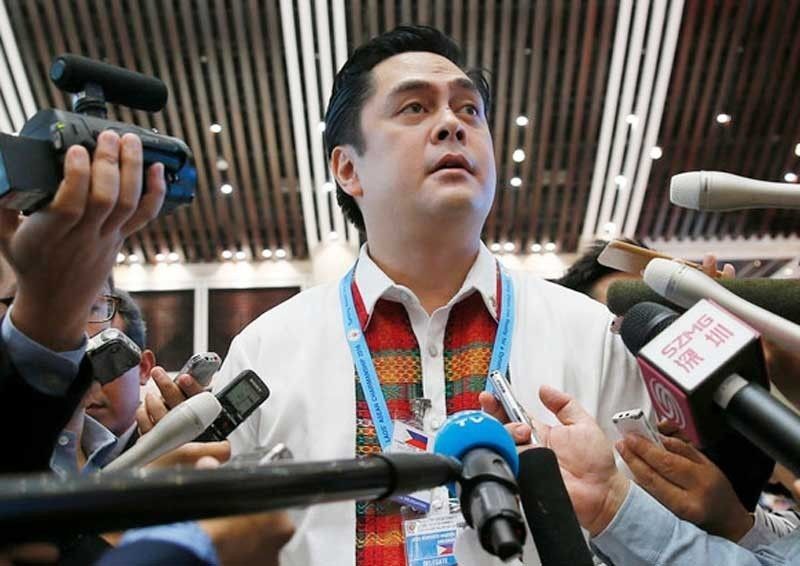 Communications Secretary Martin Andanar said some officials of his agency would meet with journalists in Belgium, Bosnia and Switzerland to answer their questions about the state of press freedom in the Philippines.
AP/ Bullit Marquez/File
Palace execs to hold 'press freedom caravan' in Europe
Alexis Romero
(The Philippine Star) - February 18, 2019 - 12:00am
MANILA, Philippines — Officials of the Presidential Communications Operations Office will hold a "press freedom caravan" in European countries to discuss media-related issues, including the arrest of journalist Maria Ressa, to counter claims that the Duterte administration is silencing its critics.
Communications Secretary Martin Andanar said some officials of his agency would meet with journalists in Belgium, Bosnia and Switzerland to answer their questions about the state of press freedom in the Philippines.
"They are in Brussels – they will go to Bosnia first before Brussels – and then to Switzerland. They will talk to the European media because they have lots of questons about press freedom in the Philippines," Andanar told state-run Radyo Pilipinas in mixed Filipino and English on Saturday.
"We are bringing the press freedom caravan there so that they can be enlightened about the case of Maria Ressa," he added.
Andanar said presidential communications undersecretaries Joel Egco and Lorraine Badoy and assistant secretary Kris Ablan would explain "the nature" of the case of Ressa and "why the Duterte administration had nothing to do with it."
"It is clear that it is a case between a private individual, a private businessman in the name of Wilfredo Keng, and Miss Ressa and Rappler," the Cabinet official said.
"You are not above the law. So you are given all of the leeway and you are given all of the legal remedies that you can get... but to say that this is against press freedom, and to say that it is an affront to press freedom is a big mistake because it's not true," he added.
Ressa, chief executive officer of news website Rappler, was arrested on Thursday over a cyber libel complaint filed by Keng.
In 2012, Rappler published a report about the businessman's alleged connection with the late former chief justice Renato Corona, who was ousted in the same year.
The report, written by then Rappler researcher Reynaldo Santos Jr., claimed that the late chief justice had been using a sport utility vehicle owned by Keng.
Rappler also claimed to have obtained an intelligence report stating that Keng had been under surveillance by the National Security Council for alleged involvement in human trafficking and drug smuggling. The intelligence report said the businessman was also involved in a murder case "for which he was never jailed," according to the Rappler article.
Rappler and its supporters here and abroad have described Ressa's arrest as an attack on press freedom and have accused Duterte of clamping down on his critics.
Rappler pointed out that Keng's complaint came five years after the story was published and months before the cyber crime law was enacted. It noted that the National Bureau of Investigation had closed an investigation in February 2018 because the one-year prescriptive period had lapsed. The NBI revived the case eight days later, arguing that as long as the report can be accessed online, it can be covered by the cyber crime law even if it was published before its enactment.
Malacañang and Keng have denied that Ressa's arrest was related to press freedom. Keng said his complaint is a "private criminal action" against Rappler over what he described as their "untrue, unfair and malicious imputation of grave crimes" against him.
Presidential spokesman Salvador Panelo has also defended Ressa's arrest, saying it was done because the government observes "the rule of law." He has also maintained that the executive branch has no control over the judiciary, which issued the arrest warrant.
President Duterte has also denied involvement in the arrest, saying he does not know Keng.
Unfazed
Meanwhile, Justice Secretary Menardo Guevarra challenged Ressa to file suits against him and the government over her indictment and arrest.
Guevarra is unfazed by the threat of Ressa to hold the government accountable for her ordeal, believing that such cases would hold no water and be junked for sure.
"We are performing our duties to prosecute anyone who breaks the law. We are confident that her allegations will not prosper because we have not violated any law. So just go ahead and bring it on," he said yesterday when asked for a response to Ressa's threat.
He vehemently denied the insinuation of Ressa that the Department of Justice (DOJ) and the NBI have engaged in "selective justice" and "weaponization of the law" in indicting and arresting her upon the order of a Manila court.
"Harassment and persecution are not in my vocabulary," Guevarra stressed.
The filing of a cyber libel case against Ressa and her arrest, according to Guevarra, were not done to harass or target critics of the Duterte administration or to threaten the constitutional freedom of the press, reiterating that it is an ordinary criminal case now up to the trial court to resolve.
"Press freedom is not absolute. The rights of other citizens deserve equal protection," the justice secretary pointed out.
He added that Ressa is "old enough to know what's good for her" and should just face the case before the court without the "theatrics."
Guevarra issued the statements in response to Ressa's allegation against him and the DOJ and her threat to make the government accountable for her ordeal.
"What the government has done is to actually forge us in fire. It made me, as the CEO and a journalist, to decide early on that we would live according to our standards and ethics, that we will hold government accountable even if it's bad for business," Ressa said in an interview last Friday.
'Anyone can be charged with libel'
In light of the recent arrest of Ressa, legal experts have warned that with the advent of technology, anyone, not only the media, can now be easily charged with libel.
"If the motion to quash by the camp of Maria Ressa is denied by the (regional trial court), then that is the signal for them to go to the Supreme Court, to question that denial. If the denial stands, then that is the signal that the case can already proceed to trial which means other cases can be initiated subject to another challenge," Theodore Te, former spokesman for the Supreme Court, said in the Friday episode of "The Chiefs" on Cignal TV's One News.
Regie Tongol, cyber crime and libel lawyer, said this meant "we have to review our previous posts."
"This will have implication to everyone, those in Facebook and Twitter. Even my post about my enemy in high school in Facebook can still be an actionable libel case against me."
Te likewise said that whether this theory of "multiple republication or continuing offense" would now be applicable to cyber libel is an open question.
"This has not yet been decided," he said, referring to news articles published in the past year that underwent editing and were again published at a later time.
Te explained that in the scenario that Ressa's motion was denied by the RTC, this means the "theory of multiple republication" by the DOJ and the NBI is accepted.
"The print is now better off in this case because you don't republish. You come up with erratum and that's it. But for online media now, it's worse."
Te said he did not believe in the Cyber Crime Act.
"I was one of those who lawyered for journalist petitioners, including Rappler – challenging the constitutionality of the law," he said.
"Unilaterally, it adopts every felony, every crime in the Revised Penal Code as a cyber offense simply by using a computer. The offense may have nothing to do whatsoever with use of the computer system, but it now makes it a cyber crime simply by putting the computer there as an additional element," he added. – With Edu Punay, Rhodina Villanueva