Para saan ang tapang mo?: Art and dissent in these trying times
MANILA, Philippines — The ideas that bloomed into the student-led First Quarter Storm were germinated in a university not too far from the neighborhood of Teacher's Village in Quezon City in 1970.
The civil unrest of the period has simmered, and the neighborhood today bustles with commercial businesses that line the village streets. Bars, coffee shops and spots to eat have come and gone through the years.
It's evening, and a few dozen college students and young adults in their school hoodies wait along the sidewalks for an underground venue to open.
A distorted bass of a hip hop beat blasts from a basement of an underground venue. Inaudible words seep through the walls into the street outside, along with the smell of beer, cigarettes and the sound of muffled synthesizer.
A crowd like this one might have caught the suspicious glare of the dreaded metrocom if it was 1970s martial law Philippines.
But in more recent times, the crowd seems more inconspicuous. On the surface, they are fans in line waiting for a hip hop show.
And as people enter the venue the words inaudible from the street become loud and clear.:
"Luwal sa panahon ng nakapaniping kalayaan, nakakahon sa makasariling kabanalan."
(Born in an era of freedom in quotations, confined in one's self-serving piousness.)
It's the sound of rap, and the if one listens closely, it could be the sound of revolution:
"Bulag sa paghahari-harian, tamad manindigan, tamad mangatwiran. Tayo ang henerasyong nilululong sa luho; isip ay pilit kinukulong sa turo."

(Blind before the demigods, no time to stand one's ground, no time to reason out. We are the generation of luxury; minds are bound by teachings.)
On stage, rapper BLKD (pronounced "balakid") is fearless.
"Pagka't sa daing ay dahas ang cariño, Pagmulat ay pagkasa, tayo ang Gatilyo

(In grievance violence is love, to be conscious is to cock the gun, and we are the trigger).
Speaking offstage after a fiery performance, BLKD, Allen in real life, said what he hopes is to at least be a reflection of society..
"To me, as a bare minimum, it is important for art to reflect what is happening in society," BLKD says in Filipino in a conversation outside the show venue.
The young rapper, whose socio-political views were shaped at the University of the Philippines, said that, more than that, he hopes to see rap as a force that can trigger change, and social movements.
And while BLKD acknowledges his identity as an activist, his calls to action are not limited to taking the streets.
For this performance, for example, ticket proceeds are for the families of the victims of the war on drugs — a policy of President Rodrigo Duterte's administration and that, according to critics and to human rights organizations, has claimed the lives of as many as 20,000 Filipinos.
'More afraid to live in a society where fear prevails'
Even talking about the drug war and Duterte is a risk in a country where the president and his war continuously enjoy high approval ratings.
Speaking publicly against the administration's policies could run the risk of getting trolled, tagged as communist, or sometimes, even a response from the president himself.
But it's a risk BLKD is willing to take.
"I'm more afraid to live in a society where fear prevails over everything," he said.
BLKD is aware of socially-conscious rap's history as a tool of expression against marginalization of minority communities in the United States, and believes that it is possible to use rap and performance art to push back against oppression here in the Philippines.
"I come from the branch of hip hop that we like to call 'new school'," he said.
Hip hop scholar Chinua Thelwell said in a phone interview that hip hop was born out of economically depressed conditions in the South Bronx, although it originally began as party music for the community.
BLKD said that he traces hip hop, its culture and how it was created by "marginalized sectors," and follows the school of hip hop that is lyrically conscious of societal problems.
According to Thelwell, "knowledge production," became an important facet of the hip hop movement, thanks to hip hop pioneer and Zulu Nation international founder Afrika Bambaataa.
Another hip hop historian Jeff Chan said in Forbes Magazine that Bambaataa had a vision for hip hop to be a "force for social change."
"We believe that that aspect of hip hop is still there. It's not new, we're just being true to it" BLKD said.
C.P. Gause described in an academic article entitled "Rap, Race and Resistance," how the art form was born as an outlet for inner city youth to describe their hardships.
"Rap is not only music to dance and party to, but also a potent form of cultural identity. It has become a powerful vehicle for cultural and political expression," Gause wrote.
Rapper Chuck D of Public Enemy once said that hip hop and rap had been a tool for people of color to allow "their voices to be heard" in a way that would get people to listen.
And while Thelwell said that it might be rare that a rap song would actually spark a major social movement, "it's become a soundtrack for many social movements in America."
He said, "what rap does is bring awareness to a certain topic."
The NWA song "Fuck Tha Police" — released in 1988 — for example, became the anthem of the 1992 LA riots, where citizens took the streets to protest alleged excessive force by police officers on African Americans.
More recently, rap had become the soundtrack of the Black Lives Matter protests against police brutality which began in 2013.
Asked if hip hop could be used in marginalized communities outside of the US, Thelwell said that politically-conscious rap group Public Enemy toured at least 50 countries in their heyday and were "going around the world spreading political messages."
"Marginalized youth anywhere could latch on to this culture," Thelwell said.
The hip hop sensibility, could be looked at as the ability of the marginalized to make something out of nothing. "It takes a certain amount of creativity to make something new," Thelwell said.
'Respeto'
One of the first films to tell the story of Duterte's drug war is the film "Respeto", which uses hip hop to shine a light on the violence and how the war is affecting urban poor communities.
The film interweaves the worlds of the Filipino fliptop (rap battle) community and poetry during the martial law rule of late dictator Ferdinand Marcos in the 1970s; juxtaposed with urban blight and a chaotic drug war that targets the urban poor.
The film, set in the slums of Pandacan, Manila, stars real-life rapper Abra.
He plays Hendrix, a teen who dreams of becoming a flip top star and has to face the realities of a deadly drug war when his older brother Mando (Brian Arda) forces him to run drugs.
Also in the film are Silvester Bagadiong and Cebuano actress Chai Fonacier.
Fonacier, who is also a writer and musician, composed one of the title tracks, "Kabuwisit ba" (How unlucky), in the Cebuano language:
Fonacier's ballad sings from the point of view of an inner city youth, who dreams of living in a community far from violence and war.
Rap, according to Gause's article, developed as an outlet for inner city youth to describe their social and economic hardships.
"Kabwisit ba, napisti na.Ayaw intawon ko ninyo among amonga , ug gani kamo magbugno, palihug didto sa layo pag giyera."

(How unlucky, we're being screwed. Please don't include me in this mess. And if you guys decided to battle, please take it far from us)
The Visayan actor, a relative newcomer to the film scene, nabbed her first Filipino Academy of Movie Arts and Sciences nomination for the composition.
She said that the story of the Hendrix is of someone motivated not just to improve his skill with words and battling other rappers to make a name for himself, but also improve his circumstances.
"The struggles of making a name for oneself in the FlipTop world and making it in the world in general, run parallel," Fonacier said in a mix of Cebuano and English. "In a lot of poorer communities, being a good FlipTop rapper could bring a notoriety, fans, which is potentially a ticket out of the slums."
But in a world where police are summarily executing urban poor on mere suspicion of drug links, or being involved in the trade themselves, the young rapper finds himself in an inescapable cycle of violence, crime and corruption that puts up higher barriers between him and his dream of becoming a flip top star.
'Red-tagging'
The film — which also touches on martial law trauma and revisionism — was among several films shown on school campuses close to the annual remembrance of the September 21, 1972 declaration of martial law by ousted dictator Ferdinand Marcos.
That annual remembrance was also close to the time that the military claimed local universities were being used to recruit for a supposed communist plot to overthrow the president.
'Respeto' director Treb Montreras III was among the directors and members of the film community who spoke out against the red-tagging by the government following the incident.
"Cinema is a crucial element of any healthy democracy. Not only does it entertain or promote cultural identity, it more necessarily functions as a mirror reflecting a society's humanity, or inhumanity, to itself and this way contributes to genuine nation-building," the Directors Guild of the Philippines, Inc. said then.
Red-baiting or red-tagging, as defined by the International Peace Observers Network, is the practice of publicly and detractively classifying government-critical individuals and organizations as communist terrorists, state enemies or subversives.
The term red-baiting stemmed from the political campaign against communist elements in the United States during the 1950s and is still being used today to discredit and silence critics.
Among the sectors with members who have been accused of being legal fronts of communist rebels are teachers, journalists, rights defenders, and jeepney drivers.
Censoring artists
Fonacier said she interprets the government's attempt to red tag their film as a sign that this administration is afraid of creative artists who produce content counter to the government's narrative.
"I dare say they do, I dare say they are trying to silence artists," Fonacier said. "If we're going to talk about freedom of expression — everyone has the right to express their opinion — for — against or in between. But if you're trying to silence one side in favor of another, that shows a bias."
What does the government have to fear of artists?
"Storytellers have played a huge role in shaping mindsets, and shaping sensibilities. It can be used for propaganda and can be used for education," Fonacier said.
"Depending on who is using it, you can determine the effects and see how powerful that tool is," Fonacier said, who is also active in sharing her takes on social issues on Twitter. "The tool [storytelling] itself is neutral, but it is very strong and persuasive."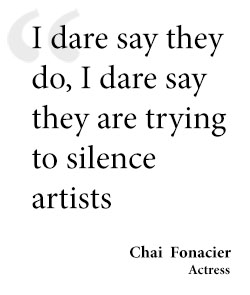 'Art humanizes facts'
While freedom of expression is often measured by the country's environment for news media — where the Philippines consistently ranks low — 26-year-old spoken word artist Alfonso Manalastas, a native of Butuan, Agusan Del Norte, said he would not be surprised if the administration would come after poets or spoken word artists next.
"For a lot of reasons, the Duterte administration has been squarely paralleled to the Marcos regime," Manalastas said.
"Looking back at the Marcos era, literary production was largely controlled by the people in power, with the likes of Pete Lacaba having to smuggle resistance poems to mainstream publications — ultimately giving birth to the perennial sound byte of the Marcos resistance in the form of 'Marcos, Hitler, Diktador, Tuta,'" Manalastas said.
Manalastas was referring to a poem the Martial Law-era writer and activist wrote called "Prometheus Unbound" that snuck the phrase past state-allied editors.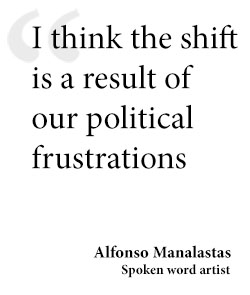 Poetry, Manalastas said, along with other written and spoken art forms are essential in political dissent "because art functions as a means to humanize facts."
He added: "you can have as much data on death tolls, but that can only do so much to a desensitized people unless you tell actual stories to ruminate on. Art is the one force in the world that compels people to feel and sentimentalize."
Manalastas is a poet who does not shy away from tackling historical revisionism, authoritarianism, misogyny, among other political issues, in his performances.
In "10 Easy Steps to Become a Filipino Hero," which Manalastas wrote around the Supreme Court decided on the Hero's Burial for Marcos, poked fun at the underwhelming requirements to be buried in a cemetery with a prestigious name, and the impunity the family use to gain power and immortalize a dictator.
Under Step 9, he says:
"Your children will grow up without you. They don't have to be particularly bright, or talented, or kind, but they will carry your last name and honestly, what can anyone ever really ask for?"
'All art is political'
It's not speaking truth to power, even when power are names like Marcos and Duterte, that scare the young writer and artist, but the fear of speaking about injustice and oppression while not having the context as a member of the marginalized community.
Manalastas shared: "One time, I performed at a labor protest for a massive tobacco manufacturer and I did not feel adequate enough to speak in behalf of their plight. I guess what scares me the most in this context is what limits me as a human being and as an artist".
But the self-consciousness won't stop him from writing about these issues: "As for the political nature of my body of work, I am a firm believer that all art is political—not only in what we choose to say but also in what we choose to omit. By creating something that has even the slimmest propensity to influence others is already an act of asserting his personal politics."
"Some of the most talented young Filipino writers I know today ground their work on socio-politically charged themes," he said. "I think the shift is a result of our political frustrations, these are the same people I see at protest gatherings, at pride marches, at virtually any space that encourages political awareness."
Manalastas pointed out that while the Marcos era was a period when peoples' human rights were being violated and systemic oppression far-reaching, "cinema thrived with the likes of Ishmael Bernal, Lino Brocka, and Mike de Leon inserting resistance notions in their body of work."
Spoken word carries much of the same sensibility of indignation and protest of the more socially conscious brand of rap.
Manalastas said, "the same trend can be seen today in even newer forms of art like spoken word where a lot of writers and performers tend to approach their craft with a renewed and a more enlightened sense of politics."
'Do your part, whatever your part may be'
Back in the village near UP, BLKD said that while his music may sound like a call to revolution, it is not a revolution he is willing to define for his audience.
"What I would like to see the most is to see them [the audience] to do their part, whatever that may be," BLKD said in a mix of English and Filipino. "I'm an activist first who just happens to be an artist. If you can contribute through research, data etc… then you should do your part to help change your community for the better. That's already a success."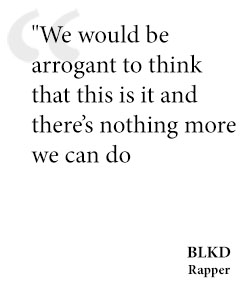 He said the ideal outcome, though, would be to inspire people to come together to change the course of the country's future. "All of us should come together to create a society that is just and peaceful."
And regardless of how angry or frustrated his music feels, the activist-rapper is hopeful that social change can be achieved.
"We would be arrogant to think that this is it and there's nothing more we can do," BLKD said optimistically. "The things that our ancestors have gone through were much worse, and there are worse situations in other countries. These problems, we can get through them."