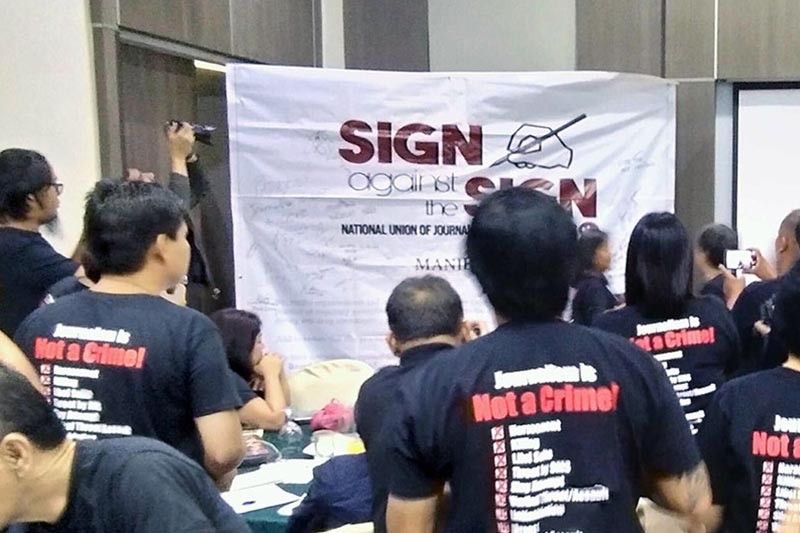 In this file photo, members of National Union of Journalists of the Philippines gather signatures for a campaign urging Congress to amend a law that includes journalists as among the witnesses who can sign in drug raid inventories. The group believes the practice of having journalists sign the inventory puts them in danger of retaliation from suspects and at risk of legal charges if irregularities are found in the conduct of the raid.
File photo
State media slammed for validating 'red-tagging' of journos
(Philstar.com) - January 10, 2019 - 4:00pm
MANILA, Philippines — The National Union of Journalists of the Philippines hit a state-run news agency for validating a story carried by tabloids that link them to communist rebels—a claim they have earlier denied.
NUJP called out a number of Manila-based tabloids for running articles linking their group to the Communist Party of the Philippines. A day later, state-run Philippine News Agency also published an article echoing the same accusation.
"Now we can say for certain that government is involved in this nefarious effort," the journalists' group said in a statement.
Earlier this week, stories quoting liberally from a certain "Ka Ernesto," who identified himself as an ex-rebel and a founder of the NUJP, were published. He claimed that the NUJP is being ran by communist rebels.
The NUJP denied this swiftly. But the PNA ran a story quoting "ex-rebels" from "Kilusan at Alyansa ng mga Dating Rebelde (KADRE)" that wanted to know if the NUJP is a "legal front" of the CPP-NPA-NDF.
The group also said that members of the NUJP worked to block the release of their stories.
The NUJP slammed the PNA for posting the story bearing the statement of "KADRE," a group that does not seem to have existed prior to the report from PNA.
A cursory online search shows the group mentioned in the PNA report and the repost on the PTV4 website.
"That the state news agency, which is under the supervision of the Presidential Communications Operations Office, saw fit to run this utterly malicious and false story clearly proves that this is, indeed, an orchestrated campaign to vilify and silence not just the NUJP but the independent and critical press, involving no less than the Government of the Republic of the Philippines," the NUJP added.
Palace: Maybe they are just paranoid
Malacañang, however, dismissed the criticism raised by the journalists' group as they may be just "paranoid."
"There is no such thing. The Presidential Communications Operations Office will not do that," Panelo said, adding that even the Philippine National Police do not do "red-tagging."
The Palace spokesman added that if the journalists' group is not doing something illegal, "they don't have to worry."
Several groups have raised time and again that red-tagging endangers those accused of such links as it denies them of due process.
RELATED: Duterte's red-tagging endangers activists – militant groups
— Kristine Joy Patag