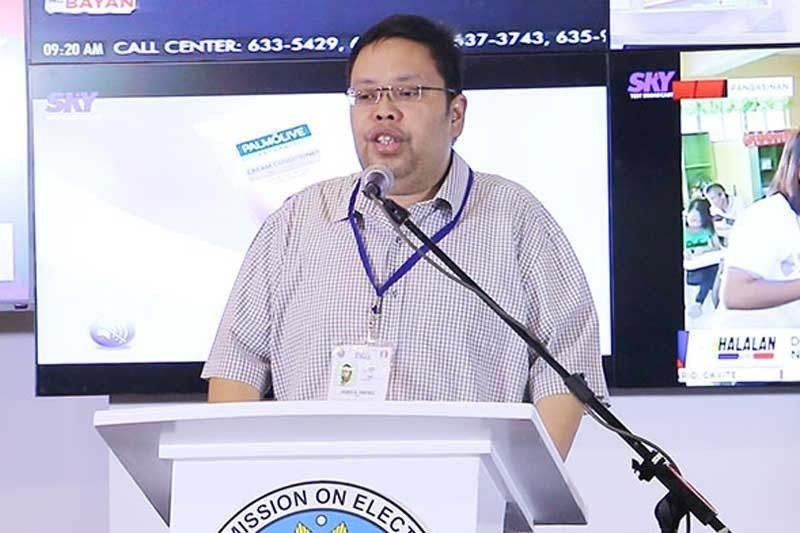 Comelec reminds civil service members against partisan campaigning.
The STAR, File
Comelec, PACC remind gov't workers partisan campaigning not allowed
(Philstar.com) - February 14, 2019 - 7:20pm
MANILA, Philippines — The Commission on Elections reminded government workers that partisan campaigning is not allowed in the upcoming elections.
Comelec spokesperson James Jimenez said in a joint press conference with the Presidential Anti-Corruption Commission on Thursday that those under the Civil Service Commission are banned from "partisan political activity."

The Omnibus Election Code of the Philippines prohibits government workers from partisan campaigning but exempts Cabinet officials and the president.
Jimenez clarified, however, that they are allowed to express their personal opinions.

"They are allowed to say who they will vote but they cannot order their people who are under his department or subordinates to support the candidate chosen by their leader, that is what we are trying to prevent partisan political activity. That is prohibited," he added.
"Document them [violations of partisan campaigning rule]. It is important to report such and then we will (forward) it to PACC. Let us work together to make sure proper actions filed," Jimenez said.
PACC chair Dante Jimenez also appealed to the public to report violations.
"We will not allow ourselves to be intimidated by politicians and other branches of government, the Congress of the Philippines, and other sectors, and further urge the candidates running for public office in the midterm and future elections to do their part to understand their responsibility as candidates in various public positions," he said.
"We will enforce the teeth of the law and impose whatever penalties or punishments are applicable to these candidates who have violated the law."

On February 8, President Rodrigo Duterte reminded military, government workers and Cabinet officials — who are normally exempt from the campaigning ban — not to partake in partisan politics.
READ: Duterte to armed forces, cabinet: 'stay neutral in elections'

"The Cabinet members… through the law allows you to campaign like the president, I would insist that they should not get involved. Not only would they bring so many issues with them," he said then.
He also said that no state resources would be used in campaigning.
"They will say they're using the gas, airplanes," the president added, saying he does not want state resources being used for campaigning to be made an issue.
The president's anti-corruption body also warned all government agencies under the direct supervision and control of the chief executive not to use their office's resources in the campaign. — Ryan Macasero