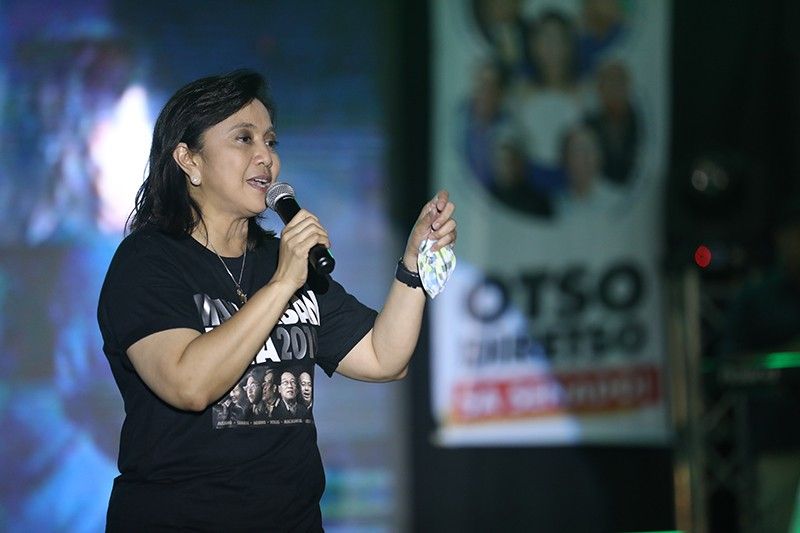 Vice President Leni Robredo says the harassment against news site Rappler is "obvious."
Office of the Vice President
Robredo rebukes Panelo, says harassment vs Rappler obvious
MANILA, Philippines — Vice President Leni Robredo told reporters on Thursday afternoon that she believes the harassment against news site Rappler and its Chief Executive Officer Maria Ressa was "very obvious."
She was responding to a statement by the Palace that Ressa's arrest had nothing to do with freedom of expression.
"This has nothing to do with freedom of expression or the press. Regardless of who commits any crime he or she will be charged in accordance with the law," Panelo said in an interview with the ABS-CBN News Channel Wednesday evening following the arrest.

READ: Panelo: Ressa's arrest 'nothing to do with freedom of expression'
"This is the sad thing happening post-Martial law — after the dictatorship — after what happened during the time of Marcos — it should have been a big lesson for us not to allow it to happen again," Robredo said in Filipino.
"It's easy to say there is no connection," the vice president and opposition leader said. "Observers can see there is. First of all, they are being singled out."
"For me, why is it that the only ones experiencing this kind of harassment are people or institutions who are brave enough to be critical?" she asked. "How come those brave enough to dissent are the ones the government is nitpicking?"
Robredo said that if there are faults committed by Rappler, they should be given the chance to fix any possible deficiencies. "It should not be that they [the government] harass them in all kinds of ways. This started with the tax cases and the SEC registration and now it's cyber libel," she said.
This is the sixth case so far filed against Rappler, in addition to five tax evasion charges and proceedings filed by the Securities and Exchange Commission to revoke the news company's license to operate over questions of alleged foreign ownership.
RELATED: SEC revokes news site Rappler's registration | DOJ files fifth tax evasion case vs Rappler

The Commission on Human Rights said in a statement on Ressa's case that "the rule of law" must prevail.
"As there are questions on the arrest of Rappler chief executive officer Maria Ressa, we urge the government to ensure Constitutional guarantees, including due process and equal protection of laws, are equally applied to her," CHR spokesperson Jacqueline Ann de Guia said in a statement.

"At this point, our interest is truth. We must always be vigilant against injustices donned with a cloak of legality — for laws are meant to guard our rights, not be used as tools to violate them," she added.
Ressa's arrest has been condemned by press organizations across the country and around the world as harassment against journalists.
RELATED: Press groups: Ressa arrest is 'malice, manipulation of the law' | Global press group to Duterte: Stop weaponizing law to silence Rappler
Robredo urged members of the media not to be deterred by what happened to Rappler and Ressa.

"Bakit yung nangyayari ngayon, ito din ang nakita natin na parang mangsusupil ng freedom of the press. Sana yung members of the media hindi matakot (How come what is happening now it looks like freedom of the press is being subdued? I hope members of the media will not be afraid)," Robredo said.
"Dahil lahat tayo umaasa sa media. Lahat tayo umaasa yung ibibigay ng media sa atin fair saka balanced na reporting (Because we all rely on the media. We rely on the media for fair and balanced reporting)," she added.