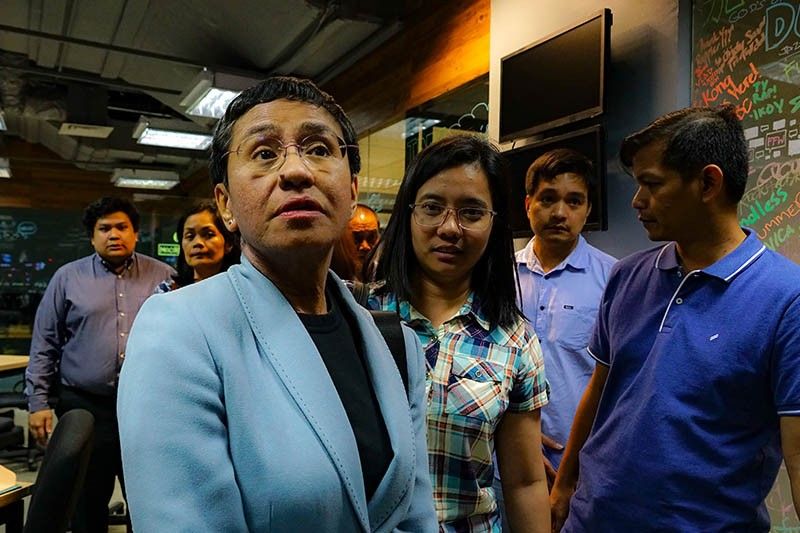 Philippine journalist Maria Ressa (front L) leaves her office after she was arrested in Manila on February 13, 2019. Ressa, who has repeatedly clashed with President Rodrigo Duterte, was arrested in her Manila office on February 13 in what rights advocates called an act of "persecution".
AFP/Maria Tan
Press groups: Ressa arrest is 'malice, manipulation of the law'
MANILA, Philippines — Journalists' organizations both in the Philippines and abroad slammed the arrest of Rappler CEO and executive editor Maria Ressa on a cyberlibel case, saying it undermines press freedom and freedom of expression.
Ressa was detained overnight at the National Bureau of Investigation after failing to post bail at a Pasay night court hours after agents served a warrant in the newsroom of the online media organization.
The arrest stemmed from an article about a businessman that was published in 2012. The charge is under an anti-cybercrime law that had not yet taken effect when the article was published.
The libel charge carries a maximum penalty of 12 years.
This is a dramatic escalation in government pressure on Ressa and Rappler, already facing tax evasion charges in court and issues on foreign ownership at the Securities and Exchange Commission.
'Persecution by a bully government'
The Center for Media Freedom and Responsibility noted how the arrest was made after office hours to prevent her from making bail, which it said, shows the administration's "malice and manipulation of law."
The Foreign Correspondents Association of the Philippines on Thursday morning said the arrest "this latest legal stratagem threatens the freedom of the press all of us have fought for and will always defend."
It said its members "will always stand against any move, explicit or otherwise, that is designed to undermine the freedoms that are a lifeline to truly free, relevant and courageous journalism."
The National Union of Journalists of the Philippines called the charge against Ressa a "shameless act of persecution by a bully government."
"This government, led by a man who has proven averse to criticism and dissent, now proves it will go to ridiculous lengths to forcibly silence a critical media and stifle free expression and thought," NUJP said.
It added: "It is clear this is part of the administration's obsession to shut Rappler down and intimidate the rest of the independent Philippine media into toeing the lines."
The view is not one shared by all journalists and media organizations in the Philippines and most of the more vocal support for Rappler has come from abroad.
RELATED: Press freedom not under attack, former journalist Jiggy Manicad says
Reporters Without Borders (RFS) said that the "judicial persecution" of Ressa "is becoming increasingly unacceptable."
"Digging up an old case that was dismissed in February 2018 is absolutely absurd and confirms that this is not justice but an attempt to gag a media outlet and editor recognized internationally for their professionalism and independence," RFS secretary general Christophe Deloire.
The New York-based Committee to Protect Journalist, for its part, stressed that the government's harassment of Ressa and her website has now reached a "critical and alarming juncture."
"We call on Filipino authorities to immediately release Ressa, drop this spurious cyber libel charge, and cease and desist this campaign of intimidation aimed at silencing Rappler," Shawn Crispin, CPJ senior Southeast Asia representative, said.
'Attacks demand global response'
Rights watchdog Human Rights Watch said the attacks of the Duterte administration on Ressa and Rappler demand a global response.
"Governments concerned about the thousands killed in the 'drug war' and the media's ability to report on this and other abuses need to publicly demand Ressa's release and the dropping of all charges," Carlos Conde, HRW Asia division, said.
Deloire of RSF also asked the United Nations to intervene.
"We are asking the UN secretary to intercede as quickly as possible to end this harassment. At the same time, we ask the court that handles this case to dismiss all the charges against Maria Ressa and Rappler," he said.
Ressa, named as one of Time magazine's Person of the Year in 2018, is set to post bail Thursday morning
'Stand with Rappler'
NUJP and CMFR called on not only the media workers but also the public to stand with Ressa and her company.
"We call on the press and media community to condemn this outrage and to stand with Rappler. An attack on the freedom of one journalist or one news organization weakens the capacity of the entire institution to report the truth and is an attack on all of us and on democracy itself," the group said, not for the first time.
"And we call on the public to stand up for the press that as an institution has served Filipinos in times of disaster and crises, connecting the different groups and communities in a national conversation to protect our freedom and our democracy," it also said.
"We call on all freedom-loving Filipinos to stand with the independent Philipline press in defense of the rights not only of media but of the people. For in suppressing the press it is the people's right to know that is trampled on," NUJP said.
Various groups on Wednesday night held a small indignation rally for Ressa in front of the NBI headquarters in Manila.
Related video: