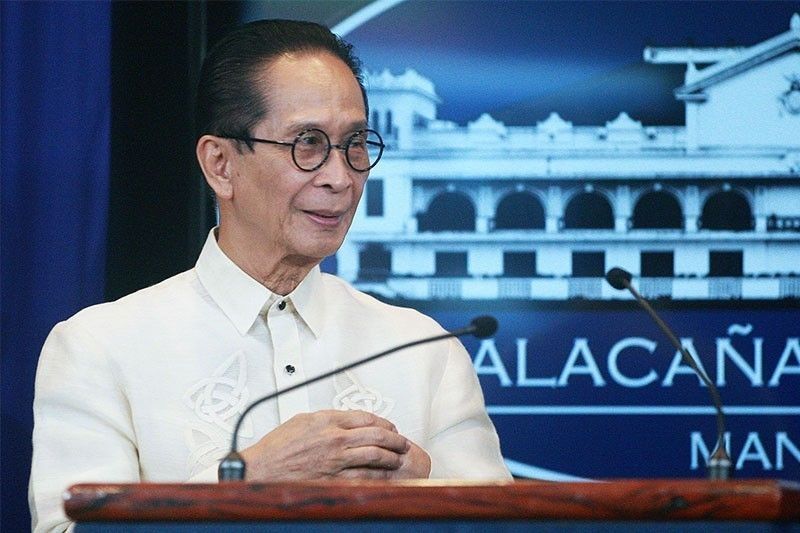 Presidential spokesperson Salvador Panelo says the arrest of Maria Ressa is not an issue of press freedom.
STAR/Joven Cagande, File
Panelo: Ressa's arrest 'nothing to do with freedom of expression'
MANILA, Philippines — The arrest of Rappler CEO and Executive Editor Maria Ressa has nothing to do with freedom of expression, presidential spokesperson Salvador Panelo said Wednesday evening.
"This has nothing to do with freedom of expression or the press. Regardless of who commits any crime he or she will be charged in accordance with the law," Panelo said in an interview with the ABS-CBN News Channel.

READ: NBI at Rappler office to serve warrant against CEO Ressa
Agents of the National Bureau of Investigation served the warrant at the headquarters of news site Rappler at around 5 p.m.
While international organizations have raised concerns over the number of cases piling up against Rappler, the Palace reiterates its position that the cases are not about freedom of expression.
"She commits a crime and the court finds probable cause, which is why she is being charged," the spokesperson and president's chief legal adviser said.
"The charge is fact-based and the DOJ prosecutors gave her all the opportunities to defend herself and it found out there is probable cause and even the court agrees with it."
#AsItHappens: @mariaressa says she has until 9 p.m. to post bail or stay here tonight.

"We've been trying to post bail."

She is now signing the booking sheet. | via @desamting

More: https://t.co/pjWbdeEjfk pic.twitter.com/3nxVfeeFAW

— Philstar.com (@PhilstarNews) February 13, 2019
Manila Regional Trial Court Branch 45 Presiding Judge Rainela Estacio-Montesa ordered law enforcement agencies to serve a warrant against Ressa in an order dated February 12 over a cyberlibel case filed by state prosecutors.
READ: A look at the cyber libel charge vs Rappler, Maria Ressa

Responding to comments over the timing of the warrant, served at 5 p.m. after courts are already closed, Panelo said that the only prohibition with warrants is that they can't be served on a weekend.
"What's the complaint?" he said.
The warrant of arrest emanated from a complaint filed by businessman Wilfredo Keng over an article that was first published in May 2012.
He sought the NBI on October 2017 — five years since the story was published — claiming that Rappler did not observe "ethical standards of journalism" when it published the story.
He wanted Rappler, Ressa and the reporter to be held accountable under the cyberlibel law.
NBI Cybercrime Division head agent Manuel Eduarte asserted in an interview last January 2018: "Even if it was posted in 2012, but still can be seen at the time the complaint was filed or the time of the effectivity of the Cybercrime Law (it is still covered)."

An international press group in a statement today said the Duterte administration was using the "law as a weapon to silence Rappler's reporting."
Panelo has denied the administration has been making efforts to silence press freedom since last year.
In December, after Ressa was named among several of Time Magazine's Person of the Year, he said that as far as Malacañang is concerned and "obviously since there are still critics attacking… criticizing the administration, the freedom of expression in this country is a robust one."