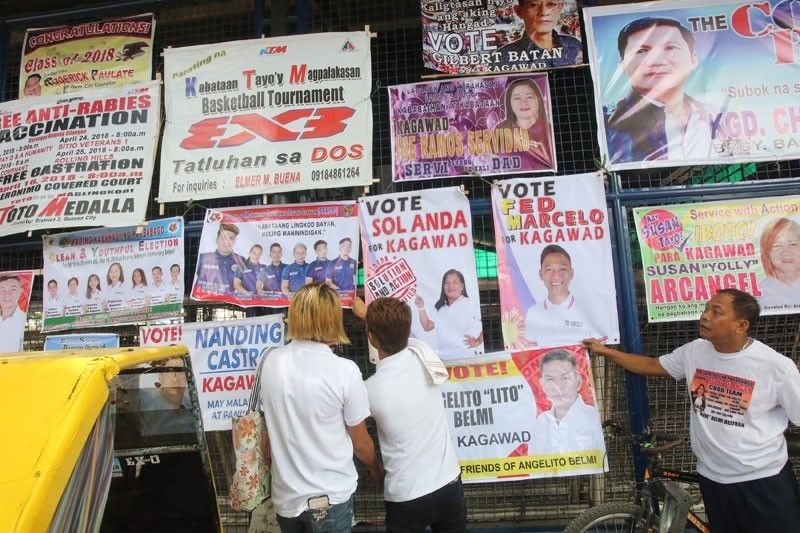 File photo shows various election posters.
The STAR/Boy Santos
Bets told to take down illegal posters before campaign period starts
(Philstar.com) - February 11, 2019 - 12:01pm
MANILA, Philippines — A day before the official start of the campaign period, the Commission on Elections reminded candidates to take down campaign materials that violate election laws.
In a statement on Monday, Comelec spokesman James Jimenez reminded candidates "to immediately remove all prohibited forms of election propaganda at least 72 hours before the election period."
"Otherwise, said candidate or party shall be presumed to have committed the pertinent election offense during said campaign period for national candidates or for local candidates, as the case may be," Jimenez added.
Notice to All Candidates and Parties for the May 13, 2019 National and Local Elections Re: Start of the Campaign Period #MalayangHalalan #NLE2019 pic.twitter.com/RD14f3NBio

— COMELEC (@COMELEC) February 11, 2019
READ: 'Follow poster rules or face sanctions'
The Comelec said that illegal campaign materials include those that are put up outside common poster areas and in public places.
Posting campaign materials on private property requires consent from the owner.
Comelec has not been remiss in warning candidates and parties that posting illegal campaign materials would be held accountable, even as they claim that the paraphernalia was posted without their knowledge.
A report on The STAR quoted Jimenez as saying: "If the materials are still up after the start of the campaign period, then it can be presumed they are up because candidates allow them to remain up. It s clear that they are benefiting from the presence of these materials and that might be a way to hold them accountable."
He also stressed that the Comelec is implementing a size limit of 2x3 feet or 3x2 feet for campaign materials, as provided by Republic Act No. 9006 or the Fair Elections Act. The Fair Elections Act defines the kinds of campaign materials that candidate are allowed to use.
The official 90-day campaign period for Senate and party-list positions is from February 12 to May 11. Local bets, meanwhile, may start campaigning from March 29 to May 11.
There are 63 bets gunning for 12 seats in the 24-member Senate while 134 party-list groups are vying for seats at the House of Representatives. — Kristine Joy Patag