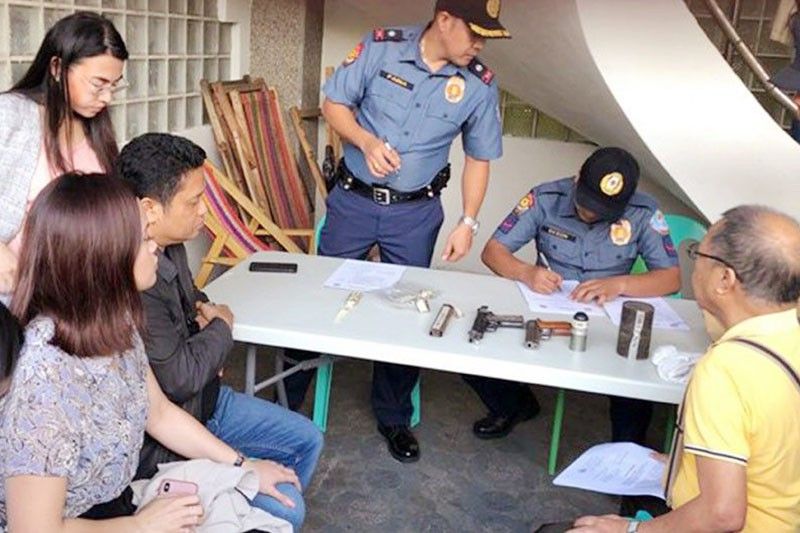 Photo provided by CIDG-Bicol shows Daraga Mayor Carlwyn Baldo looking on as officers conduct an inventory of firearms and ammunition recovered from his house in Barangay Tagas, Daraga, Albay yesterday.
File
Rodel Batocabe slay 'brains' arrested
Cet Dematera
(The Philippine Star) - January 23, 2019 - 12:00am
Daraga mayor held for gun raps
LEGAZPI CITY, Philippines — The alleged mastermind in the murder of Ako Bicol party-list representative Rodel Batocabe was arrested yesterday for illegal possession of firearms and explosives.
Daraga Mayor Carlwyn Baldo's arrest came following a search by agents of the Criminal Investigation and Detection Group (CIDG) on his home in Doña Maria Subdivision, Barangay Tagas at around 2:30 p.m.
The search resulted in the recovery of two .45 caliber pistols with eight bullets and ammunition for an M203 grenade launcher and rifle, according to Chief Supt. Arnel Escobal, Bicol police chief.
Baldo will be charged with illegal possession of firearms and explosives.
Arnold Ardiente, CIDG-Bicol chief, said the ammunition for a grenade launcher is considered as an explosive, the possession of which is a non-bailable offense.
"Baldo was arrested not because of the Batocabe murder case, but because of the firearms, ammunition and explosive recovered by our team during the serving of a search warrant," Ardiente told The STAR.
Ardiente said Baldo would be placed under their custody while documents required for his inquest are being prepared by the CIDG legal team.
He said the team could have opted not to handcuff Baldo, but standard operating procedure required them to do so.
Ardiente said the raid stemmed from a statement of one of Baldo's former associates, who said the mayor has several unlicensed firearms.
Baldo was whisked away in a police vehicle and brought to CIDG headquarters at Camp General Simeon Ola here. His wife was with him.?Baldo's camp was reportedly wondering why the ammunition for a grenade launcher, which was placed in a bag buried outside the guard house in the compound, was not among the items enumerated in the search warrant issued by Judge Elmer Lanuzo of the Legazpi Regional Trial Court.
Another search warrant was also served for the mayor's Isuzu Altera vehicle.
The car, which was brought to Camp Ola for processing, was allegedly used by the people supposedly hired by Baldo to kill Batocabe.
Six people have been in the custody of the police in connection with Batocabe's murder.
Batocabe was killed along with his police escort on Dec. 22 in Daraga, Albay.
Baldo has denied the allegation that he masterminded the murder, saying he was being used as a scapegoat.
Police filed a case against him for double murder before the prosecutor's office, but the case has not been resolved, and no warrant has been issued for his arrest in connection with the killings.
Broken promises
Meanwhile, President Duterte yesterday accused lawmakers of not delivering on their promise to provide reward money for the capture of Batocabe's killers.
Duterte said Congress vowed to give P30 million in exchange for information that would lead to the arrest of the mastermind.
He said he offered to increase the reward to P50 million.
"By the mercy of God, I was the only one who delivered the P20 (million). Congress has not done so. They are supposedly still printing the money. I gave the money immediately upon the arrest (of the suspect)," he said.
Duterte joked that lawmakers are like boxers with clenched fist when it comes to money.
"Congressmen are potential boxers... if there is money, they do this," Duterte said as he showed a clenched fist. "The money is tightly guarded. It's just a joke."
He urged lawmakers to fulfill their promise and to release the reward money.
"I will look for an opportunity to remind them. It was solved in record time," he said, referring to the lawmakers and the Batocabe murder. – With Emmanuel Tupas, Alexis Romero