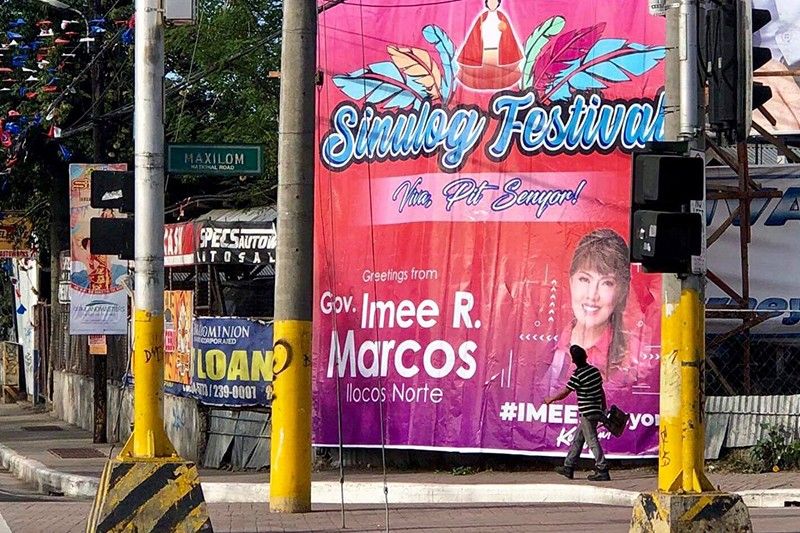 Cebu City Mayor Tomas Osmeña says taking down the tarp was doing Governor Imee Marcos "a favor"
Tomas Osmeña's Facebook page
Cebu City mayor orders removal of Imee Marcos' Sinulog tarpaulin
MANILA, Philippines — Cebu City Mayor Tomas Osmeña ordered the removal of an oversized tarpaulin of senatorial candidate and Ilocos Norte Governor Imee Marcos from a street corner prior to the annual Sinulog parade on Sunday.
"Trust me when I tell you I am doing you a favor by taking this tarpaulin down," Osmeña said in a Facebook post on Friday morning.
He said in the post that the Cebuanos "do not appreciate the politicization of Sinulog."
The festival celebrates the child Jesus and Ferdinand Magellan bringing Christianity to the Philippines in 1521. The event draws in millions of people every year.
Cebu Archbishop Jose Palma had previously asked that the Church "stay away from politics" in light of the upcoming 2019 midterm elections.
Local police officials said that there would be no VIP treatment for politicians who attend the Sinulog festival.
READ: No VIP treatment for politicos this Sinulog

"The Cebuanos do not appreciate the politicization of the Sinulog. This won't be earning you any votes and is doing you more harm than good," the Cebu City mayor said.
"Nothing personal. My own brother is running for Senator and I didn't invite him to come," he added. Osmeña is the brother of senatorial candidate Sergio Osmeña III.
Later on, Osmeña posted that Marcos' texted him "thanks for the reminder" and that she reminded her supporters to take it down.
Osmeña said in the comment section of that post that he wasn't targeted all political ads, but the ones that use the Santo Niño — a sacred image in Cebuano culture — for political campaigning.
The Fiesta Señor is a weeklong celebration that venerates the child Jesus in the image of the Santo Niño, which culminates in the Sinulog Festival taking place this Sunday.