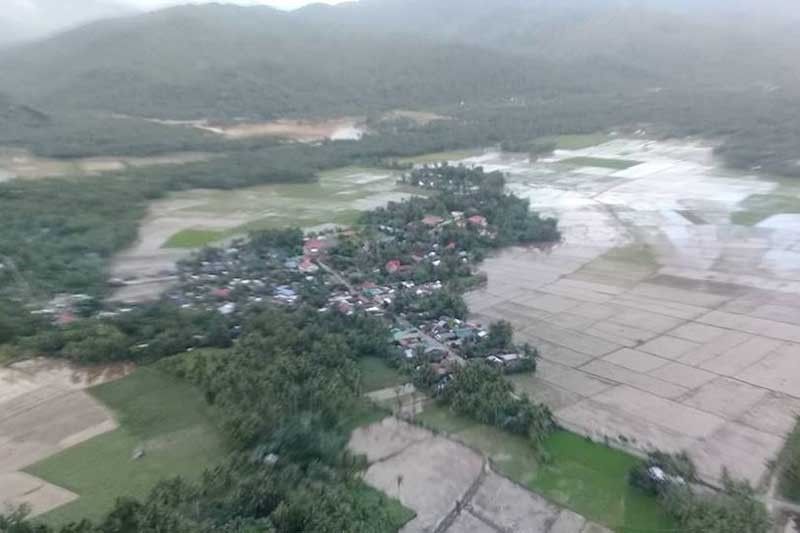 Lawmakers would like to know how and why flooded Matnog town got "zero budget" allocations in this year's budget, even as the 15-municipality Sorsogon province got a total of P10 billion in projects, including flood-control ones, in 2018.
Civil Defense BICOL Facebook
House of Representatives probes Bicol flood control funds
NAGA CITY, Philippines — The investigation of the House of Representatives' rules committee on the multibillion-peso flood control projects of the government will push through here today even if Budget Secretary Benjamin Diokno is on vacation in the United States.
Lawmakers would like to know how and why flooded Matnog town got "zero budget" allocations in this year's budget, even as the 15-municipality Sorsogon province got a total of P10 billion in projects, including flood-control ones, in 2018.
"This recent discovery will be among the issues that the House rules committee will tackle when we conduct the public hearing in Naga City," said House Majority Leader Rolando Andaya Jr., who is spearheading the probe along with the public accounts committee of House Minority Leader Danilo Suarez.
Andaya vowed to unmask "insertions" made by the Department of Budget and Management (DBM) in the annual outlay.
"We will proceed with the probe despite his absence. It's his loss, not ours," Andaya said, referring to Diokno.
The joint committee will be holding a public hearing at the Avenue Plaza Hotel here and will be asking questions on the "questionable budget practices" of the DBM when it reportedly inserted P75 billion in flood control projects.
Andaya, a congressman from Camarines Sur and former budget secretary, noticed that from P79 billion in 2017, the budget for flood mitigation projects ballooned to P133 billion in 2018, higher by P54 billion.
What is even more surprising and raises more questions, according to the lawmaker, is that the Department of Public Works and Highways (DPWH) has a P544.5-billion budget for 2019, when its original proposed allocation was only P488 billion – a difference of P56.5 billion.
"Many flood control projects were not included in the originally proposed P488-billion budget of the DPWH. They were added on the level of the DBM, thus it turned out that the proposed budget of the DPWH was P544.5 billion," Andaya said in Filipino.
"Out of the proposed P544.5-billion budget of the DPWH for 2019, P114.4 billion is for flood control projects. Almost 24 percent (increase)," he revealed further, noting that "flood-related" projects in Bicol region alone surged by P2.2 billion.
Andaya confirmed that Diokno, whom they wanted to have summoned, is indeed in the US and would not be around to answer queries regarding the hidden P75-billion insertions in this year's national budget.
"Secretary Diokno is in the US, how can we invite him? What happened to his 'duty first before leisure' mantra? His presence is very important to shed light on his questionable practices in the budget process," Andaya lamented.
"For the sake of transparency and accountability, he should explain and come clean," the administration congressman, who heads the committee investigating the insertions, said.
Diokno, who himself made the disclosure on the P75-billion insertion when he was grilled by Andaya and Suarez during the Question Hour last month, advised House members to pass the budget first to prevent a reenacted budget.
"(Congressmen) have until the end of (2018), December 31st. They can work holidays, you know. In the US, they work on Saturdays and Sundays. So as I've said, duty first before leisure," Diokno said.
Andaya will be joined by Suarez, senior House deputy majority leader and 1SAGIP party-list Rep. Rodante Marcoleta, COOP NATCCO party-list Rep. Anthony Bravo and Ako Bicol party-list Rep. Alfredo Garbin Jr. in the hearing.
Andaya also wants to find out why Casiguran town – whose mayor Edwin Hamor is an in-law of Diokno, being related by affinity to his wife, Sorsogon Vice Gov. Esther Hamor – had the lion's share in allocation of flood-control projects for 2019, which is P325 million.
The amount forms part of the P6 billion being allotted to Sorsogon province for 2019.
"What is really the basis of allocating public funds for flood-control projects? Is it really climate change or affinity to the DBM secretary? At least 19 villages in Matnog, Sorsogon are now submerged in flood waters," Andaya said.
"Despite its vulnerability to flood, Matnog did not get a single centavo in the billions of pesos allocated by the DBM for flood-control projects in Sorsogon under the 2019 National Expenditure Program," he added.
Diokno's daughter Charlotte Justine is married to Esther's son Romeo Sicat Jr.
Edwin is Esther's second husband who has admitted to media that his children own a construction company, Aremar Construction Corp., and may have known the Bulacan-based CT Leoncio and Construction Co., which cornered billions of projects in the national government.
"It's clear as sunlight that the DBM has a problem in its budget allocations. For 2019, zero budget for flood control in Matnog. But a whopping P325 million is allocated for Casiguran," Andaya said, citing data culled from the national outlay proposals.
Among the towns inundated by floods in Sorsogon brought about by tropical depression Usman were the towns of Matnog, Bacon, Bulan and Casiguran.
Andaya wants DPWH-Region 5 officials, along with the favored contractor, to shed light on the so-called flood-control scam and other anomalous transactions involving multibillion-peso infrastructure projects in Sorsogon.