LIST: Legal firecrackers, pyrotechnic devices
December 24, 2018 | 10:46am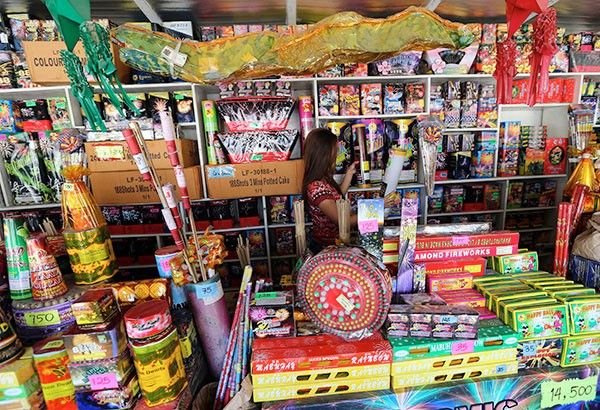 MANILA, Philippines— The Philippine National Police recently made a list of the firecrackers that people can legally use during the New Year revelry.
Chief Superintdendent Valeriano De Leon, PNP Firearms and Explosives Office director, said fireworks that have more than 0.2 grams or 1/3 teaspoon of gunpowder are prohibited. Firecrackers without labels and those containing sulfur or phosphorus mixed with chlorates are also banned.
De Leon added that oversized fireworks with short fuses and that could detonate in less than three seconds but not more than six seconds are also not allowed.
PNP said they issued the list to inform the public of illegal fireworks and pyrotechnic devices and to determine if sellers are still distributing the banned devices to the public.
The Department of Health has also warned the public to take note of these banned explosives to ensure their safety.
In June 2017, President Rodrigo Duterte signed Executive Order 28 confining the use of pyrotechnics to community fireworks displays to lessen the risk of injuries. The DOH recorded 191 firecracker-related injuries during the 2017 holiday season, down from 630 cases recorded in the previous year.
Here's the list of legal and illegal firecrackers, pyrotechnic devices:
Legal fireworks/pyrotechnics devices
Baby rocket

Bawang

El Diablo

Judas' belt

Paper caps

"Pulling of strings"

Sky rocket (kwitis)

Small "triangulo"

Butterly

Fountain

Jumbo, regular, and special luces

Mabuhay

Roman Candle

Sparklers

Trompillo

Whistle device
Banned fireworks/pyrotechnics devices
Watusi

Piccolo

Super Lolo

Atomic Triangle

Large Judas belt

Large Bawang

Pillbox

Boga

Goodbye Philippines

Bin Laden

Mother Rockets

Lolo Thunder

Coke-in-Can

Kwitom

Atomic Bomb

Five Star

Pla-pla

Giant whistle bomb

Kabasi

Other unlabeled imported firecrackers
—Rosette Adel