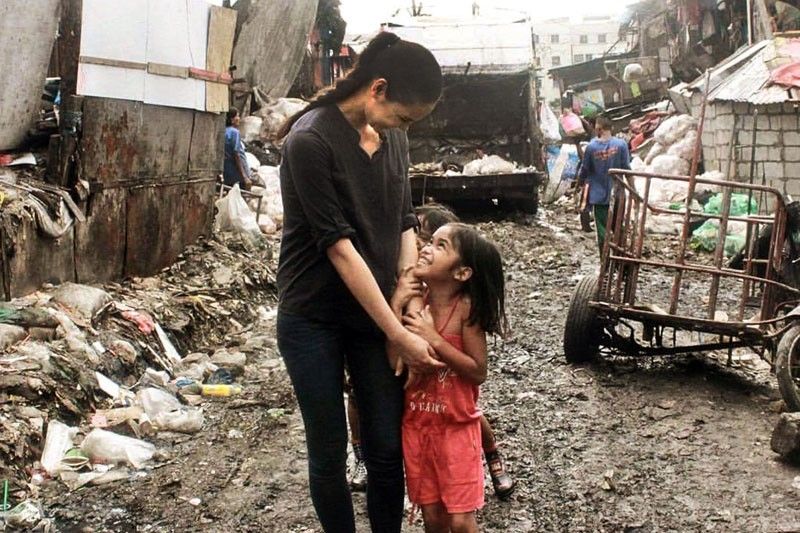 Photo from the Facebook page of Miss Universe 2018 Catriona Gray shows the beauty queen with children at the Young Focus Foundation, an NGO based in Tondo, two years ago. At right, an Instagram photo from the account of Pia Wurtzbach shows the 2015 Miss Universe with Gray following her coronation in Bangkok.
Miss Universe Catriona Gray puts spotlight on NGO for Tondo kids
MANILA, Philippines — Since being crowned Miss Universe 2018, Catriona Gray has brought "overwhelming" focus to a non-government organization for children in Tondo, Manila that she has been helping even before joining beauty pageants.
The Young Focus Foundation, founded and managed by Dutch/English couple Paul and Ann van Wijgerden, has been fielding inquiries since Monday, coronation day, from people interested in offering financial assistance and volunteering for the NGO.
In the final answer that sealed her victory, the 24-year-old beauty queen cited her experiences working for the children in the slum areas of Tondo and how she tried to teach herself to see the beauty and "silver linings" amid their poor and sad conditions.
Young Focus is also the beneficiary of the proceeds from the music video for her now-hit debut single "We Are In This Together," which she launched before the Miss U competition.
The foundation has joined in the celebration of Catriona's win.
"Everyone is so happy with what happened," Mark Martin Soriano, who works as a coordinator and spokesman for the NGO, told The STAR. "We didn't imagine that she would mention Tondo, Manila, not just the Philippines, in her answer. So we were like, wow! Our feeling was, she brought Tondo to the Universe."
Soriano added, "She didn't mention Young Focus, but when she mentioned Tondo, na-connect agad with Young Focus so we're all overwhelmed with the inquiries about the NGO. According to our boss, who answers the Facebook page and e-mails, so many want to volunteer and ask information about Young Focus. It's overwhelming because we didn't expect it because Young Focus is a small foundation."
The foundation is found at the heart of Tondo. Fronting one of its buildings is the slum area that Mark believes was what Catriona was referring to, while another center stands right next to the Smokey Mountain.
The Van Wijgerdens were inspired to start the NGO after their first visit to the country in the 90s, which was prompted by a picture of the Smokey Mountain.
Last month, Young Focus celebrated its 10th year of helping less-fortunate children from the community mainly through educational assistance such as school supplies, tuition, uniforms, tutorials and feeding programs.
"Our approach is wholistic. Almost all aspects of children's neede, we try to provide it," Soriano said.
Other NGOs focus on children who want to study.
"In our case, we have kids who have lost hope and interest to study. So we have so-called tambays who we approach and we allow them to hang out at the center. Literally, tambays, solvent sniffers, those who ride trucks to steal, batang hamog or scavengers whose only focus is to earn. We allow them to hang out at the center. There they can sleep, take a bath, we provide lunch and lessons because most of them are abused, abandoned and neglected so we let them feel that they are loved and that they are with people who understand them. Eventually, they will feel, 'Ah, I want to change for myself.' One of our main goals really is to reawaken their passion for education," Soriano said.
However, one of the main challenges of running the NGO is funding.
"Although we have enough, there are so many kids in the community who we cannot accommodate because the funds are limited."
It was also tough to raise funds because people want proof first before helping. "It's difficult because we know there are NGOs who are not using the funds wisely. At Young Focus, everything is accounted for."
For this year, Soriano said the foundation has more than 1,000 kids who are part of their programs, their parents included.
"We have staff now who were scavengers before. They were helped by Young Focus, they were able to graduate from college, pass the teachers' board and are working for us now," he said.
With Catriona's win, they are optimistic of being able to provide more opportunities for the Tondo children. "The offers of financial help, we are shocked because before we were (the ones) looking for funders and volunteers but now they're the ones contacting us for that," Soriano added.
In a television interview, Catriona said she found the NGO after going through a tough time in her life before she joined and won her first national pageant, Miss World Philippines in 2016.
Warm homecoming
Gray will be given a grand welcome when she visits her home province of Albay.
Her mother, Normita Ragas Magnayon-Gray, is a native of Oas, Albay.
Gray will return to the country today.
The beauty queen, together with Gov. Chavit Singson and Miss Universe 2018 judge Richelle Singson-Michael, will stay for a short Q and A at the Platinum Skies Aviation Inc. PADC Hangar IV in Pasay City following her arrival at the Ninoy Aquino International Airport.
Albay Rep. Joey Salceda praised Gray, who he said once worked as tourism champion of Albay.
"Truly an Albayana, she was the most prepared candidate ever – if you prepare to fight calamities, the more you are prepared for victory," Salceda posted on Facebook.
Salceda said Gray is "regal as Mayon Volcano is majestic. She is beautiful, truly Daragang Magayon (a legend in Albay)."
"The entire Albay is happy and proud of her achievements," he said.
Gray's grandmother Salve Ragas said local officials of Oas and Albay are preparing a grand welcome for the beauty queen.
Gray personally chose Mak Tumang to design the Mayon Volcano-inspired red gown she wore in the Miss Universe pageant.
Tumang reportedly made seven gowns for Gray. But she brought only three to Bangkok. – With Cet Dematera, Gilbert Bayoran, Ding Cervantes