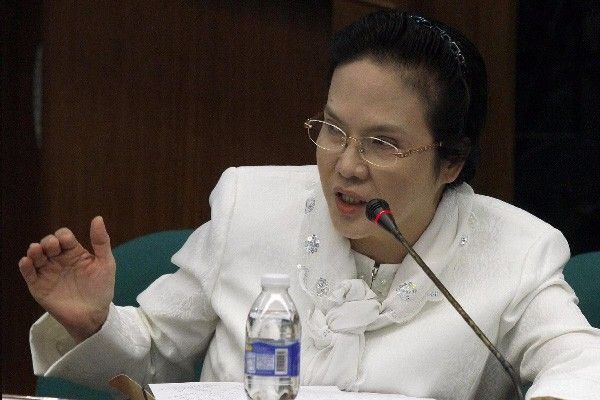 Public Attorney's Office chief Persida Rueda Acosta attends the Senate hearing into the deaths during the drug war.
Senate/PRIB
Lawyer's aide 'tortured' before being killed, PAO's Acosta says
(Philstar.com) - December 18, 2018 - 4:51pm
MANILA, Philippines (Updated 5:39 p.m.) — Public Attorney's Office chief Persida Acosta said that an autopsy by the agency suggests that Richard Santillan III, aide of lawyer Glenn Chong, was tortured before he was killed.
According to police, Santillan and his female companion were killed in an operation in Barangay San Andres, Cainta, Rizal on December 11.
PAO autopsy shows Richard Santillan, slain aide of lawyer Glenn Chong, was tortured before he was killed in supposed shootout with police. | @edupunay pic.twitter.com/8SsqGYj1nk

— The Philippine Star (@PhilippineStar) December 18, 2018
Police reportedly flagged down the vehicle but Santillan stepped on the gas instead of pulling over. A brief exchange of gunfire ensued.
Santillan is the aide of Chong, a former Biliran representative now running for senator.
Dr. Erwin Erfe, PAO's forensic laboratory director, said in a press conference that their examination showed that Santillan was shot even though he was already dead.
PAO Chief Acosta meanwhile said that Santillan's family is seeking justice because of the alleged torture.
The Public Attorney's Office is mandated to render free legal representation, representation, assistance and counselling to indigent persons in criminal, civil, labor, administrative and other quasi-judicial cases. It is unclear whether Santillan, a lwayer's aide, is considered an indigent.
Acosta said that they will file case "because of the findings of the forensic team that there are signs of torture, contusions, blunt injuries, mauling on the stomach, hematoma and then puncture wounds using a knife or a bladed weapon."
The PAO chief said that they will ask for records of police's operation that resulted in death of Santillan from Director General Oscar Albayalde.
An ABS-CBN report said that, according to examination done by the PNP Rizal Crime Laboratory, Santillan sustained 21 gunshot wounds.
The Commission on Human Rights, which has been monitoring and investigating cases of alleged extrajudicial killings, said on December 12 that Santillan's death is "unfortunate, especially that it is laced with questions on the circumstances of the crossfire that ensued between the police and Santillan."
It said its regional office had already dispatched a Quick Response Team to help in the investigation into the alleged shootout.
"The Commission on Human Rights urges the government to investigate in the interest of the truth and making perpetrators possibly accountable should there be any lapses or irregularities resulting in the curtailment of the right to life," it also said.
Election issue?
Chong believes that his aide was not killed in an "encounter."
READ: Cainta 'shootout' fatality is lawyer's security aide
"I have no enemies except for Comelec and Smartmatic. This is the only angle I can see for this incident. They want to scare me by hurting the people close to me," Chong said.
The lawyer has testified in congressional inquiries on alleged poll fraud in the 2016 elections.
He has not offered evidence to link his aide's death to his allegations of poll fraud.
Senior Superintendent Jonathan Calixto, Highway Patrol Group Region4A director, maintained that the operation was legitimate.
Probers recovered two handguns, a grenade and three plastic sachets said to contain shabu from the Fortuner Santillan was in, according to Chief Inspector Joseph Torcita of the Rizal police scene of the crime office. — Kristine Joy Patag with a report from Edu Punay