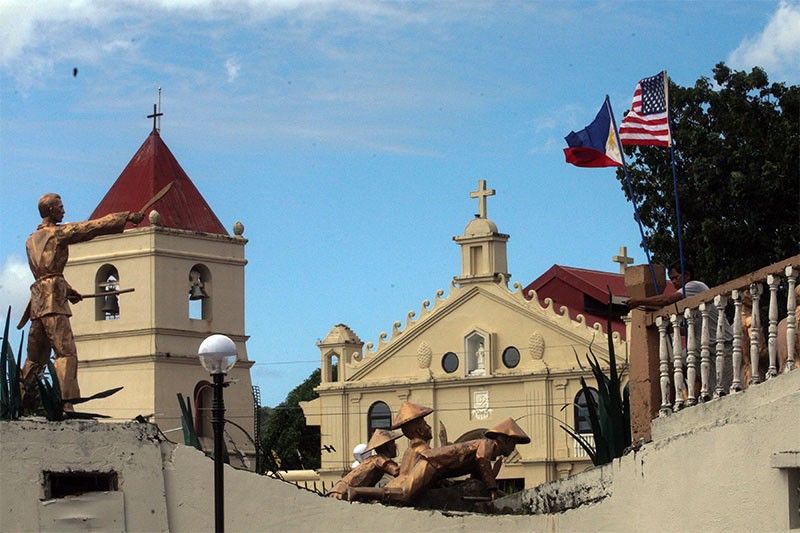 Philippine and American flags are placed at the Balangiga Encounter Monument in Balangiga town, Eastern Samar on Friday, December 14.
The STAR/Krisjohn Rosales
Disowning credit for return of Balangiga bells shows Duterte's sincerity — Palace
(Philstar.com) - December 14, 2018 - 3:38pm
MANILA, Philippines — Refusing to take credit for the return of the Balangiga bells to the Philippines show President Rodrigo Duterte's sincerity in upholding sovereignty through diplomacy, presidential spokesperson Salvador Panelo said Friday.
This also shows the president's "action-oriented and no-frill public service" style of leadership, according to the Malacañang spokesman.
"It bears stressing that all of [Duterte's] actions are based on the constitutional command addressed to him, to serve and to protect the people," Panelo said in a statement.
The presidential spokesperson noted that Duterte has used diplomacy as a leverage to obtain what the country deserves.
Panelo also pointed out that the president gives credit to those who are under his administration.
Despite Duterte disowning credit for the return of the historic bells taken by US soldiers as spoils of war more than a century ago, Panelo insisted that the president's call triggered the return of the bells.
"But the fact remains, is that many have tried and it was the president's call that triggered the series of meetings that finally resulted in, to the coming home of Balangiga bells. But this is not per say, that the attempts were all futile," Panelo said.
READ: War veterans' efforts paved the way for return of Balangiga bells — historian
On Thursday night, Duterte said the return of the bells should not be credited to any government worker or official.
"The return of the bells are upon the demand of the Filipino people. Nobody should ever claim success for that," Duterte said during an event in Las Piñas City.
The president is expected to attend the handover of the bells in Balangiga, Eastern Samar but he will not attend the mass.
Duterte said he will only be there to receive the bells from American officials and then turn them over to Balangiga local authorities, who will return it to the Church of St. Lawrence, Deacon and Martyr.
"I do not want to hear the mass. I have heard all the masses in the world," Duterte said. — Patricia Lourdes Viray